Gary Oldman gives a towering performance as Winston Churchill in Joe Wright's Second World war drama.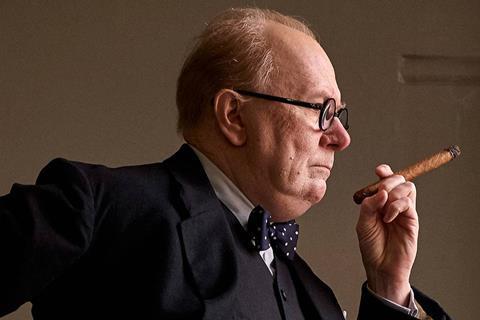 Dir. Joe Wright. UK. 2017. 125 mins
Joe Wright's behind-the-scenes retelling of the Dunkirk story makes the case that words can be weapons; that language, wielded by the right person, can be as thrilling as any action. And in the role of Winston Churchill, Gary Oldman is most definitely the right actor for the task. No guns are fired in this two-hour wartime drama which explores just how close Britain came to negotiating a peace treaty with Nazi Germany, but Oldman ensures that every line hits home as surely as any bullet. It's a towering performance which wavers only in one slightly contrived scene which places the blustering British premier incongruously on the London public transport system.
Darkest Hour should storm cinemas armed with critical support and positive audience word of mouth
The fact that this film comes to cinemas after Christopher Nolan's Dunkirk and Jonathan Teplitzky's Churchill could mean that audience appetites for WWII dramas might be somewhat sated. But Darkest Hour offers something that neither of the year's other British explorations of the Second World War have fielded, and that is a bracing, crowd pleasing humour. Oldman's Churchill can turn his gift with words to the kind of oration which changes the course of history; likewise he can harness it to deliver sparky one-liners which illuminate the airless gloom of the Cabinet War Rooms.
The dynamism of Wright's direction injects energy into what is necessarily a verbose and very talky drama; this, and an awards-quality central performance from Oldman, should ensure that Darkest Hour storms cinemas armed with critical support and positive audience word of mouth.
The film explores the turbulent first few days after Neville Chamberlain has been ousted by a vote of no-confidence and Churchill, against the better judgement of many of his colleagues, has assumed the role of Prime Minister. Along with the ubiquitous cigar, Churchill shares more screen time with a glass of whisky than he does with his wife Clementine (Kristin Scott Thomas, excellent but perhaps a little underused). "How do you manage drinking during the day?" enquires HRH King George VI (Ben Mendelsohn, in an unexpected but successful piece of casting). "Practise," rumbles Churchill.
Oldman's delivery acknowledges the alcohol which swills around the character: Churchill bellows his way through each encounter as if he were cheering on a rugby game. But if the edges of his diction are sometimes a little blurred, the mind is sharp.
Sarah Greenwood's production design ensures that the crepuscular Cabinet War Rooms are as much a character in this story as any of the corpulent, besuited men who debate the future of the country. With low ceilings which weigh heavily on the characters, and a warren of tiled corridors, the location looks more like a public lavatory than a place where history is made. And Wright is endlessly inventive when it comes to devising new ways to capture scenes of privileged men deciding the fate of the people. At one point, he shoots from the inside of a typewriter; in another, he isolates Churchill, taking a important phone call, in a small illuminated box at the centre of the screen, filling the rest of the frame with black as dark as despair.
While an extended sequence which sees Churchill mixing with the people of London on a tube train feels a little tokenistic, and the stirring score could occasionally be accused of talking down to the audience, this is a film which breathes life, as well as alcohol fumes, into history. Like its central character, Darkest Hour has "mobilised the English language and sent it into battle."
Production company: Working Title
International distribution: Universal Pictures International
Producers: Tim Bevan, Eric Fellner, Lisa Bruce, Anthony McCarten, Douglas Urbanski
Screenplay: Anthony McCarten
Cinematographer: Bruno Delbonnel
Editor: Valerio Bonelli
Production design: Sarah Greenwood
Music: Dario Marianelli
Starring: Gary Oldman, Kristin Scott Thomas, Lily James, Stephen Dillane, Ronald Pickup, Ben Mendelsohn