A multi-generational Chinese family struggles between tradition and modernity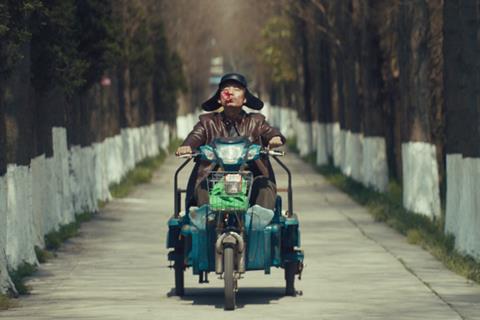 Dir/scr: Cathy Yan. China. 2018. 130mins
When a flotilla of porcine carcasses bobbed through China's waterways in 2013, it demonstrated the country's modern dilemma: the difficulties of balancing traditional, rural ways with its ceaseless push towards the future. Taking inspiration from the headline-grabbing real-life events for her first feature, writer/director Cathy Yan ponders that juxtaposition through a quintet of Shanghai residents with interconnected lives. While the titular animals might not fly in the Sundance-bowing Dead Pigs, they certainly do drift through the lives of its searching, yearning characters.
Veteran actor Wu and the comparably inexperienced Yang offering delicately textured portrayals of an older generation grappling with progress
Demonstrating a light touch — underscored by a whimsy-leaning score and overtly comic moments, but never delving into flimsiness or farce — Yan handles her chosen topic, and the tapestry of tales it's woven through, with care. Coupled with the naturalistic tones prominent in cinematographer Federico Cesca's (Patti Cake$) lensing, it's an approach that mostly resonates. It may, however, struggle to turn its World Cinema Dramatic Competition berth into anything beyond modest festival and eventual streaming play.
It's not only dead pigs that anchor the feature's narrative, though they're obviously troublesome for pig farmer Old Wang (Haoyu Yang), who discovers his suddenly dying flock after spending his last spare cash on a virtual reality gaming system. For his salon-owning sister Candy (Vivian Wu), an Aquarius–like David-versus-Goliath property battle looms. The Golden Happiness Group is eager to redevelop her home into apartments, having bought out the entire neighbourhood, but she's determined to save it.
Old Wang can't see why she's being so stubbornly hanging onto the modest, generations-old place where they were both born, and the past in general — especially given that he desperately needs the money from the sale to pay off a debt to local gangsters.
Their plight is intertwined with three other related tales: of Old Wang's quiet, dutiful busboy son Wang Zhen (Mason Lee); Xia Xia (Meng Li), the wealthy and attractive object of his affections, who spends most of her time socialising and drinking; and expat American architect Sean Landry (David Rysdahl), who views the housing project as his big break after a disappointing start to his career. Like the central squabbling siblings, they're each chasing their own dreams and endeavouring to protect their own forms of escape; be it professional or personal.
While the arc traversed by each of Dead Pigs' five protagonists is predictable, there's clear empathy in the film's depiction of their respective quests for success, and in its exploration of their attempts to find a place in China's new world order. Accordingly, the concept of a hospitality worker lying about his job to impress his dad, particularly within a status-seeking society, is far from novel. Neither is his infatuation with an unhappy rich girl, or her journey of discovery once she realises the consequences of her selfish outlook.
What makes an impact, however, is the thoughtful way they're rendered and given room to prove more than easy, obvious archetypes; unsurprisingly, it's the Wang family trio that stands out as the feature heads towards an expected confrontation. Veteran actor Wu and the comparably inexperienced Yang offer delicately textured portrayals of an older generation grappling with progress. Lee — son of director Ang Lee — is largely silent, but effective in exemplifying the younger masses trying to carve out their own space.
Production companies: Microcosmic Pictures, Media Asia Zexin Films
Contact: Seesaw Entertainment, janinazheng@126.com
Producers: Clarissa Zhang, Jane Zheng
Associate producers: Mick Aniceto, Amy Aniceto
Executive producer: Jia Zhangke
Cinematographer: Federico Cesca
Editor: Alex Kopit
Production designers: Joe Yao
Costume designer: Athena Wang
Composer: Andrew Orkin
Main cast: Vivian Wu, Haoyu Yang, Mason Lee, Meng Li, David Rysdahl