The blurred lines between police detective and suspect are at the heart of Park Chan-wook's seductive neo-noir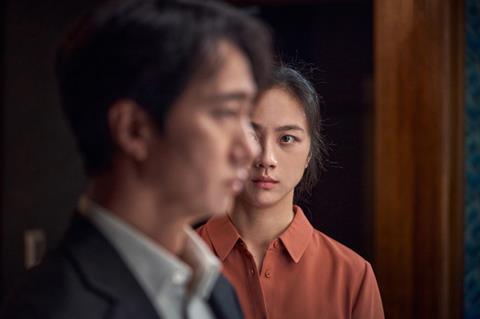 Dir: Park Chan-wook. South Korea. 2022. 138 mins
With this seductive, serpentine neo-noir, Park Chan-wook raises the bar on the 2022 Cannes competition programme and reasserts his position as a peerless visual stylist. But there's nothing superficial or superfluous about his style here: it's all in the service of the film's mercurial and at times disorientating blend of crime and passion. Detective Hae-joon (Park Hae-il) is a Busan-based homicide specialist renowned for his obsessively dedicated stakeouts and his diligence when it comes to unravelling the threads of a murder investigation. When a Korean man, a keen climber, falls to his death from a mountain, it at first seems like a clear cut accident. However, there's something off in the reaction of the man's Chinese wife, Seo-rae (Tang Wei) which marks her out as a suspect. But as Hae-joon's fascination with her becomes all-consuming, it obscures his usually clear professional eye.
Deeply satisfying and potentially commercial thriller
Director Park returned to Cannes to take Best Director for this following a slot in competition with The Handmaiden in 2016, and having previously won Cannes' grand prix with Old Boy in 2004 and the jury prize for Thirst in 2009. The erotic connection in Decision To Leave may be more demure than that of The Handmaiden; the crime world depicted less visceral than that of Old Boy, but this picture demonstrates that, even without the extreme shock tactics of some of his earlier work, Park can craft a deeply satisfying and potentially commercial thriller. Mubi holds the rights for North American and UK-Ireland.
From the outset, the film suggests that there are multiple perspectives to the death of the man whose body lies broken and blue-tinged at the foot of a sheer peak. Park includes a shot of the murder investigation from the perspective of the dead man's eyes, complete with foregrounded blowflies and ants (later this is echoed in a shot in a fish market). The interrogation of Seo-rae by Hae-joon is rarely shown in a simple two shot, rather there are tricky layers of doubles: in the reflections in the one-way glass, in the monitor where Hae-joon's colleagues remotely scrutinise the suspect. They spot the hint of a smile as she talks about her loss; this, together with the fact that the husband was abusive and controlling, suggests that Seo-rae is worth further investigation.
In the role of Seo-rae, Tang is a minxy delight, evoking some of the fascinating blend of charm and hint of potential treachery that Rachel Weisz brought to the title role in My Cousin Rachel. It's no wonder that she starts to sneak into Hae-joon's thoughts – his mind is drawn back to the case even as he makes love to his wife. Not a native Korean-speaker, Seo-rae has an elegantly formal way of speaking, a fondness for quoting Confucius and an instinct for astutely reading a crime scene which a less smitten man might find a tad suspicious.
It's a visually glorious film, with slyly expressive use of colour (a teal which slips back and forth between blue and green is particularly effective) and framing which is as precise as it is playful. But equally impressive is the score, which creates intrigue with its hypodermic stabs of violin and death rattle percussion. Elsewhere there's a sense of mischief in the music choices: the swooping romance of the score which plays out when Hae-joon and Seo-rae visit a temple together, dodging a torrential downpour while he talks, with almost boyish enthusiasm, about his passion for murder scenes – an interest that Seo-rae evidently shares.
Production Companies: Moho Film
International sales: CJ ENM jm.park24@cj.net
Producer: Park Chan-wook
Screenplay: Chung Seo-kyung, Park Chan-wook
Cinematography: Kim Ji-yong
Editing: Kim Sang-bum
Production Design: Ryu Seong-hie
Music: Cho Young-wuk
Main Cast: Tang Wei, Park Hae-il