Asif Kapadia's documentary should extend the footballer's 'hand of God' to the box office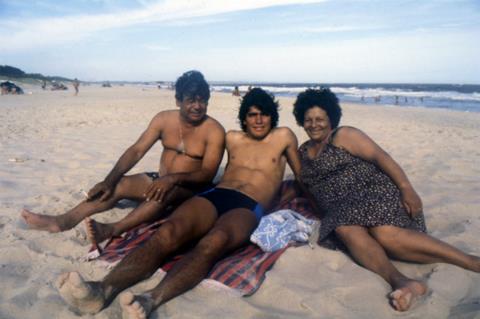 Dir. Asif Kapadia. UK. 2019. 130 mins.
It's impossible to conceive that the accomplished documentarian Asif Kapadia would deliver anything less than a rigorous, multifaceted and probing feature: with his latest, Diego Maradona, he does not disappoint. But this film about the divisive Argentine footballer is a different game to the director's Senna, or Amy, in which Ayrton and Winehouse could be presented as complete biographies with beginnings, middles and tragic, untimely ends of people who lived fast and died young. Diego Maradona has also lived fast, but he is very much alive, and his voice provides some of the commentary on this film.
Even despite - or because of - an abrupt ending and the sense of unfinished business, Diego Maradona is in many ways, more satisfying than Kapadia's previous work
Diego Maradona certainly illustrates just how quick the stocky little boy from the Buenos Aires slums was. Focusing on Maradona's years at Italian club SSC Napoli as the core of his story, Kapadia presents us with the dizzying heights of the footballer's fame and the catastrophic end to the adulation, from a living god to a tormented devil in seven glorious years in Italy during which he played extraordinary football while descending into drug addiction, enabled by the Camorra, and eventual personal disgrace.
Commercially, Diego Maradona will almost certainly follow the career progression of Senna and Amy with the added golden boot of the beautiful game to attract audiences. Viewers, though, will have more to think about this time: Maradona is a complex character, and this film doesn't come to praise or bury him, although it does flirt with presenting him as the victim of an intrusive press and public. It's not so easy to categorise him, though; just when you take into account the slum upbringing, Maradona flashes a cunning turn that reminds you he was also a cheat, a drug addict and womaniser.
Diego Maradona comes more than a decade after Maradona By Kusturica, a mutual backslapping meld of filmmaker and subject. Kapadia's film, precision-made by the same technical team behind Amy and Senna, soars far above that attempt to define the footballer, often referred to as the world's best — and that's despite Maradona's shrewd co-operation. The sadness of his downfall is echoed in the stories of George Best (Maradona's hero) and Paul Gascoigne, reinforcing how footballing idolatry can be a curse for the young and the nimble.
Even with an abrupt ending and the sense of unfinished business, Diego Maradona is more satisfying than Kapadia's previous work. The director has the confidence to sweep aside entire chapters in the footballer's life; we get a glimpse of Maradona's childhood and rapid rise as a star footballer before the film really starts, in Naples, where 85,000 fans crowd the city's Stadio San Paolo pitch to celebrate the arrival of the world's best and most expensive player.
The discovery of old footage filmed by a team hired by Maradona's then manager clearly illustrates that the lawless Naples and Maradona were a match made in heaven — he even went on to beat Italy with Argentina in the 1990 World Cup in that stadium, asking his Italian fans to chant for his home country. While there, his drug addiction would be indulged and exacerbated by his friendships with former mafia members and he would father a child who he resolutely refused to acknowledge.
What was it about Maradona? You can see from early footage that he had that stocky physique and speed from an early age, and many contributors (voice only) stress his intelligence, often manifested as cunning. He's speaking Italian shortly after his arrival in Naples and there's often a sense of calculation behind that beatific smile and mop of black curls.
Kapadia gets unexpectedly far into his life, but a two-hour film by definition needs to be broad strokes and audiences have to piece together an idea from what we can see. Maradona has always been a polarising personality; Diego Maradona furthers the discussion.
Production company: On The Corner Films
International sales: Altitude Film Sales, KarinaGechtman@altitudefilmsales.com
Producers: James Gay-Reese, Paul Martin
Editing: Chris King
Music: Antonio Pinto
Featuring: Diego Maradona