Young soldiers get in over their head in Shariff Korver's slow-burning tale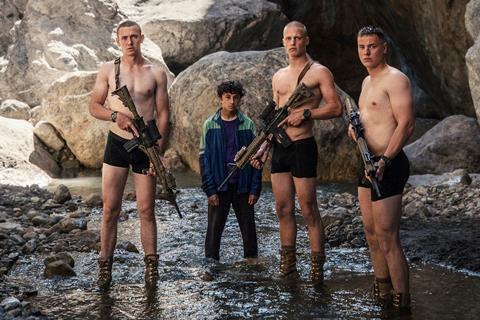 Dir: Shariff Korver. Netherlands/Greece. 2021. 91 mins.
The pressures of war corrupt the finer instincts of young soldiers in Do No Hesitate. Shariff Korver's simple, slow-burning tale may cover familiar ground, but it is crafted with a stripped-down sincerity that makes for an effective drama. A compelling central performance from Joes Brauers adds interest to a film that should find further festival play as the Dutch Oscar contender for 2022.
A spare, intense film confirming the adage that war is hell
Brauers' Erik is in virtually every scene of Do Not Hesitate. He has the look of a young Mads Mikkelsen, and some of the same screen magnetism. We first see Erik shirtless, body ripped, hair shaved to the bone as he sits in his bedroom, energetically playing the stuffing out of a drum kit. He then dons a uniform and is expected to switch from civilian to soldier, heeding the call of duty to join a peace-keeping mission in what we assume is Afghanistan.
Korver and screenwriter Jolein Laarman provide constant reminders of the immaturity and inexperience that mark Erik and his fellow soldiers. These are men who still seem more like boys as they joke about malodorous farts in confined spaces, indulge in horseplay, and resort to banter and bravado. The prospect of a debrief and subsequent party time on Crete is more within their comfort zone than military service in a foreign country.
Cinematographer Nadim Carlsen paints a picture of rugged, inhospitable landscapes that offer little welcome to the soldiers. Barren scraps of mountain passes beg the question of what they are even doing there. They might as well be on the moon.
When their armoured vehicle winds up in a ditch, Erik and a group of soldiers are left to guard it until helicopters arrive to transport it away. They arm themselves with extra water and food, preparing to stay the night. They are further unsettled by a night in which every sound could be a danger. A whisper of wind through the trees or a rumble of thunder might signal the approach of an enemy to a mind that is already on edge.
The group is subsequently reduced to just Erik, Thomas (Tobias Kersloot) and Roy (Spencer Bogaert). The focus on this trio allows Do Not Hesitate to tease out their personalities. Erik appears the most reliable; his instincts are to be the good guy, act decisively and behave well. Thomas is more hot-headed and unpredictable. Roy says little and gets on with the job. The first major problem comes from the accidental shooting of a goat and the appearance of teenager Khalil, demanding compensation. The shrieking ferocity that Omar Alwan brings to the role makes Khalil a force to be reckoned with — a major irritant fuelled by righteous anger who is never cowed by the might of his oppressors.
Isolated and vulnerable, the men are left to their own devices. The inability to make any contact with their superiors and the long wait for the arrival of any backup are contrivances that Korver manages to make believable. Inevitably, the initial harmony fades towards discord, and camaraderie is replaced by conflict. The slide towards something unspeakable is credibly handled and comes from a place we had least expected.
Do Not Hesitate pays little attention to the bigger picture of the conflict that has brought these youngsters to Afghanistan. Instead, Korver examines the individual experience of the trio, the decisions they take and how they live with the consequences. The result is a spare, intense film confirming the adage that war is hell, underlining how foot soldiers are ill-prepared for the demands requested of them. Later scenes of a counselling session show that they also have neither the urge nor the language to address the trauma that will haunt them. It is an old story, but Korver proves that it can bear another telling.
Production companies: Lemming Film, Heretic NTR
International sales: Trust Nordisk, susan@trustnordisk.com
Producers: Erik Glijnis, Emily Morgan, Leontine Petit
Screenplay: Jolein Laarman
Cinematography: Nadim Carlsen
Editing: Ruben van der Hammen
Production design: Roland Mylanus
Music: Ella van der Woude, Juho Nurmela,
Main cast: Joes Brauers, Spencer Bogaert, Tobias Kersloot