Ewan McGregor is the grown up Danny Torrance struggling to control his demons in this sequel to The Shining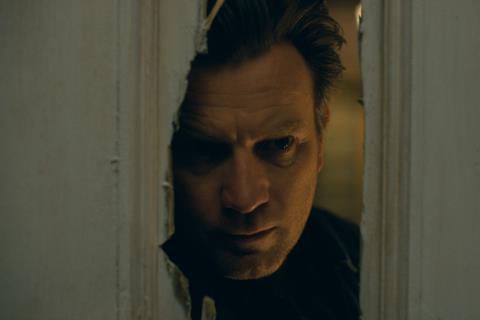 Dir: Mike Flanagan. US. 2019. 152mins
Danny Torrance must confront his harrowing past in Doctor Sleep, a sombre, often absorbing follow-up to The Shining that only occasionally mines the rich thematic terrain at the story's core. Helped enormously by Mike Flanagan's muted direction and intelligent approach to grownup horror, this uneven adaptation of Stephen King's 2013 novel doesn't try to mimic Stanley Kubrick's 1980 classic, instead focusing on Danny's emotional fallout and exploring the implications of what others like him, who have the extrasensory "shine," must contend with in the world. A conventional action-thriller narrative undercuts what can be quite moving about this thought-provoking film — it's a just-good-enough sequel that doesn't entirely live up to its potential.
Flanagan brings the same character-driven, slow-burn intensity to Doctor Sleep that was evident in his past projects
Warner Bros. will be releasing Doctor Sleep on October 31 in the UK and November 6 in the States, banking on audience awareness of The Shining for solid grosses. A starry cast led by Ewan McGregor and Rebecca Ferguson will certainly help, although those hoping for just another haunted romp through the Overlook Hotel may be thrown by the different tack this sequel takes.
Now in his 40s, Danny (McGregor) has become an alcoholic, following in the inglorious footsteps of his drunken, crazed father Jack (played by Jack Nicholson in The Shining). Hoping to change his ways, Danny moves to a small New Hampshire town, getting sober and finally finding some semblance of peace after years of processing the terrible events that took place at the Overlook when he was a boy. But soon, he is contacted by Abra (Kyliegh Curran), a young girl who shines like he does. She informs him that a powerful cult known as The True Knot, led by Rose The Hat (Ferguson), feed on and kill those with the shine — and now they're looking for her and Danny.
Flanagan has had success adapting popular horror works — King's Gerald's Game and Shirley Jackson's The Haunting Of Hill House, both for Netflix — and he brings the same character-driven, slow-burn intensity to Doctor Sleep that was evident in those past projects. While there are frightening moments, the movie is largely a sobering affair, as Danny tries to cope with his strange powers while putting his life back together. McGregor is especially good at depicting Danny's broken psyche — there's a hushed quality to the performance, as if a large part of Danny is still at the Overlook, forever scarred by his near-death experience. Oddly enough, the character finds some measure of solace in serving as a hospice orderly, using his shine to provide comfort to those preparing for death.
Far less satisfying is the introduction of The True Knot, who seek immortality through others' shine. Rocking a black Stevie Nicks top hat and a goth-y style, Ferguson struts as the playfully menacing Rose but, while Flanagan's script will eventually pit these ravenous vultures against Danny and Abra, the fight sequences aren't particularly imaginative, and the conceit of characters with superpowers feels familiar.
These generic narrative elements separate Doctor Sleep from The Shining, which was so singular but also resonant and mysterious. (Decades later, fans of that film are still unravelling its clues and debating its deeper meanings.) By comparison, Flanagan's sequel sometimes struggles with an overly complicated mythology while still trying to honour the original movie.
But instead of scares or action set pieces, Doctor Sleep is most affecting when it considers the permanent damage done to Danny. If The Shining can be read as a film about an abusive, negligent father, then the sequel chronicles how that trauma is embedded in the son. Flanagan deftly repeats scenes from The Shining, but beyond their nostalgic pull they create a dispiriting sense of déjà vu: Will Danny become the bitter, defeated man that his dad was?
Among the ensemble, newcomer Curran is striking as Abra, who (unlike Danny when he was a boy) is largely untroubled by her incredible powers. For a horror director, Flanagan is particularly adept with actors, concerned more about character arcs than cheap frights. That's why Doctor Sleep's uninspired plotting feels even more disappointing. Flanagan gives us such a sense of these people — their demons, their fears, their resilience — that it's a shame that the twists and turns aren't as compelling. Not everyone will make it out alive from the Overlook, but Flanagan brings enough smarts and soul to the flawed, fascinating Doctor Sleep that he manages to escape The Shining's shadow mostly unscathed.
Production companies: Intrepid Pictures, Vertigo Entertainment
Worldwide distribution: Warner Bros.
Producers: Trevor May, Jon Berg
Screenplay: Mike Flanagan, based upon the novel by Stephen King
Production design: Maher Ahmad
Editing: Mike Flanagan
Cinematography: Michael Fimognari
Music: The Newton Brothers
Main cast: Ewan McGregor, Rebecca Ferguson, Kyliegh Curran, Carl Lumbly, Zahn McClarnon, Emily Alyn Lind, Bruce Greenwood, Jocelin Donahue, Cliff Curtis