Matteo Garrone sets his Cannnes Competition entry in a run-down seaside town in Campania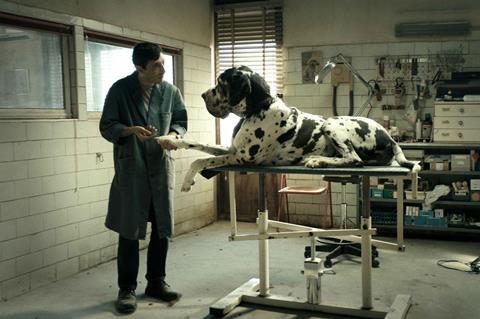 Dir. Matteo Garrone. Italy/France. 2018. 102 mins
If narrative cinema is all about the harnessing of character and atmosphere in the service of a strong story, then Matteo Garrone's follow-up to his 2015 Tale of Tales succeeds on every level . On the surface this dark, violent Italian seaside western is about a perennial victim who attempts to turn the table on his bully after years of subjugation. But it turns into a much more resonant, universal tale of suffering and lost dreams in the director's hands, largely thanks to the memorable central character created by Garrone and his co-writers, translated brilliantly onto the screen by actor-director Marcello Fonte.
A hugely impressive exercise in directorial control
Released in Italy shortly after its Cannes competition premiere, with a French theatrical run (via Le Pacte) due to begin on July 11, Garrone's most powerful film since Gomorrah should secure other bookings, helped by the 'glocal' appeal of its modern Spaghetti Western setting, a godforsaken beach resort that has become a year-round refuge for a community of chancers, outcasts and those who can't afford anything better. As in Pawel Pawilowski's Last Resort, the contrast between a seaside town's sun-and-fun aspirations and its degraded reality helps to turn an intimate drama into a reflection on the human condition.
Dog-lovers will respond too. The film's hero, everyman and Job figure is mild-mannered Marcello, who runs a dog-grooming parlour and dog hotel in an unnamed seaside suburb (it's actually Castel Volturno, north of Naples, used previously by Garrone in his 2002 breakout movie The Taxidermist – another film about a twisted male buddy act). Marcello's shop and its immediate surroundings sum up a world of failed or failing economic futures: the shop itself could stand on any Italian high street fallen on hard times, if it weren't for the beach just beyond the porch, the inexplicable 1960s block (already crumbling) that has been plonked on top of the shop's arcade, or the remnant of a boatbuilder's gantry that juts out from its façade.
In this land that the planners forgot, Marcello (Fonte) is part of a close-knit, intensely male community (Italians will get an even better sense of this from the Roman working-class accents) that include the owners of the cash-for-gold shop next door and a nearby slot machine parlour. They eat in the same beachside trattoria, play five-a-side football together – and all grumble about local thug Simone (an incandescent Edoardo Pesce), a former boxer who tends to head-butt people, walls or slot machines when they don't cooperate.
Tolerated by the other tough cookies in the 'hood, Marcello is a sensitive, fragile, childlike soul, a mere slip of a man who seems most himself when lovingly tending to the dogs in his care, or bonding with his young daughter Alida (Alida Baldari Calabria) – one of the few female presences in a film that is squarely about the disease of being male. But Marcello is also hungry for acceptance from the grown-up playground alpha males that surround him. This may be why he's become a small-time coke dealer on the side; it's certainly why he tolerates Simone, who Marcello seem to view as a savage dog that can be tamed and even befriended with the right kind of grooming.
Shot with a mix of tense handheld close-ups interspersed with a few long-shot breathing spaces – including a couple of dream-like underwater sequences, when Marcello and Alida go scuba diving – Dogman is a film that slowly, inexorably, shuts the walls around its hero, and around its audience (cages of one sort or another loom large, not only inside Marcello's canine emporium). Fonte does so much here just with his face and eyes: we see a good man, a dreamer, gradually brutalised by despair. Perhaps the most impressive thing about a hugely impressive exercise in directorial control is the fact that we come away from an intensely violent film, a film where bones crunch and blood smells, touched by pathos and a strange sense of hope.
Production companies: Archimede Film, Le Pacte
International sales: Rai Com, cristina.cavaliere@rai.it
Producers: Matteo Garrone, Paolo del Brocco, Jean Labadie, Jeremy Thomas
Screenplay: Matteo Garrone, Ugo Chiti, Massimo Gaudisio
Production design: Dimitri Capuani
Editing: Marco Spoletini
Cinematography: Nicolaj Bruel
Music: Michele Braga
Main cast: Marcello Fonte, Edoardo Pesce, Alida Baldari Calabria, Nunzia Schiano, Adamo Dionisi, Francesco Acquaroli, Gianluca Gobbi