Serge Bozon's offbeat musical interpretation of Molière's work stars Tahar Rahim and Virginie Efira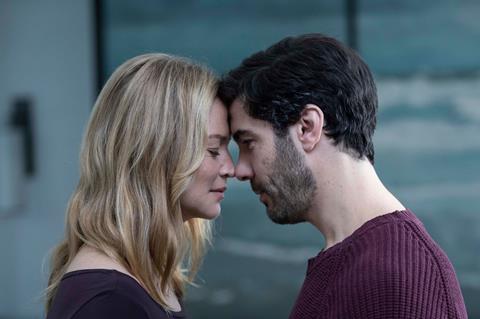 Dir: Serge Bozon. France/Belgium. 2022. 100mins
A dream-team casting of Tahar Rahim and Virginie Efira adds gravitas and commercial lustre to Serge Bozon's melancholy, offbeat interpretation of Molière's Dom Juan. Any notion of sly romantic farce is soon upstaged by a brutal critique of toxic masculinity and the notion of the great lover. Musical numbers provide heartfelt commentary along the way, and expectations will need to be carefully managed for a film that is more sombre and thought-provoking than many might have anticipated. Don Juan is released theatrically in France on May 23rd, the day after its world premiere in the Cannes Premiere strand.
Frequently slapped, punched or rejected, Tahar Rahim plays Laurent with the bemused anguish of a rake who may recognise his failings but seems unable to transcend them.
Bozon has a fondness for upending literary classics. Mrs Hyde (2017) reimagined the Robert Louis Stevenson novel with Isabelle Huppert as a timid physics teacher who changes personality after being struck by a bolt of lightning. Don Juan is a more serious, coherent work that feels like a #MeToo era response to Molière or a clever contemporary twist on Francois Truffaut's 1977 film The Man Who Loved Women (L'homme qui aimait les femmes).
On the day of his wedding, actor Laurent (Rahim) is jilted by his fiancée Julie (Efira). He waits at the Town Hall, but she never appears. It seems especially cruel to him. A man who seduced women had pledged his heart to just this one. Forlorn and abandoned, Laurent now starts to see Julie in every woman he meets (shades of Hitchcock's Vertigo). The device allows Efira to play dress-up in a series of outfits and hair-dos—blonde and mousey, long tar-black locks as a Monica Bellucci lookalike, etc.
These women are mostly repelled by Laurent. His well-worn chat-up lines and aggressive behaviour are deeply unattractive. He is so sure of himself and insistent that he comes across as a creepy stalker. Rahim's performance does nothing to soften the unpleasantness of the character or his sense of entitlement. Laurent goes to work in the pretty seaside town of Granville in Normandy where he has been hired for the title role in a production of Molière's 'Dom Juan ou le Festin de Pierre'. When a young, inexperienced leading lady is fired, the search for a last-minute replacement begins and ends with Julie. It is a second chance to prove the sincerity of Laurent's love, but their bittersweet reunion prompts further introspection and self-laceration.
Offbeat musicals have been very fashionable in recent French cinema and Don Juan comes hot on the heels of Tralala (2021), Annette (2021) and Aline (2021). Bozon's film has affinities with Christophe Honoré's Les Chansons d'Amour (2007) as he punctuates the narrative with soulful moments when the characters burst into song to express what they are thinking and feeling. The lyrics can be banal, and the device may be an acquired taste for some. Any doubts that the numbers add little to the drama are silenced by Virginie Efira's touching performance of 'Ma Petite Fille' in which Julie reflects on a fickle father who gave her "a taste for music and a distaste for seducers".
A radiant Efira invests Julie with a shrewd intelligence that allows her to remain a clear-eyed realist, even in the face of a love that may seem lovelier the second time around. Don Juan is expertly cast throughout. Louise Ribiere makes the most of her modest screen time as Marina, a nervous, inexperienced young performer made even more insecure by Laurent's intimidating manner. Actor/composer Alain Chamfort is charming and ineffably moving, almost stealing the film as a character simply described as L'homme tranquille. A father grieving for his late daughter, he acts as a mixture of a one-man Greek chorus and conscience, gently chiding and challenging Laurent in their encounters.
Frequently slapped, punched or rejected, Tahar Rahim plays Laurent with the bemused anguish of a rake who may recognise his failings but seems unable to transcend them. In Bozon's version, it is Don Juan who ends up feeling seduced and abandoned.
Production companies: Les Films Pelléas, Frakas Productions
International sales: Mk2 Films intlsales@mk2.com
Producers: David Thion, Philippe Martin
Screenplay: Serge Bozon, Axelle Ropert
Cinematography: Sébastien Buchmann
Editing: François Quiqueré
Production design: Pascale Consigny
Music: Benjamin Esdraffo, Laurent Talon, Mehdi Zannad
Main cast: Tahar Rahim, Virginie Efira, Alain Chamfort