Live-action remake of the animated TV show is aimed at a neglected Latino audience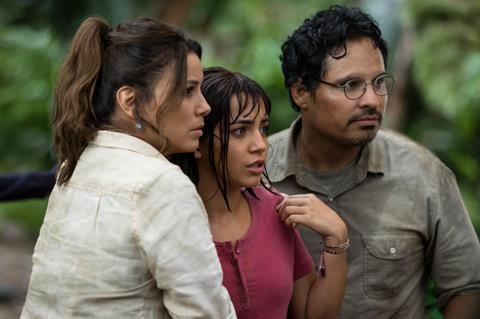 Dir: James Bobin. US. 2019. 101mins.
Television's animated child explorer comes to live action on the big screen in Dora And The Lost City Of Gold, a comic adventure that plays down to its young audience, resulting in a drab family entertainment which lacks the spirit or intelligence of its precocious protagonist. Isabela Moner has a few fun moments as Dora, who must find her missing parents while embarking on a dangerous quest, but the film never quite decides if it's a loving spoof of Dora The Explorer's sillier elements or an Indiana Jones-style action movie for pre-teens. Not very funny and never especially touching, this Dora feels dispiritingly perfunctory — a two-hour babysitting tool that leaves little impression.
Dora almost feels embarrassed by its source material, regurgitating the show's catchphrases and stylistic tics with an obligatory air
Dora arrives in the US on August 9 in the US and a week later in the UK, almost two decades after the TV show made its debut, so there's a built-in familiarity with the property. Paramount will be competing with Sony's forthcoming The Angry Birds Movie 2, but, with Eugenio Derbez, Michael Peña and Eva Longoria among the ensemble cast, Dora is one of the few studio to feature a predominantly Latino cast. Thay may help it reach a family audience that has been underserved since Spy Kids.
Moner plays Dora, a bright, energetic 16 year-old who lives in the South American jungle with her professor parents (Peña and Longoria). Endlessly curious, eternally cheerful and adorably dorky, she travels to Los Angeles to spend time with her cousin Diego (Jeff Wahlberg), only to learn that she doesn't fit in at his snobby high school. But concerns about popularity take a backseat once her parents go missing during an expedition to discover Parapata, Peru's famed Lost City Of Gold. Accompanied by Diego and a couple of classmates — and joined by Alejandro (Derbez), a fellow explorer — Dora must go on a perilous mission to save her mother and father.
The original animated series was instructional as much as entertaining, helping young viewers learn Spanish while giving them an appreciation for the natural world. Dora The Explorer's square earnestness was part of its appeal, but it's not a surprise that director James Bobin, who showed a mischievous streak with his work on The Muppets and Muppets Most Wanted, enjoys tweaking Dora's nonstop, sometimes grating enthusiasm. (The movie also playfully mocks the show's conventions, with Dora occasionally looking to the camera to ask the audience questions, even though she's no longer part of an animated show.)
With Dora's loyal monkey pal Boots rendered in CG — as is her pesky nemesis Swiper — the live-action adaptation doesn't capture the original's homespun charm. The screenplay, co-written by Muppets and Muppets Most Wanted co-writer Nicholas Stoller, wants to celebrate individuality, as well as the importance of science and intellectual curiosity. But those teachable moments are buried under piles of fart jokes, lame self-conscious referencing of adventure-movie tenets and adolescent banter. Dora almost feels embarrassed by its source material, regurgitating the show's catchphrases and stylistic tics with an obligatory air.
While Moner exudes unbridled sweetness and self-determination — Dora's American classmates may think she's a know-it-all nerd, but she's proud of her intelligence — her co-stars aren't nearly as memorable. Derbez overplays Alejandro's buffoonery, while Madeleine Madden is disappointingly ordinary as Sammy, an overachieving student who feels threatened by Dora's braininess. Even Peña and Longoria come across as too broad, adding to the suspicion that the uninspired performances are a product of Bobin encouraging his cast to be excessively goofy.
If Dora stumbles as a tool to encourage young people to accept others' differences and embrace their own uniqueness, it's equally deficient as a good old-fashioned adventure yarn. The jungle sequences tend to be unimaginatively directed, and the effects budget seems relatively paltry. Boring booby traps and ho-hum showdowns await Dora and her friends on their search for Parapata, and aside from one mildly amusing animated interlude, both the journey and the destination are forgettable. No doubt there's a general geniality to the proceedings — a sense that it's been made for undemanding young audiences who just want slapstick and low-key spectacle — but even on that modest level, Dora And The City Of Gold tarnishes the memory of an innocuous but good-hearted series.
Production company: Burr! Productions
Worldwide distribution: Paramount Pictures
Producer: Kristin Burr
Screenplay: Nicholas Stoller and Matthew Robinson, story by Tom Wheeler and Nicholas Stoller, based on the television series Dora The Explorer by Chris Gifford & Valerie Walsh Valdes & Eric Weiner
Production design: Dan Hennah
Editing: Mark Everson
Cinematography: Javier Aguirresarobe
Music: John Debney and Germaine Franco
Main cast: Isabela Moner, Eugenio Derbez, Michael Peña, Eva Longoria, Adriana Barraza, Temuera Morrision, Danny Trejo