Comedy horror from first-time director Benjamin Barfoot was written by its star, Danny Morgan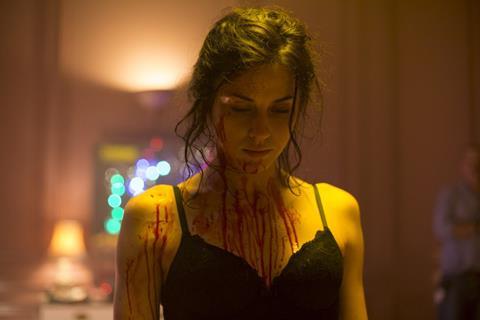 Dir. Benjamin Barfoot. UK. 2017. 90 mins.
Amiable, inoffensive, but not exactly a resounding hit with the ladies, Jim (Danny Morgan) is fast approaching his thirtieth birthday, his virginity hanging over him like a cloud of cheap aftershave. His dodgy mate Alex (Michael Socha) decides to help out, but neither man realises quite what they are getting into when they meet gorgeous sisters Lulu (Georgia Groome) and Kitty (Kelly Wenham). This undemanding comedy horror is neither as funny nor as grisly as it could be, but attacks its bloody third act with a good natured gusto.
There is a cheerful repulsiveness to the prosthetic work used in the third act
A boisterous first feature, directed by self-taught filmmaker Benjamin Barfoot and written by the film's star, Morgan, Double Date attempts to combine the blokish humour of The Inbetweeners with a country house horror premise not dissimilar to that of Kim Chapiron's Sheitan or Jordan Peele's Get Out. As such, it might appeal to a young male audience, although it lacks sufficient flair or thematic substance to significantly break out theatrically. While the film will find a home in festival midnight slots – it follows its Edinburgh World Premiere with a berth in Karlovy Vary – this is not a picture which necessarily demands a theatrical viewing experience and will be well-suited to VOD platforms.
A bloodbath of an opening pre-title sequence leaves us in no doubt that the two female characters are trouble. A pair of enthusiastic would-be conquests meet a sticky end, perforated with stab wounds to the unlikely backing track of Yazoo's 80s synth hit Only You.
The action segues to Alex and Jim. Having been dumped by text by his latest girlfriend, Jim admits that, despite their three-month relationship, he has yet to sleep with a woman. Alex takes this as a personal challenge. A slightly unsavoury sequence gets comedic mileage out of a drunken bereaved woman, borrowing the handbag vomit gag from The Other Woman. The following day, Jim is resigned to spending his thirtieth birthday assembling a balsa wood dinosaur, but Alex has other plans, as do Kitty and Lulu, two girls who give the hapless Jim come-hither looks from the other side of the bar.
During the course of the evening, Jim's drink is spiked with MDMA by his well-meaning best friend. He has to perform a mortifying group song with his Christian family. And, unexpectedly, he falls in love with Lulu, who tentatively returns his affection. This is a problem. She is meant to be slaughtering him before the end of the night.
Special effects are unpolished but there is a cheerful repulsiveness to the prosthetic work used in the third act. And a fight sequence between Alex and Kitty is approached with a full-throttle, gung-ho disregard for the structural integrity of the building. Bookcases topple like dominoes; heads crunch through wood panelled walls. Still, ultimately, there's little here which sets this low budget genre picture apart from the movies it borrows from.
Production Company: Stigma Films
International Sales: Film Constellation info@filmconstellation.com
Producers: Matthew James Wilkinson, Maggie Monteith
Screenplay: Danny Morgan
Cinematographer: Laura Bellingham
Editor: Benjamin Barfoot
Music: Goat
Production Design: Jabez Bartlett
Main cast: Danny Morgan, Georgia Groome, Kelly Wenham, Michael Socha