Alexey German Jr looks back at a week in the life of Russian poet Sergei Dovlatov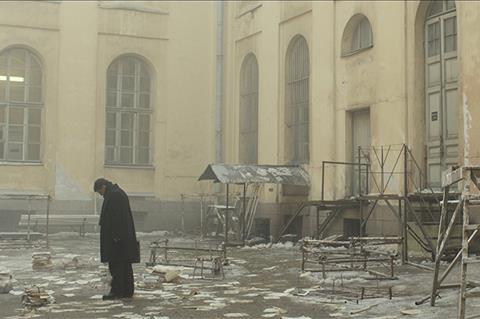 Dir. Alexey German Jr. Russia/Poland/Serbia. 2018. 126 mins.
Alexei German Jr's Dovlatov could almost have been called 'Ballad of the Unknown Writer'. At least, it's the story of a writer who remained unknown in his lifetime, and is still little discussed in the West, although after his death in 1989 he went on to be highly acclaimed in Russia. This slow-burning, pensively drifting evocation of the times of Sergei Dovlatov is not a conventional portrait, still less a biopic, but an imaginatively realistic recreation of a bygone era of Russian culture, when literature and art were considered matters of life and death – and when holding onto your artistic integrity could literally damage your chances of survival.
Dovlatov is played with a mixture of ruefulness, affability and brooding warmth by Serbian actor Milan Maric in his first international role
The film's talky, borderline-narrative and altogether dream-like feel won't make it an obvious commercial proposition, but festivals should gravitate towards a film that's indirectly as much about the survival of serious artistry in cinema as in any other realm.
With its overlapping dialogue, complex use of crowds and beautifully choreographed long-take camerawork, Dovlatov is very much of a stylistic piece with the other films of Alexey German Jr – Paper Soldier (2008), an Antonioni-esque piece about the early Soviet space programme, and the futuristic Under Electric Clouds (2015). Dovlatov contrives to be at once dreamily impressionistic – it actually contains two engaging dream sequences – and highly concrete in its evocation of a week in the life of the young Dovlatov, an aspiring writer who can't get his work published and has been excluded from the USSR's Writers' Union (his Jewish-Armenian identity no doubt being one reason, his ironic outlook being another).
The place is Leningrad in November 1971, when a hardline cultural freeze was replacing the relative permissiveness of the 60s. Poet Dovlatov (Milan Maric), newly divorced and living with his mother in a crammed shared apartment, is experiencing a writing block and contemplating a novel, but trying to earn a living working for an industrial magazine.
Over the following week – of "little joys and big sorrows," as he puts it – Dovlatov has awkward meetings with his ex-wife Elena (Helena Sujecka), hangs out with fellow writer and later Nobel winner Joseph Brodsky (Artur Beschastny), and spends evening after evening at bohemian soirées where marginal, struggling writers and artists listen to jazz and argue vehemently about the value of assorted poets – for this was a time when literature was a religion, and a lifeline to sanity.
Some of Dovlatov's circle don't fare well – a young man attempts suicide in the office of a literary magazine, a painter dies after being arrested for black marketeering – while others survive by putting their beliefs on hold. Dovlatov himself – played with a mixture of ruefulness, affability and brooding warmth by Serbian actor Maric, in his first international role – survives by maintaining a playfully ironic, even satiric outlook, at one point playing cat-and-mouse with a drunken informer over people's interest in reading Nabokov's Lolita.
The film seems at times to drift directionlessly over the week of its action, but then, finding and sustaining some direction in life is the big issue in these excluded artists' lives. A number of emotional spikes punctuate the drama – notably the discovery in a Metro tunnel dig of children who died in the siege of Leningrad. But overall, the film catches the mood of both memory and dream, and of an era in Russian history that could now be too easily forgotten. Dovlatov went on to emigrate to the US, where he eventually died, but his intermittent voice-over ends this superficially downbeat film with a positive message: "We exist."
This stylistically distinctive film, artistically soft-spoken as it is, nevertheless figures as a cri de coeur for our own era, in Russia and elsewhere: if art and the belief in art diminish, we all lose unimaginably.
Production companies: SAGa film company, Metrafilms, Channel One Ussia, Lenfilm Film Studio, Message Film, Art & Popcorn
International sales: Alpha Violet, info@alphaviolet.com
Producers: Andrey Savelyev, Artem Vasilyev, Konstantin Ernst, Dariusz Jabłoński, Isabella Wojcik, Wioleta Kaminska, Miroslav Mogorovich
Screenplay: Alexey German Jr., Yulia Tupikina
Cinematography: Łukasz Żal
Production design: Elena Okopnaya
Editors: Sergey Ivanov, Darya Gladysheva
Main cast: Milan Marić, Danila Kozlovsky, Helena Sujecka, Artur Beschastny, Elena Lyadova, Anton Shagin