Japanese filmmaker Ryusuke Hamaguchi effectively adapts a short story by Haruki Murakami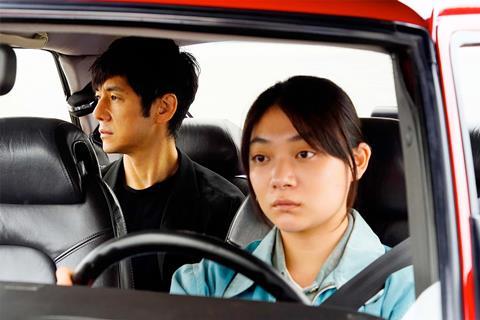 Dir: Ryusuke Hamaguchi. Japan. 2021.179mins
Still grieving over his wife's death, an actor and theatre director agrees to direct a multi-lingual production of 'Uncle Vanya' to be staged in Hiroshima in Drive My Car. Ryusuke Hamaguchi (Asoka 1 & 2, Wheel Of Fortune And Fantasy) takes his inspiration from a Haruki Murakami short story to make a long movie with several intriguing twists and turns in the road. This Cannes Competition title is not for all tastes, but attractive leads and mysterious interlocking narrative layers accompanied by a very pleasant score help make it seem shorter than its three-hour running time.
Hamaguchi has taken Murakami's original story as a springboard rather than a strict template
Forty minutes featuring sex and death and illness and art have gone by before the title credits appear on screen. By then we have the building blocks for what's to follow. Or do we?
Yasuke Kafuku (Hidetoshi Nishijima) and his wife of 20 years, Oto (Reika Krishima), a script-writer for Japanese TV, are always bouncing story ideas off each other — in bed and especially on any commute in the car, which serves as a writers' 'room' with a steering wheel and a windshield. Hamaguchi clearly relishes the notion that a car is a self-contained sort of theatrical space whose passengers — thinking on their own or conversing — are doing the equivalent of rehearsing or performing as they glide along a thoroughfare.
The film gets underway with Oto sitting up in the marital bed recounting, in a manner that at first makes it seem auto-biographical, the story of a teenage girl with a secret crush on a male classmate. When nobody's home, this fictional lass breaks into his family's house to look around and, eventually, leave tiny clues that there has been an intrusion. Later, as Kafuku drives Oto to work, they discuss whether or not the censors would permit the young woman to pleasure herself on her secret beloved's bed. All that free-associating and critical cogitating can be detrimental if you're behind the wheel. A mishap on the road leads to a startling discovery that means Kafuku really shouldn't drive himself or others.
Kafuku and Oto clearly love each other but semi-maddening secrecy is also a subterranean component of their relationship. When Oto unexpectedly dies, Kafuku is haunted by aspects of her behavior which it is probably too late now to ever elucidate. Or is it?
Enter a very discrete woman, Misaki (Toko Miura), assigned to drive Kafuku wherever he needs to go while his production of 'Uncle Vanya' takes shape. Are we more likely to become an open book on the open road? If playfully accurate, the road signs might say "This Way To Guilt" or "Off Ramp To Closure" instead of "Hiroshima" or the speed limit. Either way, by degrees, chauffeur and passenger end up influencing each other's lives.
Kafuku's audition process results in Koshi (Masaki Okada) a handsome young actor who worked with his late wife on TV, joining the strikingly diverse cast of 'Uncle Vanya'. Just how closely Koshi and Oto worked together is up for grabs. We observe Kafuku's unconventional rehearsal techniques via extensive table read-throughs. The play will incorporate half a dozen different languages.
Hamaguchi has taken Murakami's original story as a springboard rather than a strict template, changing and adding locations, inventing additional characters and boosting the importance of others. Splendid incorporation of a character with a disability — an actress who can hear but not speak who uses Korean sign language, enriches the tale through the final frames.
Production Companies: C & I Entertainment Inc., Culture Entertainment Co. Ltd, Bitters End Inc.
International sales: The Match Factory, info@the-matchfactory.de
Producer: Teuhisa Yamamoto
Screenplay: Ryusuke Hamaguchi, Takamasa Oe, inspired by Haruki Murakami's 'Men Without Women'
Production Design: Hyeonsun Seo
Editor: Azusa Yamazaki
Cinematography: Hidetoshi Shinomiya
Music: Eiko Ishibashi
Main cast: Hidetoshi Nishijima, Toko Miura, Masaki Okada, Reika Kirishima