A Mexican migrant worker searches for his lover in Ivan Grbovic's lush Canadian drama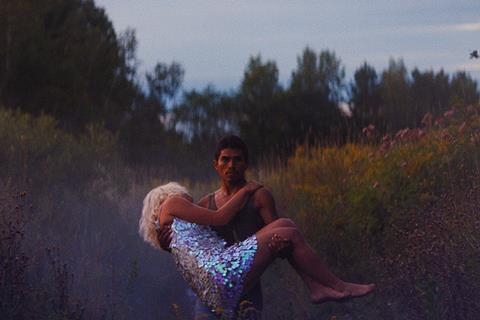 Dir: Ivan Grbovic Canada. 2021. 104mins
Reality is a harsh rebuke to those chasing a dream of love in Drunken Birds (Les Oiseaux Ivres). With its lush visuals and melancholy mix of longing, hope and heroic determination, director Ivan Grbovic's first feature since Romeo Eleven (Romeo Onze) in 2011 is aimed at incurable romantics. Yet Grbovic's love story also comes with an appealing counterpoint of social commentary, and should be embraced at festivals and beyond.
A film that wears its heart on its sleeve
Collaborating with co-screenwriter and cinematographer Sara Mishara, Grbovic begins with a quote from John Steinbeck that "It's so much darker when a light goes out than it would have been if it had never shone." There is something of Steinbeck's 'Cannery Row' or 'The Grapes Of Wrath' in the film's depiction of a makeshift 'family" of Mexican workers employed to cut lettuce on a Canadian farm. The camaraderie, the small acts of kindness and the sense of living a different life when far from home speak to the romance and vulnerability of the migrant experience.
Steinbeck's sentiment is felt throughout in a tale of impossible love, sacrifice and the quest for happiness. Willy (Jorge Antonio Guerrero) is the newcomer in the seasonal workers who arrive at a farm in rural Quebec. The owner Richard (Claude Legault) seems fair and decent, and the job is a means to an end. Willy has been searching for the love of his life Marlena (Yoshira Escárrega) and believes she has fled to Montreal; his search for Marlena is like the noble quest of a knight. The film is structured in a way that it repeatedly folds back on itself to reveal more of Willy's past, his sacrifice and his love for Marlena, the wife of a powerful drug cartel boss.
Willy has now stepped into the lives of a family riven with unhappiness. Richard's love for wife Julia (Helene Florent) is faltering as he struggles to forgive her infidelity the previous summer. Daughter Lea (Marine Johnson) resents what her mother has done to the family. Willy's handsome looks, long eyelashes and dazzling smile remind the lonely Julia of her past lover.
Drunken Birds is a film that wears its heart on its sleeve. Mishara makes the most of the magic hour light to paint a rural Canada defined by bright green fields and warm blue skies. There is a noirish feel to early scenes of the fugitive lovers, and Grbovic uses melodramatic notes the way a painter might introduce a bold colour to a canvas. There are nods to telenovelas, and some plaintive songs from the late Armando Manzanero lift the emotional temperature.
The melodrama never becomes overwrought, balanced by the authenticity of the gentle bond that develops between Willy and Julia and by the depiction of the migrants. Long hours and hard work brings it rewards, but the men are constantly reminded of who owns the land, who pays their wages and who has the power. And, as this is Willy's story, we learn much less of Marlena's feelings or her escape from Mexico. The film threatens to lose focus as we are confronted by the consequences of Lea's reckless acts but, just like Willy, it finds a way home.
Production companies: micro_scope, Pimienta Films
International sales: Wazabi sales@wazabifilms.com
Producers: Kim McCraw, Luc Dery
Screenplay: Sara Mishara, Ivan Grbovic
Cinematography: Sara Mishara
Editing: Arthur Tanowski
Production design: Andre-Line Beauparlant
Music: Philippe Brault
Main Cast: Jorge Antonio Guerrero, Helene Florent, Claude Legault, Marine Johnson