Sean Ellis bays at the moon in this deliciously slippery werewolf drama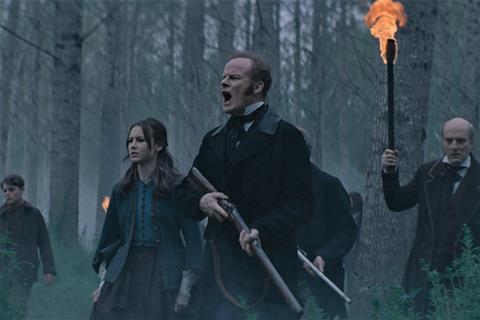 Dir/scr. Sean Ellis. US/France. 2020. 114 mins.
Mining some familiar mythology in a period film that still feels modern and unpredictable, Sean Ellis (Metro Manila) has entertainment on his mind as Eight For Silver rampages through a small village in France in the late 19th century. Although the prologue leans heavily on a silver bullet, it still takes a while for the penny to fully drop that this is a werewolf film as the director incorporates elements of recent, edgier work typified by Ari Aster and Robert Eggers within what turns out to be the tight frame of a classic creature feature.
Begs for a big-screen howl at Hallowe'en
Highly enjoyable, Eight For Silver should ride out globally this year after its Sundance world premiere, lighting beacons towards a theatrical presentation. While it will play well on all media, Ellis's own cinematography and compositions beg for a big-screen howl at Hallowe'en. It's inventive enough to surprise, while still bringing with it fond memories of everything from Hammer to The Innocents, Dracula to creepy country house Gothic horror. Effects don't disappoint either.
There's a sense that Ellis, the UK-born director of 2016's overlooked wartime drama Anthropoid, is enjoying himself here. He jumps around in time and place, misdirecting the viewer quite smartly. The action starts off in France, in the mustard gas-filled trenches of the Somme where men with reflective goggles struggle to breathe and a French soldier named Eduard Laurent dies in horrific circumstances. These are striking images, which continue as the British doctor who treats Eduard pulls a silver bullet from his chest while the dying man mutters his last words: "Eight for Silver".
The director then cuts to a country manor, and then again back in time, to events of 35 years ago in the same house, inhabited by the pugnacious local landlord Seamus Laurent (Alastair Petrie), his wife (Kelly Reilly), the child Eduard, and his older sister Charlotte (Roxane Duran). The country is in the middle of a devastating cholera epidemic.
It's still oddly slippery to get a solid fix on all this: everybody speaks in English, with the exception of an unwelcome caravan of Romany travellers, while Seamus is an unusual name for a French landholder. Essentially, though, this remote place is a heavily forested, mythical space out of time and place in which to re-stage the Lycan legend of old. When Seamus orders the barbaric death of the travelling gypsies who have laid claim to his land, it's very clear there will be a high price to pay. Gruesomely, his mercenaries cut the hands and feet off one man and raise him in the field as a hooded, real-life scarecrow, while burying his mother alive.
Screams and curses rent the air as they die clutching their silver, melted and fashioned into a terrifying set of teeth. Soon, the neighbourhood children – and, it transpires, the adults – are plagued by a series of similar nightmares involving the "Scarecrow". And the importance of the silver the gypsies hoarded becomes terrifyingly clear as people begin to disappear one by one — starting with Eduard. In a neighbouring town, pathologist-with-a-past John McBride (Boyd Holbrook) hears about what is happening in the Laurents' troubled household and rides out with the local constabulary to investigate.
It's at this point where Eight For Silver turns into a more conventional feature, but Ellis ups the mood to compensate, from special effects to soundtrack, cutting and pacing at a heightened speed as the film starts to reveal the horrors within. For the most part, his manor house is brightly lit, the lines are clean, and he shoots interiors with an eye to careful diagonals and mirror imaging. This contrasts with the dark shadow of the forest, its Norman church of sanctuary, and the creatures who are beginning to loom up out of the night.
Holbrook (Two/One) is a solid presence, although the American actor never quite fits into this so-called French fold either. Together, Reilly and Petrie are quite the couple at the heart of this story and hold the gaze throughout. Without giving too much away, and Ellis certainly doesn't until the end frames, the creatures in this feature have been richly imagined, and should add to the combined imagery of the werewolf which has been with us throughout the ages — back, after all, to Roman times, and the Judas whose silver it purportedly concerns.
Production company: LD Entertainment
International sales: CAA/ICM
Producers: Pete Shilaimon, Mickey Liddell, Sean Ellis
Cinematography: Sean Ellis
Production design: Pascal Le Guellec
Editors: Yorgos Mavropsaridis, Richard Mettler
Music: Robin Foster
Main cast: Boyd Holbrook, Kelly Reilly, Alastair Petrie, Roxane Duran