A Colombian immigrant and her adult son find their bond under threat in this intense Italian drama.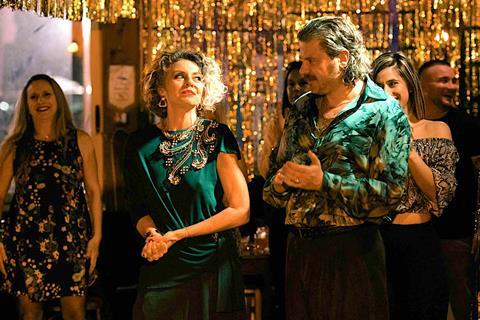 Dir/scr: Enrico Maria Artale. Italy. 2023. 106mins
In a small, isolated house on the outskirts of Rome, an illegal immigrant from Colombia and her grown up son scratch out a meagre existence cutting drugs for a local dealer. All they have is each other, but when their intense bond is threatened by the arrival of an outsider, the fallout proves seismic. Italian director Enrico Maria Artale takes a naturalistic approach to this unconventional, dysfunctional love story which explores just how isolating the immigrant experience can be. Buoyed by by two strong central performances, this character study won three awards at Venice, including best Italian film, which may well help it travel. (I Wonder Pictures will release in Italy).
A deep-rooted realism keeps it on solid ground
This is Artale's third film following his debut The Third Half, which also premiered at Venice in 2013, and 2016 documentary Saro. Like Saro, which was about his father, Artale describes this as a personal film, and his attention to small details gives El Paraiso a dyed-in-the-wool texture from the start. When we first meet 40-year-old Julio Cesar (an excellent Edoardo Pesce), he is waiting outside a ladies' toilet in a sweaty Italian club; when his mother (Margarita Rosa De Francisco, who won the Venice Orizzonti best actress award) emerges, he discretely draws her attention to the tell-tale line of white powder under her nose. Dressed in identically vivid green, the pair then head to the middle of the floor and dance together to the club's pulsing Latin American music. This, we understand, is a routine, a dynamic, which has remained unchanged for years.
Theirs is indeed an intense relationship, which will prove to be both strangely fulfilling and utterly frustrating. The fact that we are never made aware of De Francisco's character's name gives further insight; with her life choices so limited, she is entirely defined by her motherhood. Julio, too, has never seen his native Colombia, his mother having come to Italy illegally while pregnant — they are both hemmed in, and bound together, by their circumstances. Cinematographer Francesco Di Giacomo takes a fittingly claustrophobic approach, tightly framing this couple in the dark, narrow confines of their home.
Julio's ironically-named boat is named El Paraiso ('the paradise') in honour of their Colombian roots; a place his mother pines for. She clings onto Julio for a sense of purpose, while he feels unable to leave — literally, as his mother locks the doors at night, and is near-constantly by his side. The only freedom he has is his brief, melancholy visits to local prostitutes; a detail his mother uses to chastise him in her regular vitriolic rants. This is a co-dependent relationship in extremis.
When young drugs mule Ines (Maria Del Rosario, holding her own as this unwitting third wheel) arrives from Colombia, Julio has his head turned. Ines's vibrant Latin American spirit stirs desire in Julio and intense jealousy in his mother. Still a fish out of water, despite her 40 years in her adopted country, the older woman feels further usurped by this interloper — who is also an uncomfortable reminder of everything she misses about home, and youth. Colombian star De Francisco gives a remarkable layered performance, her chaotic vivacity (and rampant drug taking) a slipping mask for long-held sadness and vulnerability, her desperation to hold onto her son evident in their every interaction from the tender to the violent.
This is a heightened, tragic Oedipal narrative for sure, and there are plenty of deliberately uncomfortable moments, but Artale imbues it with a deep-rooted realism that keeps it on solid ground. A fluid mix of Italian and Spanish dialogue (De Francisco took advantage of Covid delays to learn Italian), music and food highlights the theme of displacement that underscores its central relationship. And, crucially, Pesce and De Francisco have perfect mother-son chemistry; a believable mix of love and hate with 40 years of memories, experiences and resentments always bubbling just under the surface until finally, inevitably, they erupt.
Production companies: Ascent Films, Young Films
International sales: Bendita Films
Producers: Matteo Rovere, Andrea Paris, Carla Altieri, Roberto De Paolis
Cinematography: Francesco Di Giacomo
Production design: Laura Boni
Editing: Valeria Sapienza
Main cast: Edoardo Pesce, Margarita Rosa De Francisco, Maria Del Rosario, Gabriel Montesi