Pixar brings Cannes to a close with its immigrant-themed animation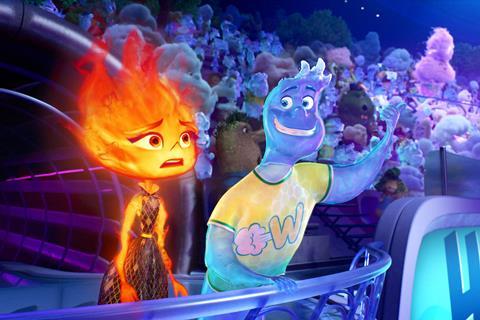 Dir: Peter Sohn. US. 2023. 102mins
Telling a heartfelt tale about the struggles of second-generation immigrants, Pixar's latest animation is one of its most outstanding visually, although the underlying emotions get bogged down by a story which is both familiar and cluttered. Elemental imagines a world in which the four elements — air, water, fire and earth — are living entities co-existing in the same city and expressing some of the same prejudices that our human society does. Intermittently, the film can be quite touching, especially when it focuses on the unlikely romance between a Fire character and a Water character who discover they have more in common than they think. But as has been true of several recent Pixar entries, Elemental contains hints of the studio's wit and poignancy while lacking the inspired execution that once seemed so effortless.
Not always subtly, the film uses its world as a metaphor for racism and xenophobia
Closing the Cannes film festival, and opening Tribeca, Elemental opens in the UK on June 6, arriving in the US ten days later. There aren't big names among the voice cast, and Elemental is an original idea, which means it doesn't have the built-in audience of Pixar's more famous properties. That said, the recent success of The Super Mario Bros. Movie could augur well for Elemental's commercial prospects, even if this film's mediocre hook may keep it from attaining blockbuster status.
Elemental is set in Element City, where the four elements all live. The most recent arrivals are Fire people, who emigrated from Fireland - now they're living in this sprawling urban environment where they are worse off financially than the other elements. Case in point: Ember (voiced by Leah Lewis) and her family, who run a modest shop led by her hard-working father Bernie (Ronnie del Carmen). Hoping to someday take over for her dad, Ember meets a Water man named Wade (Mamoudou Athie). He's a kindly city inspector with bad news: their business doesn't have the proper permits, meaning the shop may have to close down. Ember is enraged, but soon the two must work together to stop the Fire community from being flooded by a canal system which is no longer structurally sound.
Director Peter Sohn (The Good Dinosaur) draws on his own experience as a second-generation immigrant for this story of a Fire woman who has learned from her intolerant father to distrust other elements — in particular Water, which can extinguish Fire. Elemental contains thoughtful ideas about economic inequality and urban strife, observing that Fire characters have to reside in a poorer part of Element City, their community looked down upon by the classist other elements. Not always subtly, the film uses its world as a metaphor for racism and xenophobia, with Ember and Wade not just different elements but from different social strata.
Production designer Don Shank conceives Element City as an entrancing, high-tech metropolis — a happy mixture of bright colours and cutting-edge cool. Likewise, the conception of Fire and Water characters is superb, with Ember's flickering-flame body and Wade's water-drop physique cleverly rendered. The film looks so good, in fact, that it's a shame that the three credited screenwriters rarely break out of Pixar's formulaic mould of energetic action set pieces and wry one-liners to come up with a narrative framework as innovative as the visuals. Additionally, Elemental's premise isn't terribly unique from other Pixar films, such as Toy Story and Inside Out, which also brought inanimate milieus to life. Even the opposites-attract romance, while ultimately engaging, feels standard.
What helps counteract the familiarity is an abiding sweetness, especially in how Athie voices the affable Wade. Each of the elements has its own personality trait in keeping with its physical properties, and Water is given to being gushy, which means that Wade cries without warning. Athie uses that tendency as an excuse to imbue his character with a winning sincerity. Wade falls for Ember quickly, and Athie delivers one of the loveliest voice performances in memory as this endearing Water man convinces this temperamental Fire woman to open her heart.
Unfortunately, Elemental's plot involving potential flooding distracts from the romance, setting up a life-or-death struggle near the end which is more manipulative more than it is moving. There's a smaller-scale story here about the tension second-generation immigrants feel between breaking free and honouring the sacrifices that their parents made to bring them to a new land. Ember loves her father, but ultimately she realises she doesn't want his life, and she knows her family won't approve of her dating a Water character. Those anxieties should create more dramatic friction, and to be sure Thomas Newman's sentimental score evokes some of his best work in previous Pixar outings — namely, the romantic themes from Wall-E. But whether it's the second-rate jokes or the formulaic tear-jerking moments, one can't escape the sense of derivativeness. So many of this film's elements have been utilised far better in the past.
Production company: Pixar Animation Studios
Worldwide distribution: Disney
Producer: Denise Ream
Screenplay: John Hoberg & Kat Likkel and Brenda Hsueh, story by Peter Sohn, John Hoberg & Kat Likkel and Brenda Hsueh
Cinematography: David Juan Bianchi, Jean-Claude Kalache
Production design: Don Shank
Editing: Stephen Schaffer
Music: Thomas Newman
Main voice cast: Leah Lewis, Mamoudou Athie, Ronnie del Carmen, Shila Ommi, Wendi McLendon-Covey, Catherine O'Hara