UK filmmaker Michael Pearce follows up 'Beast' with this confident sci-fi drama starring Riz Ahmed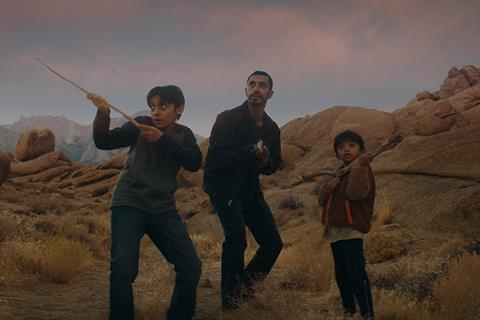 Dir: Michael Pearce. UK, USA. 2021. 108mins
In this cleverly confounding thriller, former marine Malik (Riz Ahmed) turns an impromptu road trip with his two young sons into an elaborate game. But, as he reluctantly reveals to the boys, their very survival depends on sticking to his rules; rules designed to protect them against an alien threat. Humanity, says Malik, is threatened by an invisible plague.
The contributions of a first class crew add texture to the storytelling
Michael Pearce's propulsive and emotionally weighted follow up to Beast (which premiered at Toronto in 2017) is bigger in scale and broader in scope, but with a similar deft play on audience trust and sympathies. If Beast was an eye-catching calling card, Encounter confirms Pearce as a considerable talent. It's also a testament to the skill of screenwriter Joe Barton (who shares writing credit with Pearce), another TIFF alumni, who penned the scandi-horror The Ritual, a hit in the 2017 festival's Midnight Movies strand. Following its premiere in Telluride and screening in Toronto, Encounter will go on to screen as part of the London Film Festival program before releasing globally through Amazon Prime later this year.
Malik is trying to protect his sons from a plague of non-terrestrial microorganisms, brought to earth by a meteor shower, which can enter the bloodstream of a host creature – anything from insects up to humans – and affect behavioural changes. That the authorities have been strangely quiet about the danger is evidence of how extensive it already is. As Malik gently explains to his sons, Jay (Lucian-River Chauhan) and Bobby (Aditya Geddada), half the human population must might already be infected.
Ahmed, still fresh from his Oscar nomination for Sound Of Metal, delivers another complex and fiercely intelligent performance. But in this case, he is matched by a young co-star. Both of the boys cast as Malik's sons are impressive, but Chauhan, who plays the older Jay, is quietly remarkable. A crucial character, it is through Jay that the audience must negotiate a key reveal which shifts the balance of who is the carer and and who is cared-for. "You're not a kid any more," says his father. "You can't be, I need you."
Sure enough, Jay is soon required to shoulder responsibilities beyond his years, and what initially seems to be just another sci-fi infused thriller evolves into something rather more contoured and interesting. The film delves into the complex relationship between an absent father and the sons who know him through the legend of his combat record, but are still discovering him as a man.
The contributions of a first class crew add texture to the storytelling. Benjamin Kracun's generous widescreen cinematography is at once strikingly beautiful but also, as the father and his boys find themselves in a blighted industrial ghost settlement in the deserts of Nevada, disconcertingly alien and threatening. And the score and sound mesh together eloquently – the story plays out to music which incorporates everything from the hum of astral frequencies to the skittering rattle of insect life. And in Pearce's sure hands, the film sustains its tension, even as it sideswipes the audience with slickly executed change of tone.
Production companies: Film4 Productions, Raw, Amazon Studios
Worldwide distribution: Amazon studios
Producers: Derrin Schlesinger, Piers Vellacott, Dimitri Doganis
Screenplay: Joe Barton, Michael Pearce
Cinematography: Benjamin Kracun
Editor: Maya Maffioli
Production design: Tim Grimes
Music: Jed Kurzel
Main cast: Riz Ahmed, Lucian-River Chauhan, Octavia Spencer, Aditya Geddada, Rory Cochrane, Janina Gavankar, Antonio Jarmillo