Casey Affleck, Michelle Monaghan and Sam Claflin star in a domestic invasion drama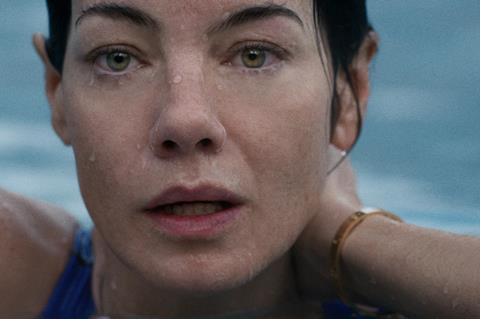 Dir. Vaughn Stein. US. 2021. 105 mins.
Although the screenplay for Every Breath You Take, a psychological thriller starring Casey Affleck, Sam Claflin and Michelle Monaghan, is original, it rarely, if ever, feels that way. Indebted to every domestic invasion film since Fatal Attraction, it's hard to shake off the sense that you've lived through this before - although possibly not in such a gloomy way, with its characters constantly battling their way through the rain as well as storms of suitably over-ripe dialogue.
Stein's film just reminds you uncomfortably of the last time you got soaked
Releasing through Vertical in the US on April 2, this Vaughn Stein-directed film, which shot in a Canada subbing for Washington State in late 2019, is possibly the wettest of its kind, with a supremely buttoned-down Casey Affleck – even by his own high standards – pouring water on any sense that it might ever come to life. Commercial prospects are damp, although the cast alone will certainly drive fans of this genre to online streaming services.
A pre-credit sequence sets the tone with a night-time car ride – in a rainstorm – which results in the death of pre-teen Evan, the son of Philip (Affleck) and Grace (Monaghan). Aiming for a fresh start, the family has moved, with Grace retraining as a realtor while Phillip works from his consulting room at home as well as a neighbouring university for his friend and faculty head Vanessa (Veronica Ferres, also producing). Philip's unhappy teenage daughter Lucy (India Eisley), expelled from her old school for taking cocaine, is telling the truth when she compains about being ignored: Affleck's corduroy-jacketed therapist is a study in repressed misery, while Monaghan's Grace swims incessantly to expunge her pain (often in the rain).
One of Phillip's main success stories as a psychiatrist is Daphne (Emily Alyn Lynd), a privileged, suicidal client whom he helped out of an abusive relationship by revealing all of his own personal secrets. She, in turn, wrote it all down in her diary, making any reader party to information that Grace isn't even aware of, as Philip no longer talks to his wife. You don't need to have seen Spellbound to know that this is bad practice, and pretty soon Daphne turns up dead. The chisel-jawed Claflin then roars into town as her distraught brother who is soon making a play for Philip's wife and daughter, with the help of much strategic use of fairy lighting and a fabulously hirsute chest.
All of this happens early on in the piece, yet Affleck, normally such an instinctive actor, never quite manages to convince us that he's surprised by anything that transpires. In fact, he barely shows a pulse. Perhapes he too has seen it all before, but there's something about his portrayal which seems at odds with the character. This could be down to direction, but the screenplay is also lazy: this is the type of film where a key character hops into a car with the villain - after he has been unmasked - to take a trip to the pharmacy for a prescription for someone who isn't sick in order to be kidnapped.
Sometimes the over-used aesthetic of Every Breath You Take - steel, windows, forest and rain - can result in a visually intriguing, chilly piece, but Stein's film just reminds you uncomfortably of the last time you got soaked. Phillip and Grace favour grey not only as an interior design choice for their glass box home, but also for her work outfits and even their bedlinen. Claflin, the clench-jawed British bunny boiler who gazes obsessively into the fire in multiple shots, tries to warm it all up with some pulpy eyebrow lifting, to his credit, but sadly this film needs much more than gurning to lift itself out the sombre storm clouds of self-importance.
Production company: Southpaw Entertainment
International sales: 13 Films, mail@13films.net
Producers: Richard Barton Lewis, Jean-Charles Levy, Morgan Emmery, Veronica Ferres
Screenplay: David K Murray
Cinematography: Michael Merriman
Production design: Jeremy Stanbridge
Music: Marlon
Main cast: Casey Affleck, Michelle Monaghan, Sam Claflin, Veronica Ferres, Emily Alyn Lynd, India Eisley