Dir: Tom Vaughan. US. 2010. 106 mins.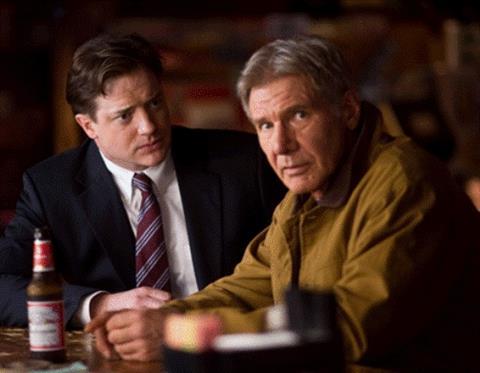 The first production and release from CBS Films is a well-intentioned true story which looks and feels remarkably like a made-for-TV movie but for the star presence of Brendan Fraser and Harrison Ford. A good yarn which could have been told better, Extraordinary Measures is being positioned to tap into an older female audience which is expected to to respond to this "inspirational" heartwarmer about a father desperately trying to find a cure for his terminally sick children.
Ford growls and sneers as Stonehill and we discover too little about his character to understand why he is quite so gruff
CBS is opening the film in the third weekend of January and marketing it ferociously as a wide audience movie rather than a critical or awards item. It will sit best on the CBS TV schedule further down the line, but Extraordinary Measures' star names should attract a mid-size theatrical audience in the US. Internationally, where SPRI is handling the CBS titles (excluding Germany), it will play best in countries such as Italy and Japan which have demonstrated a fondness for tearjerkers.
Unlike 1992's Lorenzo's Oil which dealt with similar subject matter, Extraordinary Measures boasts very little shading or subtlety. Working with the real-life family on which the film is based, the film-makers have created a resolutely positive portrait of nice people trying to beat the odds.
Fraser and Keri Russell play John and Aileen Crowley, a couple who live a comfortable life with their three kids in Portland, Oregon. The only glitch is that two of their children suffer from Pompe Disease, a rare genetic disorder similar to muscular dystrophy which quickly wears down the muscles, nervous system and vital organs. The film begins with the eighth birthday of their daughter Megan and they are told early on that it is unlikely she will survive to celebrate another.
Determined to do all he can to improve their life expectancy, Crowley seeks out Dr Robert Stonehill (Ford), a grumpy scientist at the University Of Nebraska who has made promising steps in medical research on the disease. Crowley resolves to raise money to bankroll Stonehill's work, which aims to develop an enzyme replacement drug therapy, and the two strike out on their own.
Eventually they sell their business to a dynamic pharmaceutical company which can move faster to get the drug to trial, but for although Crowley has made a small fortune, time is running out and he needs to get both his children on the first trial before they die.
Under the direction of Scotland's Tom Vaughan (What Happens In Vegas, Starter For Ten), Extraordinary Measures is a determinedly old-fashioned drama which veers sloppily from one breakthrough to the next. It even looks like a TV movie, which is perhaps an indication of the future product to emerge from the film division of a US TV network.
Ford growls and sneers as Stonehill and we discover too little about his character to understand why he is quite so gruff, but Fraser is likeable enough as Crowley and child actress Meredith Droeger is charming as the spunky Megan.
To sign up for Screen's weekly Reviews Newsletter with all the week's new releases,international openings and full festival reviews delivered free to your mailbox every Friday, please click HERE
Production companies
Double Feature Films
North American distribution
CBS Films
International distribution
SPRI except Germany (TMG/Concorde)
Producers
Michael Shamberg
Stacey Sher
Carla Santos Shamberg
Screenplay
Robert Nelson Jacobs, based on The Cure by Geeta Anand
Cinematography
Andrew Dunn
Production designer
Derek R Hill
Editor
Anne V Coates
Music
Andrea Guerra
Main cast
Brendan Fraser
Harrison Ford
Keri Russell
Jared Harris
Courtney B Vance
Meredith Droeger
Diego Velazquez
Patrick Bauchau