A simply roaring good time with the Fast and Furious crew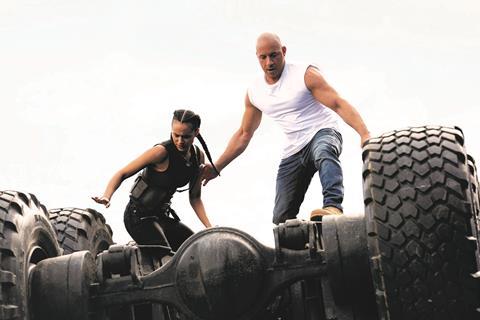 Dir: Justin Lin. US. 2021. 144 mins.
Gloriously ludicrous and stridently melodramatic, F9 is fuelled by its own goofy energy, delivering comically grandiose chase sequences and shameless fan service all in the name of giving audiences an uncomplicated good time. Over the years, the Fast And Furious films have transformed from modest car-centric action flicks into full-blown supersized spy thrillers that could compete with Mission: Impossible, never losing their sense of humour along the way. And director Justin Lin, taking the reins for the first time since 2013's Fast & Furious 6, handily balances the agonisingly sombre proclamations about family with the outlandish action set pieces, although this latest instalment suffers from the inevitable diminishing returns inherent when a franchise constantly tries to top itself.
Laughs in the face of physics and common sense
After months of postponed event films, F9 should be a welcome sight for both viewers and exhibitors. Opening May 19 in South Korea and May 21 in China, this Universal release unspools in US theatres on June 25, landing in the UK a few weeks later. Dwayne Johnson and Jason Statham, who got their own spinoff film with 2019's Hobbs & Shaw, aren't part of F9, but franchise regulars Vin Diesel and Michelle Rodriguez, among others, are joined by newcomer John Cena, who plays the crew's latest nemesis.
Dom (Diesel) and Letty (Rodriguez) are trying to lead a quiet life with his young son Little Brian when they're once again tasked with saving the world. Alongside team members Roman (Tyrese Gibson), Tej (Chris 'Ludacris' Bridges) and Ramsey (Nathalie Emmanuel), they must track down a dangerous weapons programme known as Project Aries before it falls into the wrong hands. But to Dom's surprise, this means he'll be squaring off against Jakob (Cena), his estranged brother, an assassin working for some nefarious individuals.
To criticise the Fast And Furious pictures for being preposterous is probably foolish: if anything, the recent sequels have happily embraced Dom & his crew's logic-defying antics. (In fact, F9 includes a self-mocking joke in which Roman marvels at the increasingly daunting vehicles and vessels they've battled, including that hulking submarine in The Fate Of The Furious.) Lin, who cowrote the screenplay, has no intention of slowing things down now, laughing in the face of physics and common sense as cars swing through the air as if they were Spider-Man or zoom through a landmine-strewn field so fast that the detonators can't go off in time.
On a superficial level, these amped-up showstoppers can be dazzling in their excessiveness, even if the CG effects are so prevalent now that the characters are little more than weightless digital avatars jumping around the frame. Nonetheless, Lin, cinematographer Stephen F. Windon and the film's three credited editors conspire to give the action sequences a breathless headlong rush. And there's a fair share of wit on display as well, in particular during a couple of set pieces which make giddy good use of high-powered magnets.
But the jolly inventiveness of the action scenes only underlines how painfully corny the drama is by comparison. One of this series' trademarks is its overly ponderous focus on the importance of family — the characters can't go more than 10 minutes without talking about how family means everything — and F9 enlarges the theme by introducing Jakob, who shares a past with Dom that will play out in tortuously earnest flashbacks which give us new insights into this stoic individual. Diesel, who also produces, makes sure that Dom is viewed in a nearly mythic light, and the actor's gravelly line deliveries, while meant to seem soulful and weary, tend to be unintentionally funny because of the heavily self-conscious gravity he brings to his performance. Taking their cue from Diesel, the cast tends to glower more than really emote.
Those steeped in the franchise's lore will appreciate F9's nods to sidelined supporting characters — including a few whose return to the narrative is sure to bring cheers to packed theatres. But some of this fan service ends up feeling forced, as does one action sequence that satisfies a desire many Fast And Furious aficionados have long harboured about where the sequels might go. But such moments, while admirably cheeky, start to seem like boxes the filmmakers need to check off — not unlike the familiar riffing between Roman and Tej, or the cameo from Charlize Theron, who reprises her role as the coldly calculating villain Cipher. As fast and furious as F9 races along, it can't quite outrun the impression that these films are losing some of their freshness.
Production companies: Original Film, One Race Films, Perfect Storm
Worldwide distribution: Universal
Producers: Neal H. Moritz, Vin Diesel, Justin Lin, Jeff Kirschenbaum, Joe Roth, Clayton Townsend, Samantha Vincent
Screenplay: Daniel Casey & Justin Lin, story by Justin Lin & Alfredo Botello and Daniel Casey, based on characters created by Gary Scott Thompson
Production design: Jan Roelfs
Editing: Dylan Highsmith, Kelly Matsumoto, Greg D'Auria
Cinematography: Stephen F. Windon
Music: Brian Tyler
Main cast: Vin Diesel, Michelle Rodriguez, Tyrese Gibson, Chris 'Ludacris' Bridges, John Cena, Nathalie Emmanuel, Jordana Brewster, Sung Kang, Michael Rooker, Helen Mirren, Kurt Russell, Charlize Theron