She has been a long time coming, but Fanny Lye certainly does deliver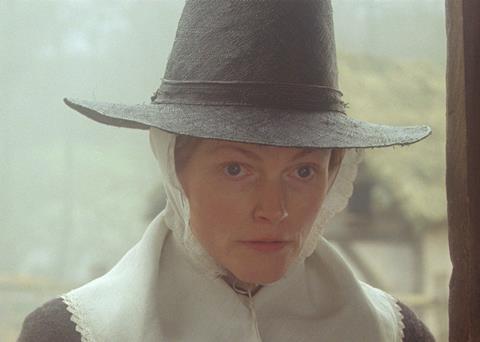 Dir/scr/ed/music: Thomas Clay. UK. 2019. 110 mins
Young British auteur Thomas Clay and his opus Fanny Lye Deliver'd have been curiously missing in action: undelivered, as it were. His last film was Soi Cowboy in 2008, while Fanny Lye shot in late 2015/early 2016 on location in Britain's bucolic, sodden Shropshire. Such delays normally don't bode well for a film; but this religious-themed drama set during Britain's inter-regnum turns out to be anything but normal. The credits give a clue: five (roof) thatchers were used on one purpose-built 360-degree location set; that stunning full orchestral score turns out to be comprised only of instruments used during the Cromwellian era. Clay himself directed, wrote, edited and scored. It's hard to summarise Fanny accurately without giving too much away; certainly a decade of work is up on the screen in glorious 35mm in a film that seems certain to achieve the same cult status of its antecedents.
A supremely game Charles Dance is knocked up and down a field in England
These would include a meld of anything from Barry Lydon to the splatter of Witchfinder General; Clay himself refers to it as a 'Puritan Western' and makes reference to Heaven's Gate and Days Of Heaven in his attempts to replicate the conditions of an obsessively-authentic 1970s studio film about the mid-1600s. Authentic, pastoral, feminist, and very violent, this story about the liberation of Puritan housewife Fanny Lye (a superb Maxine Peake) slowly burns up the screen. Money ran out during post-production, the patchwork budget faltered and this edit has been a long time to arrive, but, with a concerted effort, word of mouth should work in favour of Fanny Lye's future embrace by cineaste audiences.
A supremely game Charles Dance (continuing an impressive late-career surge), playing Fanny's autocratic Puritan husband John Lye, is knocked up and down a field in England where he has set up his home and castle in a troubled 1657. A commanding figure – a former Captain in Cromwell's army - he liberally beats Fanny and their young son Arthur (Zak Adams) for presumed infractions – laughing is frowned upon – as she does all the work about the home. Opening sequences set out her stall as she empties the privvy in the mucky half-dawn. Yet Fanny is content with her lot, having worked as a servant before John set her up as mistress of the house. He owns, her, however: thanks to the laws of that time, she is part of his goods and chattel.
Fog and mist constantly fill the farmhouse and its deceptively pastoral surroundings which have seen much blood shed as the forces of the deposed King and Cromwell rampaged through. Puritanism has taken hold, but new ideas are also roaring into life via radical groups, such as the Ranters, who reject original sin and preach other controversial ideas such as democracy and the rights of women. When two Adam and Eve-like naked fugitives arrive in the Lye household one morning while the family is at church, the scene is set for trouble, but Clay has more surprises up his sleeve than this straightforward home invasion scenario might initially indicate.
The house and barns, purpose-built for the shoot, are accessed via a hill which gives Clay's camera the opportunity to swoop down and gaze up as the film's seven characters go about their business. The Ranters who have dared to enter John Lye's domain are Thomas Ashbury (Freddie Fox) and Rebecca Henshaw (impressive first-timer Tanya Reynolds): we witness their arrival via a delicious tracking shot which veers down the hill, follows a duck across the muddy garden, and sweeps back into the house. We also watch two men on horses trot down, intent on finding and destroying the Ranters, and perhaps more beside: 'popinjay' sheriff (Peter McDonald) and his deputy, accompanied by a hapless local constable.
Fanny Lye Deliver'd is a meticulous work. Clay's previous fims (Soi Cowboy, The Great Ecstasy of Robert Carmichael) have been shown in Cannes and it's easy to why see why his work chimes with that particular auteur-friendly festival: he has an ambitious, singular voice. Clay himself wrote the full orchestral score which can act as bombastic punctuation. Bass notes throb the alarm – what you think is a bassoon might be some other ancient instrument – but then the film suddenly goes quiet, the only noise the ambient surrounds of a 17th century farm. He also edited, and the 35mm shows off the textured russets and browns of the homestead, favouring the intricate work of costume designer Michael O'Connor.
These technical credits don't quite distract from Fanny Lye's increasingly violent journey to Deliver'y, but they do add a sense of security, that the audience is in clever, playful hands. There are a few anachronisms in the dialogue, for example, as well as a pre-film "censor's certificate" from the 1970s. This fascination with the 70s is also shared by Clay's compatriot Peter Strickland, while Ben Wheatley has ploughed the same Civil War terrain in A Field In England.
The characters have much work to do. Peake is restrained but sympathetically expressive throughout, while Dance impresses. Freddie Fox delivers lengthy epistles with grace, although those even white teeth would have dazzled the sheriff into submission long before the controversial ideas his character espouses.
Production company: Pull Back Camera, Essential Films
International sales: Coproduction Office, sales@coproductionoffice.eu
Producers: Zorana Piggott, Robert Cannan, Philippe Bober, Michel Merkt, Joseph Lang
Screenplay: Thomas Clay
Cinematography: Giorgos Arvanitis
Editing: Thomas Clay
Production design: Nenad Pecur
Music: Thomas Clay
Main cast: Maxine Peake, Charles Dance, Freddie Fox, Tanya Reynolds, Peter McDonald, Zak Adams