J. K. Rowling's 'Wizarding World' franchise finds its feet - and flies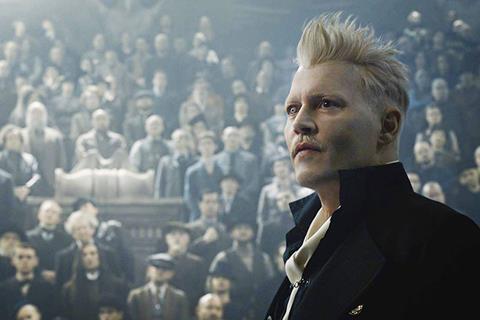 Dir. David Yates. UK. 2018. 134 mins
Questions of family and identity swirl around the heart of Harry Potter relative Fantastic Beasts, which is increasingly – and thrillingly – beginning to reveal itself as a parent. J. K. Rowling's five-film 'Wizarding World' franchise is slowly shaping up as a dark blockbuster with sharply political teeth: children who started out in Hogwarts back in 2001 will find themselves reflected in this story of young adults facing down a blond-haired demagogue who seduces his acolytes with stories of a master race.
Narrows its focus very sharply to effectively set up a chess board for the future three films left in the series.
Efficient, yet loose, Fantastic Beasts And Where To Find Them grossed just short of $815m worldwide in exactly the same release slot two years ago: a disappointment in Harry Potter world. Fantastic Beasts: The Crimes Of Grindelwald, however, should easily lift this new franchise back towards the commercial performances of the past (ie, Harry Potter's combined, eight-film $7.7bn gross). Rowling's script plays down the sweet beasts and jokey romance to transport viewers into a story which is explicitly and visually linked to the rise of fascism in Europe and all the more chilling for it.
Grindelwald feels very fluid. The main cast returns, but shifts, while significant new characters are introduced, and also shift. The story is distributed more evenly and the running time seems less bloated as a result. Newt Scamander (Eddie Redmayne) is awarded a brother, Theseus (Callum Turner), and their relationship and interaction with Newt's former Hogwarts classmate Leta Lestrange (Zoe Kravitz) gives the film a warm anchor against the return of dark wizard Gellert Grindelwald (played by Johnny Depp as a Billy Idol gone to ruin) and the desperate hunt for powerful orphan Credence (Ezra Miller).
It should first be acknowledged that The Crimes Of Grindelwald is a film of considerable technical wizardry. David Yates returns as master of ceremonies: he has directed four Harry Potters and will helm all five Fantastic Beasts films. His skill and experience, coupled with production designer Stuart Craig's singular and consistent vision over nearly two decades allow Rowling's fierce imaginings to take life. The film is an elegantly-paced thread of mirrors into past glories (a Diagon Alley-style set in Paris, Newt's Tardis-like home as a spectacular retort to Hogwarts) coupled with set-pieces which explosively punctuate a story that starts out loosely but narrows its focus very sharply to effectively set up a chess board for the rest of the series.
Grindelwald starts with a typically bravura opening sequence in New York's Ministry of Magic in 1927. The wizard Grindelwald, previously played in disguise by a rather flat Colin Farrell before revealed to be the considerably peppier Depp, is being transported to Europe to pay for his crimes there when he stages a thrilling escape. Three months later, in London, Newt is told by his brother at the hardline Ministry of Magic that Grindelwald's pure-blood movement – over the 'non-maj' or 'can't spell' muggles – is gaining strength and the time has come where "everyone has to pick a side". Happy with his animals, Newt doesn't see things that way.
As the battle lines harden on either side, Hogwarts master Albus Dumbledore (Jude Law) comes to ask another favour of Newt, and his New York friends Jacob (Dan Fogler) and Queenie (Alison Sudol) return to lead him back to auror Tina (Katherine Waterston).
The feeling here is dark throughout, with a trip to Hogwarts allowing some rare open skies. Fascist trappings lend the 1920s art deco-influenced sets a sinister air. Street scenes are lit like postcards of the time which fade in and out of colour. Grindelwald's predictions are chilling. When Dumbledore conjures up a fog across London to shadow his conversation with Newt, it's a reminder how the repeated sequels, theme parks, fake platform at Kings Cross and wand box sets have also overshadowed the exacting creative genius that lies at the heart of Harry Potter and all its cinematic iterations and spin-offs. There's real magic here, and nothing fake about the emotions which guide it.
Production company: Heyday Films
International distribution: Warner Bros
Producers: David Heyman, J.K. Rowling, Steve Cloves, Lionel Wigram
Screenplay: J.K. Rowling
Production design: Stuart Craig
Editing: Mark Day
Cinematography: Philippe Rousselot
Costumes: Colleen Atwood
Music: James Newton Howard
Main cast: Eddie Redmayne, Johnny Depp, Jude Law, Zoe Kravitz, Katherine Waterston, Callum Turner, Ezra Miller, Dan fogler, Alison Sudol, Kevin Guthrie