The tenth instalment of the explosive action franchise is a high-speed trip down memory lane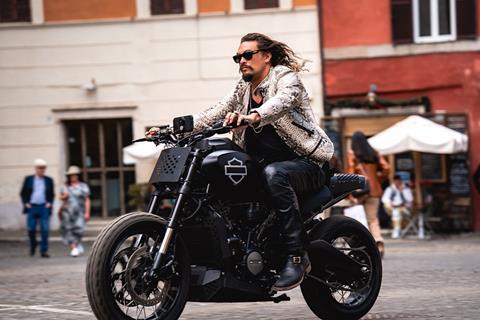 Dir: Louis Leterrier. US. 2023. 141mins
This tenth instalment of Universal's high-octane automotive action franchise puts its foot on the gas early on, and doesn't hit the brake until the end credits — and, even then, leaves things open for at least one more spin of the wheel. That's par for the course with these films, but what does come as a surprise is just how fun this well-trodden formula can be; particularly when framed as a fan-friendly trip down memory lane as Vin Diesel's muscled hero, former street racer Dominic Toretto, goes up against a villain with connections to his past.
Incoming director Louis Leterrier realises that the appeal of the Fast films lies squarly in their turbo-charged action
The Fast And The Furious hit screens in 2001, with Diesel starring alongside the late Paul Walker, and has spawned a franchise which includes nine sequels, a spin-off (2019's Hobbs & Shaw) and an animated TV show. While it has been cumulatively extremely lucrative, only two films — 2015's Furious 7 and 2017's The Fate Of The Furious — have taken over $1bn at the global box office. Universal will be hoping that Fast X, which opens globally on May 19, surpasses the $726k taken by F9: The Fast Saga in 2021, and it should appeal to post-pandemic audiences hungry for big screen spectacle. A family-friendly PG-13 (12A in the UK) rating is likely to help draw a crowd.
The notion of family has always been at the heart of this franchise, and the screenplay by returning writer (and director of five instalments) Justin Lin with newcomer Dan Mazeau leans heavily on the ideas of love and loyalty. A soft focus opening sequence sees Dominic enjoying time with his young son Little Brian (Leo Abelo Perry), wife Letty (Michelle Rodriguez) and sister Mia (Jordan Brewster), together with his extended petrolhead family Roman (Tyrese Gibson), Tej (Ludacris), Han (Sung King) and Ramsey (Nathalie Emmanuel). Toretto matriarch Abuelita (a cameo from West Side Story legend Rita Moreno) drives the point home: "Hold us in your heart and you will never lose your way," she tells Dominic. Diesel does his best to emote during this scenes, desperately urged on by Brian Tyler's swelling score, but it begins to feels as though the film may never get out of neutral.
Thankfully, incoming director Louis Leterrier understands that the appeal of the Fast films lays squarly in their turbo-charged action. Soon, a knock on the door brings bloodied cyberterrorist Cipher (Charlize Theron) — who crossed the Toretto family in the previous two films — with a warning that Dominic is being hunted by psychopath criminal Dante Reyes (Jason Momoa). He is the son of Herman Reyes (Joaquim de Almeida), from whom Dominic and then-partner Brian (Paul Walker) stole $100m a decade ago (the heist that was detailed in 2011's Fast Five, seen in flashback). Herman was killed in the fray and Dante is now targeting Dominic — and making the world burn while he's at it.
It all kicks off in Rome, where Dominic's crew must stop a huge bomb which is rolling through the ancient streets like an explosive pinball; an incredible extended sequence which plays like a mash up of Raiders Of The Lost Ark, Bullitt and Wacky Races. The action then spreads out across the globe – location work combining with sets built at the UK's Warner Bros Studios Leavesden – as the team are tracked by the shadowy government agency they once worked for, but which has now turned against them. In London, Roman, Tej, Han and Ramsey catch up with Deckard Shaw (Jason Statham), who helps them evade capture. In Rio, Dominic calls in old loyalties and faces off against Dante in a drag race that has deadly consequences.
Along the way he is helped by familiar faces including his brother Jakob (John Cena), militia leader (and Deckard's mum) Queenie (Helen Mirren), government agent Little Nobody (Scott Eastwood) and rogue agency representative Tess (Brie Larson). It's like a Who's Who for fans of the franchise, and hints at what we can expect from future outings. (One hopes, however, these hold more in store for Rodriguez's spiky Letty, who spends most of this feature locked away in an Antarctic prison.)
The film's geographical scope is matched by its visuals and stuntwork. Impressive lensing from Stephen F. Windon (who has worked on seven Fast films) moves in tandem with seamless digital effects to thrust the viewer in, out, over and under cars, into water, through fire and out of aeroplanes (one of which features Walker's daughter, Meadow Rain Walker, in a cameo). Editing, too, is fast paced, ensuring the action never lets up for a moment; fluid camerawork means there's a sense of things permanently in motion, even in the quieter sequences.
It helps, too, that the cast are obviously enjoying themselves, and there's a lighthearted humour underpinning the mayhem. Ludacris and Gibson make for a wisecracking double act, while Momoa is having an absolute ball as the vampy, preening Dante, fully embracing the high camp Bondesque villainy. He, like everyone on screen and behind the camera, is unashamedly playing to the strengths of this franchise which, on this evidence, has a little more road left to run.
Production company: Original Film, One Race Films, Perfect Storm
Worldwide distribution: Universal Pictures
Producers: Neal H Moritz, Vin Diesel, Jeff Kirschenbaum, Samantha Vincent, Justin Lin
Screenplay: Justin Lin, Dan Mazeau
Cinematography: Stephen F. Windon
Production design: Jan Roelfs
Editing: Dylan Highsmith, Kelly Matsumoto
Main cast: Vin Diesel, Michelle Rodriguez, Jason Momoa, Tyrese Gibson, Ludacris, Sung Kang, Nathalie Emmanuel, Charlize Theron, Jason Statham, Helen Mirren, Brie Larson, Scott Eastwood, Leo Abelo Perry