Mark Wahlberg brings life to the story of boxer turned priest Stuart Long but fails to reach transcendence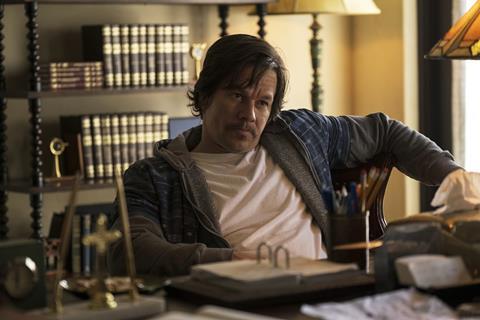 Dir/scr: Rosalind Ross. US. 2022. 125 mins.
Paying tribute to a wayward soul who found himself when he found God, Father Stu is an earnest inspirational drama elevated by Mark Wahlberg's likably modest performance. This true-life tale of Stuart Long, a going-nowhere boxer whose unlikely personal journey brought him to the priesthood, possesses more edginess than is common for faith-based films, and there is no questioning the sincerity of this spiritual exploration. And yet, Father Stu fails to make Long's saga resonate, capturing the remarkable elements of his life without locating the transcendence within the biographical details.
Ross rarely taps into what can be beautiful and also mysterious about religious faith.
Opening on April 13 in the US ahead of Easter weekend, this Sony release will arrive in the UK a month later. Wahlberg, who also produced and shepherded the project, should lend Father Stu commercial visibility, leading an ensemble that includes Mel Gibson, Jacki Weaver and Malcolm McDowell. While certainly catering to the religious audience — Wahlberg is a devout Catholic — the film may be able to make some inroads with nonbelievers, although the story's emphasis on God's ability to transform lives may be a dealbreaker for some.
Wahlberg plays Stuart Long, who as Father Stu begins is a boxer in Montana whose body is starting to break down. Deciding impetuously to move to Los Angeles to pursue acting, he is smitten by Carmen (Teresa Ruiz), who is a parishioner at a local Catholic church. Long doesn't believe in God, but the more time he spends with Carmen and attends mass, the more convinced he becomes that he is being called to be a priest.
Making her feature directorial debut, writer-director Rosalind Ross gives the material a dash of impudence, depicting Long as a lovably coarse smooth-talker whose initial interest in Carmen is purely sexual. (In addition, Long, as well as his feuding parents, played by Weaver and Gibson, have no problem dropping F-bombs or occasionally making inappropriate racial comments.)
This rough-and-tumble irreverence helps Father Stu in its early reels as Wahlberg harnesses the same indomitable optimism (or is it naivety?) that he conveyed in Boogie Nights and I Heart Huckabees once Long heads to L.A., utterly certain he will make his Hollywood dreams come true. Long's courtship of the skeptical Carmen is equally appealing, the character mustering every ounce of roguish charm to try to win her over.
But there are serious obstacles ahead on Long's path to redemption — including a devastating motorcycle accident — and eventually Father Stu settles into a blandly inspirational tone. Wahlberg remains committed to this man's quest to discover his purpose — indeed, the actor gained 30 pounds for the film's final tragic segment — but Ross rarely taps into what can be beautiful and also mysterious about religious faith.
Part of the problem is that Father Stu doesn't spend enough time tracing Long's evolution, and so his embrace of Christianity feels frustratingly underdeveloped. Long proves to be too much of a symbol and not enough of a complicated individual fighting his way toward spiritual rebirth. What makes Long's story so interesting are its colourful digressions, the terrible hardships he faced and the idea that, late in life, he decided that God was he had been seeking all along, as opposed to glory in the ring or fame in Hollywood. Intermittently, Father Stu hints at Long's fascinating contradictions — his earthy bluntness mixing with his sensitive belief in the divine — but the film is not sharp enough to give those contradictions vivid dimension.
Production companies: Municipal Pictures, Palm Drive
Worldwide distribution: Sony Pictures
Producers: Mark Wahlberg, Stephen Levinson, Jordon Foss
Production design: David Meyer
Editing: Jeffrey M. Werner
Cinematography: Jacques Jouffret
Music: Dickon Hinchliffe
Main cast: Mark Wahlberg, Mel Gibson, Jacki Weaver, Teresa Ruiz, Aaron Moten, Cody Fern, Malcolm McDowell