Up close and personal with America's immunologist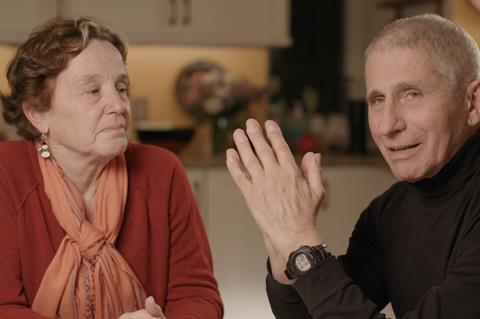 Dirs: John Hoffman, Janet Tobias. US. 2021. 105 mins.
Anthony Fauci's 40-year career has been bookended by two devastating pandemics: the AIDS epidemic and our current Covid-19 crisis. The director of the National Institute of Allergy and Infectious Diseases looks back at those public health emergencies, and others, in Fauci, a straightforward portrait of the man who was thrust into the spotlight once Covid-19 took hold of America. More informational than revealing, John Hoffman and Janet Tobias' documentary makes the case that in times of great uncertainty concerning mysterious diseases, calm reason and unassailable science are our staunchest allies — two assets the 80-year-old immunologist possesses to ample degree.
An affectionate salute
Fauci premieres at Telluride, and liberals who embraced him as a balm amidst the Covid-19 panic will certainly be interested in this admiring overview. And while there may be resistance from some viewers, who won't want to watch anything that reminds them of the reality they've endured for the last year and a half, the documentary does at least offer the comforting reassurance that all health crises eventually subside — as the ever-optimistic Fauci asserts late in the film.
Granted access to Fauci in the midst of last year's outbreak, Emmy-winners Hoffman (Rancher) and Tobias (No Place On Earth) film as he talks to colleagues over the phone and by Zoom, sometimes expressing frustration regarding the Donald Trump administration's handling of Covid-19. These scenes are complemented by sit-down interviews with Fauci, family members, journalists, politicians and AIDS activists as they recount his personal narrative, which is often intertwined with his experience battling global health scares which also include the Ebola outbreak of the mid-2010s.
It would be naive to expect a hard-hitting expose: not unlike 2018's RBG (about another liberal folk hero, the late Supreme Court justice Ruth Bader Ginsburg), Fauci is largely a tribute to its subject that's filled with warm testimonials. It helps that Fauci is a charming interview, flashing a quick wit and a sober intelligence. Plus, he displays a compassion toward those who suffered during these epidemics; never more noticeably than when he gets choked up talking about those who died of AIDS in the 1980s and '90s.
It's that particular through-line which is most interesting: while the documentary is anchored by Covid-19 and the disagreements he had with Trump, Fauci often returns to the AIDS era. Early in his time at NIAID, Fauci quickly realised that this mysterious ailment affecting homosexuals was serious but, as the disease grew more rampant, he faced scathing criticism from the gay community that he and the US government were not doing enough. Superb documentaries such as How To Survive A Plague have chronicled this face-off in detail, and it's commendable that Fauci spotlights where he mis-stepped. (As Fauci himself admits, his reliance on sober, methodical research to find a cure wasn't much help to those already infected, who were dying within months of contracting the disease.)
Those moments of pushback are appreciated, and keep Fauci from becoming too fawning. Still, between Daniel Hart's self-consciously stirring score and the collection of supporters the filmmakers put on camera, the documentary can feel a bit like a promotional campaign to bolster the doctor's image. One can understand the impulse — the film recounts the main ways that Trump and his fellow Republicans tried to tarnish his reputation when he refused to go along with their sunnier prognosis about Covid-19's deadly impact— but the result is that this will be a film largely for people who already like him.
This is not to diminish the brisk pace and professional polish Hoffman and Tobias apply to the material. And even though Trump is no longer in power, there is something to be said for Fauci's reminder of how chaotic his administration was when confronted by the pandemic, spreading anxiety instead of offering simple competency. If the film wishes to ensure a favourable view of Anthony Fauci, its other ambition is to speak up for science and reason — a perspective that, sadly, needs to be reiterated more these days than one would think necessary.
At one point, Fauci's daughter Jennifer expresses her amazement that, at the height of the pandemic when he was getting constant harassment from right-wing media and random death threats, he remained as serene as ever. Many Americans feel very lucky to have such a sure hand on the tiller during this ongoing nightmare. Fauci is an affectionate salute, although some more nuance and inquisitive probing wouldn't have been unwelcome.
Production company: Story Syndicate
International sales: Cinetic Media, sales@cineticmedia.com
Producers: Janet Tobias, John Hoffman, Jon Bardin, Roger Lopez, Mark Monroe, Alexandra Moss
Editing: Brian Chamberlain, Amy Foote
Cinematography: Claudia Raschke
Music: Daniel Hart