A sensitive portrait of a Bulgarian shepherd at key moments in his life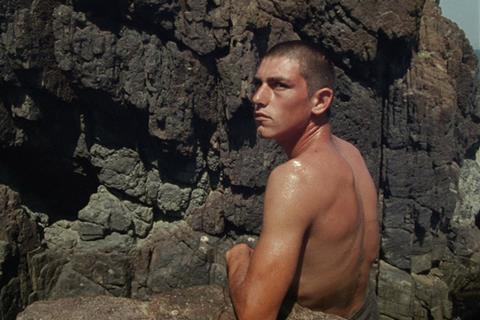 Dir/scr. Kamen Kalev. Bulgaria/France. 2020. 125mins
This quietly affecting portrait of rural Bulgarian existence surveys a shepherd's life at the age of eight, 18 and 82, cycling through the routines of the man's boyhood, military service and waning years. Inspired by writer/director Kamen Kalev's own grandfather, the Cannes 2020 Label drama contemplates loneliness, the lure of nature and its protagonist's greater affinity with animals than people — but it is the film's strikingly beautiful cinematography, as framed with rounded corners and fraying edges resembling home movies, that is especially vivid, and moving; as if he is populating his fourth feature with snapshots from his own family history.
As lensed by debut cinematographer Ivan Chertov, February's fields, streams and woodland feel like they could stretch on forever
Both Kalev's 2009 debut Eastern Plays and 2011's The Island screened at Cannes and, if the pandemic had not gotten in the way, February's memorable imagery would have benefited from the added attention a berth on the Croisette brings. Now making its way around the festival circuit, the film's current stop in Tokyo deserves to be just the latest of many.
Played with few words but an expressive gaze by first-timers Lachezar Dimitrov and Kolyo Dobrev, as well as Eastern Plays' Ivan Nalbantov, Petar hails from a long line of shepherds. As he tells his captain (Milko Lazarov) during his stint as a sailor, tending a flock is all he foresees in his own future, too. Viewers initially meet him as a restless, curious boy, wandering around his grandfather's (Hristo Dimitrov-Hindo) farm outside of Razdel, and desperately wishing he was in the village with his parents and brother instead. Palling around with his dog, bashing through the trees with a stick and certain he has spied another boy in a remote shed (his grandpa scolds otherwise), Petar's days all bleed into each other.
As lensed by debut cinematographer Ivan Chertov, February's fields, streams and woodland similarly feel like they could stretch on forever. In lengthy, usually still shots, Petar roams in and out of view as he potters around the property, and the film showers just as much attention on — and shows as much affection for — the minutiae of the natural world around him. It proves purposely jarring, then, when those evocative images give way to the film's second part, beginning with the teen Petar's wedding to Zhelyaza (Maria Velichkova) before he reports for duty.
Here, and later when Petar is old, still spritely and still roving around the farm with a stick in his hand, Kalev works to the formula established in February's opening segment. The first half of each chapter lays out the rhythms of the character's existence at that point in his life, before the latter portion lets him commune with his surroundings. During his service, he is stationed to a sparse island where gulls outnumber people, and where his superior asks why he "keeps walking around silent and thoughtful". Back home, in the feature's titular month, he is alone and surrounded by relentless snow, yet still takes the time to skip stones across his frozen pond.
Intermittently, Kalev pairs the picturesque frames he edits himself with his own lyrical narration, reflecting upon life's repetitions, nature's splendour and humanity's inherent draw to the land. Nothing is particularly profound, but these rhapsodic musings pair tenderly and poignantly with February's gorgeous, scenic visuals. Every blade of grass, bird and snowflake feels as if it matters not only to Petar, but to Kalev — and a soundscape that switches between naturalistic noise and joyful, playful and haunting pieces of music firmly cements that immersive, transporting sensation.
Production company: WaterFront Film, Koro Films
Sales: Memento Films, sales@memento-films.com
Producer: Céline Chapdaniel, Diane Jassem, Kamen Kalev, Filip Todorov
Editing: Kamen Kalev
Cinematography: Ivan Chertov
Music: Petar Dundakov
Main cast: Lachezar Dimitrov, Kolyo Dobrev, Ivan Nalbantov