Seven years later, the killing of Michael Brown Jr. by law enforcement is examined through the prism of a city's still-simmering racial tension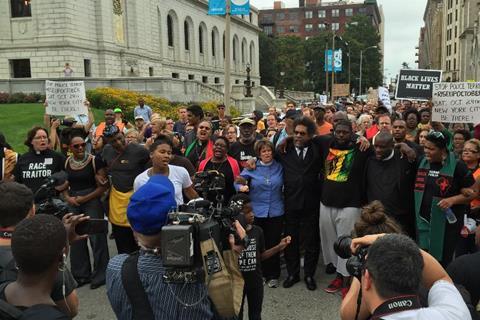 Dir: Mobolaji Olambiwonnu. US. 2021. 85 mins.
Seven years have passed since the killing of Michael Brown Jr. by Ferguson law enforcement, an outrage that galvanised the Black Lives Matter movement in America. The documentary Ferguson Rises chronicles the aftermath, presenting a solemn overview of the unresolved racial tensions still simmering within that small Missouri community. Mobolaji Olambiwonnu's feature directorial debut doesn't provide much new information, but to expect it to do so would be missing the point. This is an act of remembrance and quiet defiance, a principled refusal to let Brown's death be forgotten, and as such the film is a worthwhile testament to keeping the victims of police brutality alive in our minds.
This is an act of remembrance and quiet defiance
Premiering at the Tribeca Festival, Ferguson Rises joins the ranks of other non-fiction projects, such as Whose Streets? and the Oscar-nominated short St. Louis Superman, which focused on Ferguson in the wake of Brown's killing. David Oyelowo serves as an executive producer, which will help bring attention to the picture. But considering that Black Lives Matter remains in the spotlight after George Floyd's murder last summer, many may automatically be drawn to the subject material.
Olambiwonnu offers a timeline which recounts how Brown, an 18 year-old resident of the St. Louis suburb of Ferguson, was stopped by policeman Darren Wilson in August of 2014 and shot dead, although he was unarmed. Brown's death led to weeks of protests in the town of approximately 21,000, which was predominantly black and incensed by what was perceived as a racist white police force. Brown's murder — and the fact that Wilson never faced prosecution — garnered national headlines, but the documentary is just as interested in speaking to locals, including Michael Brown Sr., to get a sense of Ferguson's current political climate.
Ferguson Rises will probably be most useful to those unfamiliar with this story — or those needing a refresher. Clear, helpful graphics lay out specifically where we are in the flashbacks as Olambiwonnu moves from Brown's shooting to different important dates in the ensuing days and months. The documentary exudes a melancholy air, benefiting from a measured, years-later perspective on these events, which allows Olambiwonnu's subjects to ponder the impact Brown's death has had on this community and society at large.
This is not to suggest that Ferguson Rises isn't filled with anger over what happened to that young man. The flashbacks succinctly elucidate the police department's arrogant behaviour, both in the violence it unleashed on protestors and in the way it tried to portray Brown as a criminal. But Olambiwonnu also demonstrates how some white Ferguson residents continue to harbour negative views of their black neighbours. Ferguson Rises spends time with a middle-aged, middle-class white couple who, while not overtly racist, talk disparagingly about Black Lives Matter — the term makes them uncomfortable — and express puzzlement over why the protestors were so upset. The couple's wholesome indifference suggests the obstacles BLM activists face: for those who have never experienced racial inequality, the daily injustices go unseen, and (to their minds) simply do not exist.
If the documentary has a central figure, it's Brown Sr., who grapples with the loss of his son while trying to make a difference in the world. In keeping with Ferguson Rises' modest scope and heartfelt tone, this grieving father doesn't come across as an heroic, towering figure. Rather, he's simply an everyday man who experienced a tragedy and is doing his best to move forward. Sometimes the picture oversells its inspirational message, but Brown Sr.'s humility and vulnerability won't permit such grandiosity — he understands how hard it is to obtain justice (or closure) from a senseless killing.
Olambiwonnu speaks with law enforcement officials, activists and locals — some white, some black — which results in a a thoughtful tapestry of different voices reflecting on how Ferguson has (and hasn't) changed in seven years. What might be frustrating is that there's no definitive takeaway from Ferguson Rises — no clear-cut proof that racism has been significantly combatted — but there are small signs of hope, including the 2020 election of Ella Jones, Ferguson's first black mayor.
The film's subjects suggest that the furore provoked by Brown's murder not only inspired Black Lives Matter but began to force white Americans to consider inequality in their communities. That reckoning has only grown in subsequent years, and Ferguson Rises wants those difficult conversations to continue — while also remembering Michael Brown Jr. so that others won't have to suffer his fate.
Production company: Hope, Love & Beauty
International sales: CAA, travis.tammero@caa.com
Producers: Mobolaji Olambiwonnu, Tanayi Seabrook, TJ Odebunmi, Daisy Mo, Lisa Smithline, Tamika Lamison
Editing: Bradinn French, Jeff Striker, Nicole West, Faisal Azam
Cinematography: Jerry Henry
Music: Sion Day