The series half-heartedly concludes - or does it? - with more of the same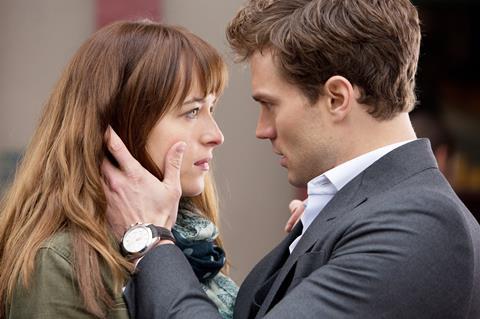 Dir. James Foley. US. 2018. 105 min.
Less a film than a closing coda buffed up, blinged out and spread thin throughout a feature-length runtime, Fifty Shades Freed offers fans of the three-strong series a chance to send off their favourite characters with all the opulence and tastefully soft-core decadence they've come to expect from previous installments, gorging on the series' luxurious embellishments while all but jettisoning any hint of narrative tension or engagement along the way. As the opening titles – which begin with the leads' picture book marriage and then follows them on a European honeymoon straight out of a Pinterest vision board – make clear, the film knows exactly what its audience wants, and sets out to deliver it on every shallow front.
Softscore skin has always ranked second to wealth porn
As such, this Universal release never once finds solid footing as a satisfying narrative, but that will do little to deter the legions of fans who made the books a literary phenomenon and the previous films (Fifty Shades of Grey at $571m, Fifty Shades Darker at $381m) a nearly billion-dollar franchise. Opening worldwide ahead of the Valentine's Day weekend, this third, and seemingly final, chapter will no doubt benefit from that base's fervent support, while likely pulling in a slightly lighter box-office haul than either of its two predecessors.
Picking up shortly after the previous instalment, we return to Ana (Dakota Johnson) and Christian (Jamie Dornan) in the throes of newfound nuptial bliss. While he's still a broody, often one-note control freak and she occasionally processes her atypical domestic situation with wide-eyed remove, they are, for the most part, happily in love and filthy stinking rich. In keeping with the series' wish-fulfillment prerogative, they remain as such from beginning to end; but for the occasional lashes of the whip, theirs would be a friction free relationship.
What begins as a kind of travelogue from Paris to the Cote d'Azur… continues as kind of travelogue from Aspen to Seattle to the couple's new lakeside manor. Because Ana and Christian have already reached their happy equilibrium together, returning director James Foley and screenwriter Niall Leonard must mine exterior sources of dramatic strain.
At different points the filmmakers explore Ana's newfound identity as billionaire heiress and Christian's discomfort with prospect of fatherhood, but they never do so with any coherence or all-encompassing theme. Though the previous entry set up Ana's jilted ex-boss (Eric Johnson) as a future heavyweight antagonist, he too is only offered paltry narrative real estate as a third act foil. Instead the film moves forward as a repetition of 10-15 minute cycles, each one presenting another potential flare-up and then quickly resolving it and capping things off with another bout of harmlessly outré lovemaking, tamed for the mainstream and set to songs by Ellie Goulding, co-star Rita Ora and One Direction's Liam Payne.
Over the three films, stars Johnson and Dornan have never once set the screen ablaze with much shared chemistry, and so it makes sense for most of their stodgy interactions to eventually transform into canvases for bare flesh, pop music and D.P. John Schwartzman's glossy lighting schemes. However that Super Bowl Ad approach is less effective when Fifty Shades Freed tries to hit other registers, such as an early car chase that mystifyingly plays like an expensive commercial for Audi set to the music of an up-and-coming Universal-signed group. Though robbing the film of any of the conventional, propulsive benefits of an action sequence, the chase does speak to the franchise's guiding principle, where softscore skin has always ranked second to wealth porn.
The filmmakers seem to be aware of that too. As in both previous installments, Johnson is at her best when she's allowed to display a little winking irony and gently deflate some of the surrounding pomp. Again, though, such moments are all too rare. While we can quibble about the underused lead or the meandering plot, Fifty Shades Freed ultimately authors its own most stinging rebuke, closing on an extended montage highlighting major moments and turning points from the trilogy. Tellingly, none of them come from this film.
Production companies: Universal Pictures, Perfect World Pictures
Worldwide distribution: Universal Pictures
Producers: Michael De Luca, E L James, Dana Brunetti, Marcus Viscidi
Screenplay: Niall Leonard, based on the novel by E L James
Cinematography: John Schwartzman
Production design: Nelson Coates
Editor: Richard Francis-Bruce
Music: Danny Elfman
Website: www.fiftyshadesmovie.com
Main cast: Dakota Johnson, Jamie Dornan, Eric Johnson, Rita Ora, Luke Grimes, Victor Rasuk, Jennifer Ehle, Marcia Gay Harden