A big city agent discovers a local singing group while on holiday in Cornwall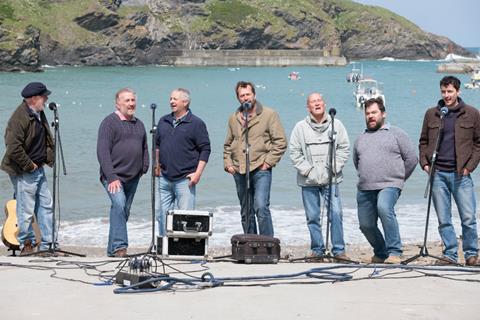 Dir: Chris Foggin. UK. 2019. 112mins
Loosely inspired by the real-life story of an all-male group of folk singers who went from belting out harbourside sea shanties to signing a £1 million record deal, Fisherman's Friends is a somewhat tone-deaf comedy drama. With its by-the-numbers storyline of a jaded London music industry exec (Daniel Mays) who finds romance and true meaning in his life in addition to an acapella group, plus a subplot about a village pub under threat from an out of town property developer, the film is wearisomely predictable and parochial in its outlook.
The picturesque Cornish setting – the story unfolds in the charming fishing town of Port Isaac – will be key to the appeal of a film which will skew to an older, predominantly regional, demographic. Even so, UK distributor Entertainment may have its work cut out connecting the picture with audiences when it opens on March 15. Presales to other territories include Latin America and Spain (Sun Distribution), Japan (New Select), Scandinavia (Scanbox), the Middle East (Gulf Film); it is likely, however, that the approach is too heavy-handed for the film to mirror the break out success of other quirky British underdog comedies like The Full Monty.
Mays plays Danny Anderson, a talent scout who rolls into Port Isaac as part of a stag weekend. Danny and his charmless chums are exactly the kind of people who are described by the locals as 'emmets', (the Cornish word for ants), the invading hordes of outsiders who flood the Cornish seaside every year. Danny's first encounter with single mum Alwyn (Tuppence Middleton) could hardly have been less promising; she labels him a 'tosser'.
She's not wrong, although it's Danny's so-called friends who really deserve the title. Troy (Noel Clarke), his slick boss, pranks Danny by persuading him to sign local group Fisherman's Friends after he sees them crooning by the sea wall one evening. By the time he learns that it was a joke all along, Danny is heavily invested in the lives of the men — and in Alwyn, whose father (James Purefoy, with accent that sounds like a mixture of treacle and sea salt) and grandfather (David Hayman) are singers in the group. And, judging by the excessive use of lens flare during one performance, he has been moved on a profound and spiritual level by the simple timeless purity of the music, which is a combination of recordings of the original group and additional vocals from the actors.
The calculated plotting and the telegraphed story beats make for a less than satisfying drama; music is used copiously and with varying degrees of success to glue the film together. A scene in which the men manage to rouse a London pub full of hipsters into a sing along of 'What Shall We Do With The Drunken Sailor' is one of the more tonally off-key moments. In fact, for a film which trades so heavily on the cultural differences between maritime Cornwall and urban London, the picture seems singularly unbothered with cultural authenticity in either place.
Production companies: Fred Films, Powderkeg Pictures
International sales: Legacy Rights info@legacyrights.co.uk
Producers: James Spring, Meg Leonard, Nick Moorcroft
Screenplay: Meg Leonard, Nick Moorcroft, Piers Ashworth
Editing: Johnny Daukes
Cinematography: Simon Tyndall
Production design: Hannah Purdy Foggin
Music: Ian Brown
Cast: Tuppence Middleton, James Purefoy, Christopher Villiers, Daniel Mays, Noel Clarke