Sean Penn directs his daughter Dylan - and co-stars as her father - in this Cannes Competition title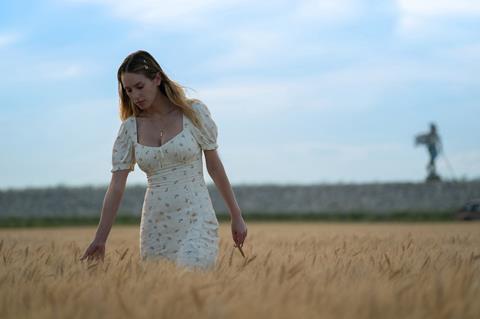 Dir: Sean Penn. US. 2021. 108 mins.
The story of a restless young woman trying to understand her crooked father, Flag Day is intriguing because of the on-screen pairing of Dylan Penn and her father, the film's director Sean Penn. Otherwise, this rather unremarkable true-life drama has scant new to say about family or those luckless individuals who live their lives from scheme to scheme. Premiering in Competition at Cannes five years after Penn's previous film, The Last Face, was torn apart by critics in the same section, Flag Day is less grandiose but equally torpid, mistaking brooding ponderousness for great insight.
The film is so weighed down by self-importance that the proceedings are embalmed in solemnity.
MGM plans an August 20 release in the US, although Penn's dwindling cultural cachet may not be much of a theatrical selling point. Still, those familiar with journalist Jennifer Vogel's 2004 book Flim-Flam Man, about her con-man dad, may be interested, and certainly films such as Catch Me If You Can demonstrate there's an audience for tales of scam artists.
Dylan Penn plays Jennifer, whose childhood was both enlivened and damaged by her larger-than-life father John (Sean Penn), a big talker with even bigger dreams, most of which never materialised. Badly in debt to some dangerous individuals, John drops out of Jennifer's life, forcing her and her younger brother to live with their irresponsible mother Patty (Katheryn Winnick) until Jennifer decides to run away. Over subsequent years, Jennifer and John will renew their bond, despite the fact that she knows she can't trust him — especially when he says he has a legitimate job.
Among his crimes, John Vogel robbed banks and, later, counterfeited approximately $22 million, and so naturally the appeal of a film like Flag Day is the opportunity study the psychology of such a grifter. But one of Flag Day's many disappointments is how Sean Penn fails to create an arresting portrait of John. Neither fascinatingly opaque nor compellingly complicated, the character lacks the dynamic quality that might draw others to him despite his flaws. Penn has played such men before, balancing charm and a winning duplicitous streak, but his Jack is so pathetic in a drab, one-dimensional way that it's hard to see why he'd exude such a hold over his daughter.
Flag Day's inability to elucidate John's compulsion to cheat and lie is compounded by its generic treatment of Jennifer, who is depicted as little more than a garden variety 'troubled youth' who pulls her life together once she's free of him. Surprisingly, there's no real spark between Dylan Penn and her dad — no subliminal emotional connection considering that they actually are daughter and father — to help make their repetitive bickering sear. Indeed, Flag Day quickly grows tiresome with its overheated scenes of characters yelling at one another, and Dylan Penn fails to embody the resilient love Jennifer has for a man who constantly breaks her heart.
With a soundtrack full of plaintive acoustic guitars and mournful voices courtesy of Eddie Vedder and others, Sean Penn's film strains to be a sober treatise on the ways our fathers shape us — whether we like it or not. Cinematographer Danny Moder embraces a Malick-ian view of nature, capturing fluttering birds and hands gliding across wheat, sometimes evoking the wanderlust spirit of Penn's Into The Wild. But the film is so weighed down by self-importance that the proceedings are embalmed in solemnity.
Jennifer's wistful voiceover near the start of Flag Day prepares the viewer not to expect a happy ending, and to be sure there's little joy that follows. But for this tragedy to resonate, Sean Penn would have needed to demonstrate better the alluring contradictions of John, a man who, other characters tell us, brought nothing but sorrow to those around him — even if they couldn't bring themselves to walk away. Flag Day is all clenched-fist anguish, observing as Jennifer and John do their tortured dance, but it never lets the audience inside their world.
Production companies: Ingenious Media, New Element Media, Wonderful Films, Rahway Road Productions, Clyde Is Hungry Films, Monitoba Film & Music, Rocket Science
International sales: Rocket Science, jls@rocket-science.net

Producers: William Horberg, Jon Kilik, Fernando Sulichin
Screenplay: Jez Butterworth & John-Henry Butterworth, based on the book Flim-Flam Man: The True Story Of My Father's Counterfeit Life by Jennifer Vogel
Production design: Craig Sandells
Editing: Valdis Oskarsdottir, Michelle Tesoro
Cinematography: Danny Moder
Music: Joseph Vitarelli
Main cast: Dylan Penn, Sean Penn, Josh Brolin, Norbert Leo Butz, Dale Dickey, Eddie Marsan, Bailey Noble, Hopper Jack Penn, Katheryn Winnick