Dir: Philippe Le Guay. France. 2015. 110 mins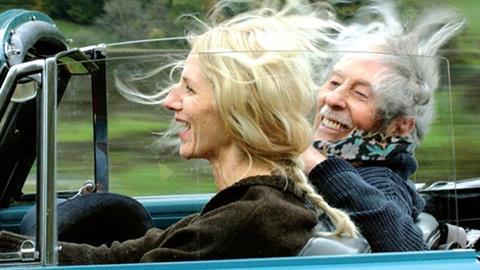 Philippe Le Guay has a talent for delicately handled explorations of human nature built around sensitively drawn performances from proven audience favourites. Bicycling With Moliere (2013) earned Cesar nominations for Le Guay's writing and for lead actor Fabrice Luchini and there is every chance that Floride will repeat that feat. Working from Florian Zeller's award-winning play Le Pere, Le Guay has created a wonderful starring vehicle for veteran actor Jean Rochefort that perceptively confronts the indignities of old age.
Le Guay's ability to walk the line between comic and tragic eventually results in a deep sense of poignancy
Largely sidestepping tear-jerking sentimentality, Floride makes the journey from grumpy old man comic escapades to a more sombre, maudlin tone that veers close to Michael Haneke's Amour. Floride seems destined to strike a chord with an older, middle-brow audience. It is overlong and hampered by some redundant flashback scenes but the plaintive,bittersweet story and a career's worth of affection for Rochefort should lend it box-office allure when it opens in France on August 12th following a world premiere at Locarno.
Now 85, Rochefort remains an effortlessly commanding screen presence. The role of Claude is tailor-made for his twinkly-eyed charm whilst allowing him to show his dramatic range. Claude is a dapper old rascal in his 80s who is beginning to become a liability for his devoted daughter Carole (Sandrine Kiberlain) and the succession of carers who pass through the country estate where he lives. When we first met Claude he is on an airplane bound for Florida where his favourite daughter Alice (Audrey Looten) lives. We assume the flight is only in his mind but are never entirely sure until the end of the film. Claude is beginning to lose his grip on reality, insisting that he is neither senile nor useless whilst his actions are proving the exact opposite.
There are laughs to be had in Claude's silly little ways, increasing lack of inhibition and willingness to turn on the charm when the situation demands it. He can be completely present in the moment and then far, far away. He has moments of lucidity and moments that would test the patience of a saint. It becomes clear to Carole that the time will come when she will have to contemplate putting him into a home.
It was Bette Davis who claimed that "old age ain't no place for sissies" and anyone who has cared for an elderly relative will recognise the film's authentic portrayal of the frailties and frustrations paying witness to a loved one whose personality starts to shift in and out of focus. Rochefort is a natural for the character's endearing roguishness but is also thoroughly believable as he tackles the Lear-like decline of Claude, his swings of mood between aggression, childish delight in the simplest of things and dead-eyed scenes of being lost in a world that is inaccessible to others.
Sandrine Kiberlain previously worked with Le Guay on The Women On The Sixth Floor (2010) and makes Carole a warm, sympathetic character as she copes with the burden of her father's care and the hurt of knowing she is clearly not his favourite daughter. Anamaria Marinca (4 Months, 3 Weeks, 2 Days) is equally appealing in the smaller role of Ivona, a carer with a genuine affection for Claude.
Flashbacks to key incidents in Claude's childhood fail to enhance a piece that already feels overlong. While Floride may also seem too middlebrow and downbeat for some tastes but Le Guay's ability to walk the line between comic and tragic eventually results in a deep sense of poignancy.
Production Companies: F Comme Film, Cine @, Gaumont, Cinefrance 1888, France 2 Cinema, Rhone-Alpes Cinema
International sales: Gaumont International abuhl@gaumont.fr
Producers Jean-Louis Livi, Philippe Carcassonne
Screenplay Philippe Le Guay, Jerome Tonnerre based on the play Le Pere by Florian Zeller
Cinematography Jean-Claude Larrieu
Editor Monica Coleman
Production design Francoise Dupertuis
Music Jorge Arriagada
Main cast Jean Rochefort, Sandrine Kiberlain, Laurent Lucas, Anamaria Marinca