Dir: Oskar Santos. Spain. 2010. 102mins.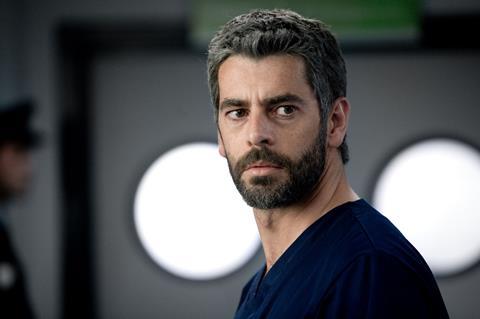 Slow to kick in, this Alejandro Amenabar-produced hospital thriller eventually starts to grip as an intriguing emotional and psychological drama. But the story, and with it our commitment to the characters, falters mid-way, undermined by a string of increasingly far-fetched plot twists. Ultimately this Filmax title from first-timer Oskar Santos conveys the sense that – to adapt the film's tagline – 'sometimes beneath the extraordinary lies the ordinary'.
Newcomer Oskar Santos shows himself to be a careful director with a keen sense of shooting for mood
It's a shame, because Eduardo Noriega's strong performance as an emotionally withdrawn doctor who discovers, quite literally, the magic of making people better, deserves a more disciplined script. Picked up by Alta Films at home, For The Good Of Others is set for Spanish release on April 30. With the Amenabar name – especially in the wake of Agora's Iberian success – and Noriega's pulling-power, the film should open at least open well. Future prospects seem less than certain, however.
Noriega plays Diego, a hospital doctor who specialises in managing pain in terminally ill patients. He is presented - particularly in one stand off with an impetuous but sincere trainee doctor Juanjo (Borras) - as a man who protects himself by not getting emotionally involved. This detachment extends to his stalled relationships with wife Pilar (Plazas) and daughter Ainhoa (Lago).
When one of his patients (Cepeda) tries to commit suicide with the painkillers he has prescribed and ends up in a coma, her lover Armand (Leal) confronts Diego and shoots him at point blank range before turning the gun on himself. Inexplicably, Diego comes round in the emergency room, covered in blood but apparently unscathed.
This is the beginning of a chain of events that will see Diego connecting with Armand's widow Isabel (The Sea Inside's Rueda). While the actress is good as an alcohol-raddled woman devastated by early-onset menopause and the death of her husband, the character seems to have been created as yet another foil for Diego's feelings of inadequacy, giving an uneasy first glimpse of the TV melodrama plotting that will scupper the film's finale.
Santos shows himself to be a careful director with a keen sense of shooting for mood, especially in his use of the hospital setting, with white walls, light blue sheets and green emergency-room scrubs creating a sense of an underwater world that's holding its breath. In its setting, For The Good Of Others is often reminiscent of Almodovar's Talk To Her, sadly to its detriment.
Josu Inchaustegui's camerawork – slow-paced, mostly fixed, and making extensive use of extreme shallow focus – furthers Santos's intentions in this regard. What doesn't help, however, is the soundtrack: an excessively conventional orchestral score that pushes the melodramatic pedal into the floor, and then some.
To sign up for Screen's weekly Reviews Newsletter with all the week's new releases, international openings and full festival reviews delivered free to your mailbox every Friday, please click HERE
Production companies
MOD Producciones
Himenoptero
Telecinco Cinema
International sales
Filmax Internacional
(34) 93 336 85 55
Producers
Fernando Bovaira
Alejandro Amenabar
Alvaro Augustin
Screenplay
Daniel Sanchez Arevalo
Cinematography
Josu Inchaustegui
Production design
Isabel Vinuales
Editor
Carlos Agullo
Music
Fernando Velazquez
Main cast
Eduardo Noriega
Belen Rueda
Angie Cepeda
Cristina Plazas
Clara Lago
Marcel Borras
Carlos Leal