Dir. Andrew Renzi, USA, 2015, 90 minutes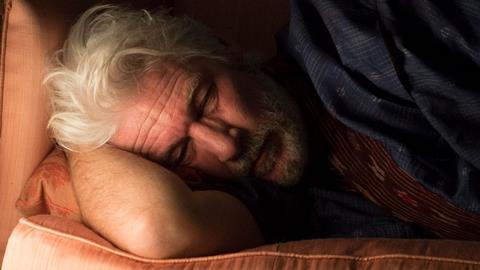 In Franny, Richard Gere plays an overbearing philanthropist who throws money everywhere but can't get enough morphine to medicate his pain and his guilty conscience. The actor's comic sad clown performance lifts the film above an ordinary script.
At the core of this clumsy debut feature, there is still the vital insight that philanthropy in America can be an addiction for the rich who seek cleansing and approval
Gere is coming off the box office triumph of Arbitrage (2012) and the critical festival circuit success of the unreleased Time Out Of Mind, in which he plays a homeless man in New York. Franny may not win over all the critics, yet those other films could boost its audience and Gere playing earnestly and amusingly against type as a suffering buffoon should rally his fans.
Francis L. Watts (Gere) is a wealthy man in Philadelphia who shares his riches and loves acting silly. His horseplay in a car with a doctor friend and the doctor's wife causes an accident that injures Franny and kills his closest friends. Years later, Franny is a bearded pudgy eccentric when the couple's daughter, Olivia (Dakota Fanning), re-enters his life, expecting a child. Franny's response is to shower her and her new doctor husband Luke (Theo James) with gifts – a house, a job at the hospital that Franny funds, and a seat on his charity's board.
The one-time sleek American Gigolo, reinvented with Billy Connolly hair and a paunch here, is at the centre of Andrew Renzi's drama about a wounded man trying to remedy his ills with donations and drugs. Predictably, Franny's extreme generosity alienates the young couple, and the well-meaning malcontent finds himself alone with his addictions.
Gere plays his role of the moneyed unfortunate with plenty of heart, including a hammy wedding rendition of My Girl, and with more than a few homages to Robin Williams's Patch Adams in the film's hospital scenes. His despair as an addict – at one point cutting himself with a knife so he'll get stiff painkillers in the emergency room — comes out as pure wrenching anguish.
Yet the script by Renzi in his feature debut is filled with dramatic holes that a bawdy, volatile Gere is forced to try fill. The actor broadens the already broad slapstick to bridge some of those gaps. There's also a gimmicky leitmotif of Franny trimming his hair to mark crucial transitions in the plot. Given the patchy dialogue, you're grateful that hair is something that Gere, in his sixties, doesn't lack.
And then there are the film's implausibilities. A fabulously rich man who's been addicted to morphine for years after a car accident wouldn't just run out of it. He shouldn't have much trouble getting the drug – legally or illegally. Does the moneybags who knows everybody important not know a single dope dealer?
And we never learn how Franny became so rich. In a gossipy town like Philadelphia, where the source and lineage of one's money are as important as the money itself, this defies belief.
So do the endless shots which seem dictated by the arrangements that producers made to film in the City of Brotherly Love. Franny spends more time at the Philadelphia Museum of Art than Rocky did, which was a lot. The frequent promo moments wear on the viewer as Franny's largesse weighs down on Olivia and Luke.
Yet Gere brings an emotion and an energy and a volcanic Lear-ish anger to Franny. Theo James displays a flawless American accent, while he and Dakota Fanning are dutiful in underwritten roles in would-be elegant interiors that look as if they were furnished at the Pottery Barn.
At the core of this clumsy debut feature, there is still the vital insight that philanthropy in America can be an addiction for the rich who seek cleansing and approval, and vent their fury when they don't get it unconditionally. Gere, to his credit, manages to drive that point home.
Production companies: Celerity Pictures, TideRock Media, Treehouse Pictures, Follow Through Productions, Soaring Flight Productions, Andax Films, Magnolia Entertainment
International sales: QED International Los Angeles film_markets@qedintl.com
US distributor: Samuel Goldwyn Films
Producers: Kevin Turen, Jason Michael Berman, Jay Schuminsky, Thomas B. Fore
Executive producers: Michael Finley, Ruth Mutch, Walter Kortschak, Justin Nappi, Richard Loughran, Shelley Browning, Michael Diamond, George Paaswell, Andrew Corkin, John Friedberg, Mark Moran
Screenwriter: Andrew Renzi
Director of photography: Joe Anderson
Production designer: Ethan Tobman
Costume designer: Malgosia Turzanska
Editors: Dean C. Marcial, Matthew Rundell
Music: Danny Bensi, Saunder Jurriaans
Main cast: Richard Gere, Dakota Fanning, Theo James, Clarke Peters, Dylan Baker, Cheryl Hines