Ryan Reynolds and Jodie Comer try to breathe life into Shawn Levy's videogame action-comedy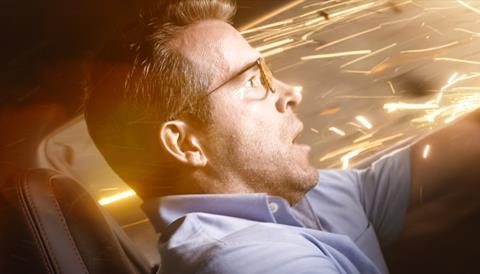 Dir: Shawn Levy. US. 2020. 115 mins.
The hero of Free Guy will discover that nothing about his world is real — which is fitting for a film that is itself a bit of an artificial construction, cribbing from influences like The Truman Show and Groundhog Day to craft a hollow facsimile of an action-comedy blockbuster about a background video game character who finally takes centre stage. Ryan Reynolds is endearingly wholesome as this likeable digital nonentity, but once the story's initial burst of cleverness fades, director Shawn Levy becomes bogged down in convoluted plotting and the overfamiliarity of his seize-the-day message.
Not nearly as satisfying as real life
Premiering at the Locarno Film Festival, Free Guy opens in the UK and US on August 13, and the combination of Reynolds' box-office appeal and the picture's high-concept premise should guarantee a robust opening. Taika Waititi, as the show's villain, also has a built-in following. Reviews are unlikely to be sparkling, though, and word-of-mouth may well be muted.
The friendly, dull Guy (Reynolds) lives in Free City, a seemingly ordinary metropolis save for the fact that random acts of intense violence erupt all around him, which he smilingly accepts as just part of his day. What the audience quickly deduces is that he's actually part of an open-world video game, called Free City, which allows players across the globe to roam around via avatars. But Guy is a NPC, or non-player character — essentially, the unremarkable individuals in the background of video game scenes who have no personality. However, that changes after he meets the beautiful Molotov Girl (Killing Eve's Jodie Comer) and decides to break out of his routine to talk to her — not knowing that he's in a video game or that Molotov Girl is being controlled by Millie (also Comer), a shy game developer seeking proof that ruthless mogul Antwan (Taika Waititi) stole her code to create Free City.
Initially, it's fun to witness Guy's surreal surroundings. Levy wrings a few laughs from the notion that Guy doesn't understand that how strange it is that army tanks would suddenly barrel down city streets or avatars fire rocket launchers at will. (Lil Rel Howery is amusing as Guy's equally happy-go-lucky NPC best friend.) Satirising the ubiquity of hyper-violent video games, Free Guy extracts comedy out of imagining what it would be like to inhabit such an extreme realm.
Unfortunately, the picture doesn't offer much creative spark beyond that opening salvo, and quickly it becomes clear that writers Matt Lieberman and Zak Penn are merely transplanting the themes and tropes of previous films into this new setting. Like Jim Carrey's Truman Burbank, Guy is meant to be an inoffensive everyman who has never dreamed big. And as with Groundhog Day (or Edge Of Tomorrow), the film features a character who goes back to the beginning when he "dies" — in this case, waking up in bed in the morning — and has to start all over again, holding onto the knowledge he has already accumulated about his situation.
Reynolds and Comer have an adorable chemistry — interestingly enough, Molotov Girl is a far more assertive version of Millie than the one she shows the world — but the film only superficially examines the intriguing existential questions at the heart of her story. Instead, Levy unwisely focuses on a complicated narrative involving Millie and her friend Keys (Joe Keery) trying to prove that Antwan ripped off their designs to become rich with Free City as Antwan maniacally prepares for the launch of Free City 2, which could have serious repercussions for Guy. This subplot becomes increasingly more important, but it's never compelling — especially once viewers realise it's only there to provoke life-and-death stakes for the finale.
Ethan Tobman's sleek production design imagines Free City in ways both stylish and cunningly banal, a smart riff on the fictional cities in video games that are merely the backdrop for explosions and murder. But Levy, whose pictures often tend toward the broad and sentimental, doesn't have much feel for high-octane action sequences or nuanced comedy, and as a result Free Guy too often plays like a loose collection of random gags and concepts. (As the egotistical, buffoonish Antwan, Waititi strains to wring chuckles from threadbare material.) Perhaps most damning of all, one of Free Guy's main criticisms of video games could also be levied against the film: it's not nearly as satisfying as real life.
Production companies: Berlanti Productions, 21 Laps, Maximum Effort, Lit Entertainment Group
Worldwide distribution: Disney
Producers: Ryan Reynolds, Shawn Levy, Sarah Schechter, Greg Berlanti, Adam Kolbrenner
Screenplay: Matt Lieberman and Zak Penn, story by Matt Lieberman
Production design: Ethan Tobman
Editing: Dean Zimmerman
Cinematography: George Richmond
Music: Christophe Beck
Main cast: Ryan Reynolds, Jodie Comer, Joe Keery, Lil Rel Howery, Utkarsh Ambudkar, Taika Waititi