Owen Kline's indie debut about an aspiring comic book artist is laced with dark irony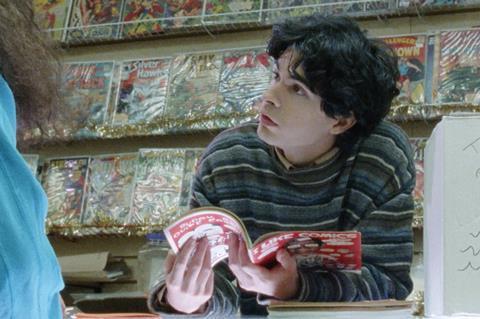 Dir/scr: Owen Kline. US. 2022. 86 mins.
The prickly protagonists of Funny Pages would not be pleasant company in real life, but writer-director Owen Kline's proudly dyspeptic feature debut gives his characters a scruffy integrity that makes them perversely fascinating. Following an aspiring comic book artist who decides to drop out of high school and pursue his passion, this bleak comedy is unromantic about the struggles faced by creative people — and the troubled souls they may meet along the way. An impressive Daniel Zolghadri is resolutely unlovable in the lead role, guiding an ensemble which is determined to leave the audience unsettled — laughter or revulsion are equally acceptable reactions.
Not unlike Ghost World and American Splendor, Funny Pages wrings wry laughs from the misanthropic milieu of underground comic fans
Playing in Directors' Fortnight, Funny Pages will be released through A24 in the US, catering to an edgy, younger arthouse crowd that will appreciate the picture's antagonistic tone. Uncut Gems filmmakers Josh and Benny Safdie serve as producers, which will only add to the film's hip quotient.
After the death of his mentor in a horrendous car accident, teenager Robert (Zolghadri) decides that school no longer interests him, announcing to his suburban New Jersey parents (Maria Dizzia, Josh Pais) that he is moving out so he can focus on cartooning full time. Finding a cheap, rancid apartment, Robert lands a job working for a public defender, and becomes intrigued by one of her clients, Wallace (Matthew Maher), who had a violent altercation in a pharmacy but used to work for a comic-book publisher. The two form a fragile bond, although Wallace's abrasive personality puts the possibility of long-term friendship in serious doubt.
Collaborating with co-cinematographer Sean Price Williams, who has frequently shot pictures for Alex Ross Perry and the Safdie brothers, Kline fills his debut with intentionally drab, dilapidated interiors meant to mimic both Robert's dour mood and his rude awakening about the "real world" away from the comforts of home. Not unlike Ghost World and American Splendor, Funny Pages wrings wry laughs from the misanthropic milieu of underground comic fans, but there is nothing endearing about Robert and his antisocial cohorts. Indeed, the film feels like a wake-up call for the young man, whose artwork leans more toward R. Crumb-style sexual provocation than polished superhero adventures. This loner sees in Wallace a possible replacement for the supportive teacher who died at the start of the picture, but those hopes will quickly be dashed.
Maher is a marvel at making Wallace repugnant, whether it is through the grating speaking style of the character or his hostile manner. There is enough nuance in the performance that it doesn't become one-note, but nevertheless Maher and Kline actively test the patience of the audience, presenting us with a man who, as Robert will learn, has grown bitter because of unfulfilled artistic dreams. Maher is well-matched by Zolghadri, who savours each of Robert's callous remarks, a defence mechanism because he feels misunderstood by his parents and alienated from his peers.
In keeping with its rudderless characters, Funny Pages tends to meander from one quirky digression to another. If anything, Kline invites us to hang out in Robert's odd ecosystem, which includes Miles Emanuel as his best friend Miles, who is even more socially awkward than he is. There is a dark irony at the centre of the picture: at a time when comic books — and superhero films — are more popular than ever, these people love the unpopular stuff, forever uncool in a culture that has gone mainstream. Funny Pages eventually builds to a moment of upsetting aggression, hinting at the genuine anguish at the heart of these outcasts. But even then, Kline resists any attempt to sentimentalise Robert's plight. It's a testament to his skills as a first-time feature filmmaker that we stay on his misfits' rancorous wavelength.
Production company: Elara Pictures
International sales: A24, sales@a24films.com
Producers: Josh & Benny Safdie, Sebastian Bear-McClard, Ronald Bronstein, Oscar Boyson, David Duque-Estrada
Production design: Audrey Turner, Madeline Sadowski
Editing: Owen Kline, Erin DeWitt
Cinematography: Sean Price Williams, Hunter Zimny
Music: Sean O'Hagan
Main cast: Daniel Zolghadri, Matthew Maher, Miles Emanuel, Maria Dizzia, Josh Pais, Marcia Debonis, Stephen Adly Guirgis, Ron Rifkin