Gareth Evans and Matt Flannery turn a PSP game into bloodily effective entertainment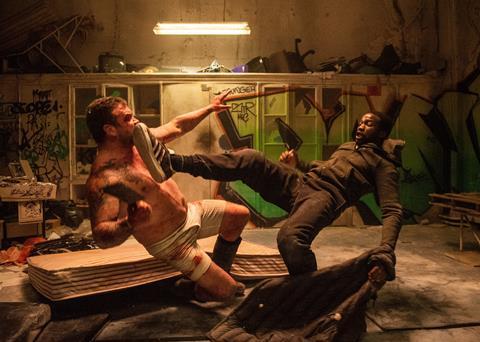 Joe Cole, Sope Dirisu, Paapa Essiedu: three talented, intriguing young UK actors grab the leads with relish in Sky TV's crime potboiler Gangs Of London. Essiedu has played Hamlet at the RSC; Dirisu mastered Corialanus, also at the RSC; Joe Cole, apart from a breakthrough role in Peaky Blinders, drove Thai prison drama A Prayer Before Dawn to international acclaim. It's good, guilty-pleasure fun to see them slumming and scheming their way through a joyfully bloody and luridly entertaining former PSP game which has been worked over professionally by Gareth Evans and Matt Flannery (Corin Hardy and Xavier Gens also direct).
One point it clearly makes while watching from home in the middle of a global lockdown: your family could always be much, much worse.
Gangs Of London is hardly a new prospect for anyone familiar with The Sopranos mobsters, or The Godfather's five New York crime clans. Evans has blended the game's pacey violence with this central structure, kicking in with his own Asian action choreography experience (The Raid) and pulpily transplanting it to the UK's capital city. It may seem like a glossily comfortable low-brow watch – although it's knottily plotted enough that you can't exactly doze off – but Gangs Of London boasts eye-watering levels of violence. It's probably not a good idea to stick it on for the kids during lockdown. Especially if you own a set of darts.
Evans and his partner Flannery are masters of the tease, nimble plotters who pack their cast with double and triple-dealers and lace their fight sequences with respect to Yuen Wo-ping and Hong Kong cityscape dramas. They centre the series around the London-based Irish Wallace clan, who, with their consiglieres, the Dumani's, have a lock on the city's dark criminal networks. Through shadowy corporations and a property empire, they facilitate the rackets run by Albanian, Pakistani, Chinese and Turkish groups in an uneasy affiliation. When Finn Wallace (Colm Meaney) is suddenly murdered, this threatens to implode in a tsunami of blood.
Kicking off with an enjoyably-pacey feature-length instalment, followed by eight one-hour episodes, Gangs Of London starts as it means to go on with Sean Wallace (Joe Cole) on top of a high-rise building in the City of London, hanging a man by his legs and setting the rope on fire. We flash to a week earlier and the tensely-plotted murder of Finn. We then move forward to sequences which are pure Godfather: the heads of the clans file into the Wallace's terraced house for a "board meeting" during which it becomes clear that Sean is a hothead, Ed Dumani (Lucien Msamati) knows where the bodies are buried; and Alex Dumani (Essiedu) is the brains of the organisation.
Meanwhile, as Finn's funeral gets underway, a "washed up squaddie" by the name of Elliot Finch (Dirisu) tries to muscle his way into the action. At this point, an extended bar brawl - and the use of the aforementioned dart - signals that it's game on with Gangs of London in a show where every stylish shot and eye gouge will be matched by a quick, sharp, twist in the plot. The Wallace's house has many skeletons, for example. Ma Wallace (Michelle Fairley) has the look of Polly Gray from Peaky Blinders about her. Younger son Billy Wallace (Brian Vernel) could be a Fredo. Seems as if Finn had a few side-deals going on before he met his very sticky end, as well.
But this is a show where everyone's got something to hide, from wayward sons and murdered wives and children to double lives, side-deals and stabbed fronts, backs and sides. It's really saying something when the murderous Albanian crime lord suddenly starts to look like the cuddliest character in the piece. And if you're looking for a let-up, suffice to say that the second episode starts with a child being forced to shoot a bucket which contains the head of a living, buried-to-his-neck accomplice of Finn Wallace (Meaney again, in flashback).
If money has been spared here, it's hard to see where. The action jumps all over London as if shooting permits in the capital city were as easily obtained as the goons who haplessly guard these scheming psychopaths. Scenes shot in the traveller encampment which may - or may not - house the secret to Finn's murder could have funded the whole of Tresspass Against Us Part 2. Screening weekly on Sky, with the box set available already on Now TV, this Pulse Films production is a jittery modernist mix of an old-fashioned crime drama with escapism from the East, all soaped up into a bloody lather with lashings of style and attitude. One point it clearly makes while watching it from home in the middle of a global lockdown: your family could always be much, much worse.
Production company: Pulse Films
Creators/executive producers: Gareth Evans, Matt Flannery
Executive producers: Thomas Benski, Lucas Ochoa, Jane Featherstone
Music: Aria Prayogi, Fajar Yuskemal
Main cast: Joe Cole, Sope Dirisu, Michelle Fairley, Lucian Msamati, Paapa Essiedu, Brian Vernel and Colm Meaney