A modern, animated Neapolitan reworking of the familiar Cinderella tale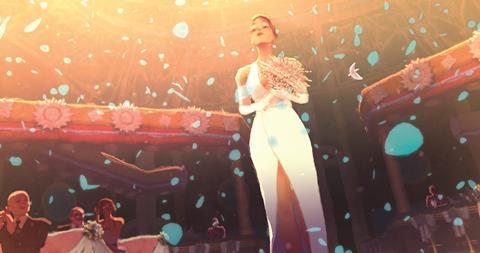 Dir/scr: Alessandro Rak, Ivan Cappiello, Marino Guarnieri, Dario Sansone. Italy. 2017. 86mins
Alessandro Rak's first full-length animation, The Art of Happiness, was an odd hybrid of New Age philosophising and Neapolitan street culture that scooped an EFA award in 2014. Rak has teamed up with three colleagues to direct this this follow-up, whose main character is the city of Naples in all its decadent, damned beauty. More conventionally plotted than The Art of Happiness, 'Cinderella the Cat', to translate its Italian title, centres on a modern Neapolitan reworking of the familiar Cinderella tale by musician and dramatist Roberto de Simone.
An adult fairy-tale that will also play to kids of ten and up, Gatta Cenerentola owes a debt to the strand of Japanese 2D anime best represented by Satoshi Kon (Tokyo Godfathers, Paprika), not so much in its style as in its noirish urban attitude, and the way dream sequences are allowed to percolate into the film's here and now. Engagingly plotted, this hard-boiled fairytale has a potentially wider audience than Rak's debut, especially on home ground in Italy, as well as in animation-friendly France and Belgium.
De Simone's 1976 spin on Cinderella is little more than a springboard for a film that is mostly set on board a criuse ship, the Megaride, moored in the port of Naples. We first see it in a peppy parody of a 1940s Italian 'Giornale Luce' newsreel announcing the inauguration of shipping magnate Don Vittorio Basile's futuristic 'Science and Memory Hub'. Aimed at bringing a city more often associated with crime and poverty to the technological forefront and regenerating its docks, this glass-domed science-park is a compendium of wonders from all over the world based on a technique called the 'photosweep' – otherwise known as the hologram.
In pre-dating holography (which was invented in the late 1940s but only developed when lasers entered the scene after 1960), Gatta Cenerentola plays inventively, and thought-provokingly, with the idea that old imaging technologies leave ghosts behind even when they become obsolete. In the corridors of the Megaride, guests, crew and staff mingle with flickering holographic visions raised by the decent but naive shipping magnate.
From the control room, he sends a blue-green fish swimming up a corridor past his little daughter Mia, who is returning from an unsuccessful hunt for a missing shoe hand-in-hand with the ship's head of security, Gemito (voiced by Alessandro Gassman, one of several name actors in the voice cast).
It's the Don's wedding day – but we soon learn that his bride-to-be, beautiful working-class singer and mother of six Angelica Carranante, is under the control of her lover, sinister cabaret entertainer and mafioso Salvatore Lo Giusto, who plans to murder Basile as soon as the marriage is contracted and Angelica has become legal heir to his fortune. In a sequence that plays out inventively as a series of flashbulb-lit stills, the deed is done.
Around fifteen years later, the shabby, rusting Megaride has become a seedy floating nightclub called the Ace of Clubs, though the holographic 'ghosts' unleashed by the long-dead magnate still sputter to life now and then, playing out sometimes revealing scenes from the past.
Angela now acts as manager and madame to her six children, all of them, including transvestite Luigi, cabaret acts who also perform sexual services for clients. Mia, now a ragged, slightly punky girl on the verge of her 18th birthday, is treated as a servant by her legal guardian Angela and the rest of the Carranante clan, while Salvatore, now called 'Il Re' the King), has become a powerful Mafia boss and footwear magnate, a slick dictator whose face leers out from the screens of publicity blimps whirring overheard.
Gemito, meanwhile, is a cop, working undercover to expose Il Re's more lucrative sideline as a drug baron. A series of specially-composed musical numbers by Neapolitan musicians like Enzo Gragnaniello tap into the city's musical diversity, from its jazz scene to its popular songs, but also channel mood and character, as in Il Re's confessional last number, the dark tango 'Erba cattiva'.
The animation feels just a little lo-fi at times, with some TV-anime stiffness and budget-saving repetitive motion. But the scene painting, with its watercolour feel, is spot-on, bringing out the sordid, faded opulence of the ship and the atmosphere of menace and degradation that prevails in a rubbish-choked city where soot falls constantly from the sky. Gatta Cenerentola is on one level a noirish spin on a popular fable, but its real resonance derives from its stimulating contribution to a long-running dialogue (also recently aired in Elena Ferrante's best-selling Neapolitan Novels tetralogy) about the good creative and evil destructive demons that pull southern Italy's largest city alternately towards hope and despair.
Production companies: Mad Entertainment, Rai Cinema
International Sales: RaiCom, intlsales@rai-com.com
Producers: Luciano Stella, Maria Carolina Terzi with Mauro Luchetti
Art directors: Barbara Ciardo, Annarita Callogaris, Antonia Emanuela Angrisani
Animators: Laura Sammati, Ivana Verze, Danilo Florio
Music: Antonio Fresa, Luigi Scialdone
Main voice cast: Massimiliano Gallo, Maria Pia Calzone, Alessandro Gassman, Mariano Rigillo