Poignant and powerful documentary about day-to-day life in the war-torn city of Gaza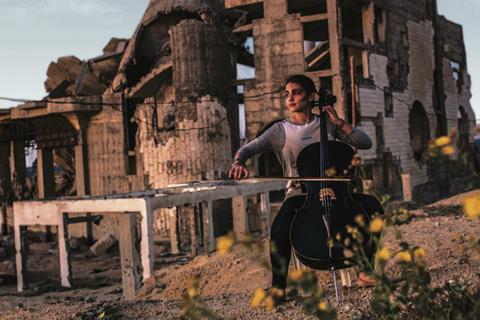 Dirs: Garry Keane, Andrew McConnell. Ireland/Canada. 2018. 92mins
Decades of news coverage have ensured that Gaza is a place we are all aware of, even if it's hard to visualise day-to-day life there. Garry Keane and Andrew McConnell's lyrical documentary gives a face to the name, a four-corners look around this over-crowded "open prison", as one inhabitant describes it. This carefully-made film delicately avoids direct confrontation with political elements while still making clear their culpability for the devastation it surveys. Many are responsible for Gaza's dire plight, it suggests, and by omitting them, Keane and McConnell give a solid cross-section of its inhabitants their voices back.
In Gaza the film, the story belongs to the people who live there
Gaza is a richly-realised documentary about a poor, poor place. Irish-backed, it opened at Sundance before commencing its international rollout at the Dublin Film Festival. Its cinematic vision should ensure it follows other recent Middle Eastern-set conflict documentaries on a prestige festival and awards run (photographer McConnell's imagery is a standout). Bereft of political rhetoric for the most part, it should appeal to the curious and the open-minded, and its increasingly perilous third act is bracing.
Only 25 miles long, seven miles wide, and home to two million impoverished inhabitants, Gaza is shut off from the world by a harsh blockade. There's no sense of how the film-makers got permission to shoot there, or imported their equipment and exported footage, but its two border crossings with Egypt and Israel are slammed firmly shut.
Families – many of them extremely large - have been living in limbo in refugee camps for generations, with no hope for the future. Repeated intifadas have scarred generations of young men, broken down and missing limbs, "a burden to society". Rubbish overflows on the streets, electricity only runs for four hours a day, the water is undrinkable. Israeli shelling and Hamas's violence and manipulation results in no shortage of young boys willing to throw stones at Goliath. There's little else to do. This is often a picture of bleak despair.
Yet Keane and McConnell also find a sense of the place and its humanity as they face the camera towards the Mediterranean sea. There's Ahmed, 14 years-old at the outset, with his 13 siblings from the same mother (dad has three wives and 40 children in total). A taxi driver who spent time in jail for bankruptcy laments past days and the open-minded people who lived here. A teenage cello player proudly holds her head high to say she doesn't want anybody's pity, just to live a normal life. Her secular mother talks about a liberal past with no veiled women. A gentle tailor recalls the glory days of a business that has all but disappeared.
Gazans live in twisted ruins, shut off by the blockade on one side and the gently-twisting, deceptively open sea on the other – with a three-mile fishing limit Gazans can't use it to feed themselves, and a breach results in an Israeli gunboat and two years in prison.
Shots taken from high-up show over-crowded beaches where the devout pray, the children frolic in the surf, and there's a sense of some sort of freedom. But this documentary was shot during May 2018, a particularly violent time in Gaza, and pretty soon you can almost smell the cordite in the air as Gaza becomes ever-more febrile, shuddering in the gunfire and explosions.
It's intolerable and unforgiveable and so very sad: everything you might expect from the Gaza of the headlines. But in Gaza the film, the story belongs to the people who live there. And that in itself is a step forward.
Production companies: Reel Films, Filmoption International.
International sales: Cinetic Media (US), Filmoption International
Producers: Garry Kean, Andrew McConnell, Brendon J. Byrne, Paul Cadieux
Cinematography: Andrew McConnell
Editing: Mick Mahon
Music: Ray Fabi