Three young people struggle with love and desire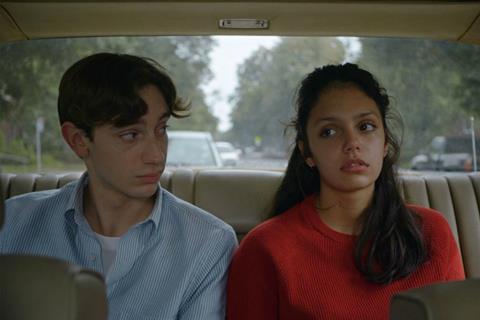 Dir/scr: Philippe Lesage. Canada. 2018. 130mins
First loves are fraught with heartbreak and uncertainty in Genesis (Genèse), a perceptive exploration of young people struggling to find their heart's desire. The wise, witty screenplay and noteworthy performances will likely win attention for the film and enhance the standing of writer/director Philippe Lesage, whose critically admired The Demons (2015) never found the audience it deserved. The subject matter, warm humour and smooth craft of Genesis should allow it a much better chance to break beyond festival admiration towards some kind of commercial life.
Often very funny, the film also shows real feeling for the tangled workings of the human heart
More Eric Rohmer than John Hughes in its depiction of young lives, Genesis largely focuses on sixteen year-old Guillaume Bonnet (Théodore Pellerin) and his older stepsister Charlotte (Noée Abita). Guillaume boards at a private school for boys and is the class clown. A smart aleck who loves attention, he will happily disrupt a lesson, imitate a teacher or treat his fellow pupils as easy targets for his disdain. He seems insufferably arrogant but is also the very cliche of a sensitive outsider, buried in a copy of Catcher In The Rye and placing posters of The Smiths on his wall.
Charlotte is two years older and in a committed relationship with Maxime (Pier-Luc Funk). This could be her forever lover, but he is coy about looking too far into the future. He even proposes that they consider the possibility that they might want to see other people. His seemingly throwaway comment rocks her world, yet it is Charlotte who starts looking elsewhere for love.
Genesis charts the difficulties of both Guillaume and Charlotte as they try to navigate a world that offers them no certainties or guiding rules. Guillaume's casual arrogance is stripped away by the feelings he develops for his best friend Nicolas ( Jules Roy Sicotte). All doe-eyed and breathless, he has to accept that this could be love and feels compelled to act upon it.
Often very funny, especially in classroom scenes filled with unconventional teachers and unruly pupils, the film also shows real feeling for the tangled workings of the human heart and the way individuals are at their loneliest in a crowd of people. Guillaume and, especially, Charlotte seem to be punished for having the temerity to go looking for love.
The interwoven stories, shifting moods and immersive use of music sometimes call to mind the cinema of fellow Canadian director Xavier Dolan. Lesage, however, has an equally compelling command of cinema language and as good an eye for casting. Théodore Pellerin worked with both Lesage in The Demons and Dolan on It's Just The End Of The World, and also impressed in Never Steady, Never Still. Genesis further confirms his presence and versatility. He is entirely believable as a gawky adolescent, full of bluster and insecurity and really nails one long, edge-of-the-seat monologue in which he publicly declares his love for Nicolas in front of the whole classroom.
A final sequence focuses on 12 year-old Félix (Édouard Tremblay-Grenier) who loses his heart to Beatrice (Emilie Bierre) at an idyllic, Eden-like summer camp. Perhaps it is Lesage's way of underlining that, in the beginning God created love.
Production company: Productions l'Unite Centrale
International sales: Be For Films info@beforfilms-com.
Producer: Galile Marion-Gauvin
Production design: Marjorie Rheaume
Editing: Mathieu Bouchard-Malo
Cinematography: Nicolas Canniccioni
Main cast: Noée Abita, Théodore Pellerin, Édouard Tremblay-Grenier