A female bodybuilder finds her inner strength in this immersive drama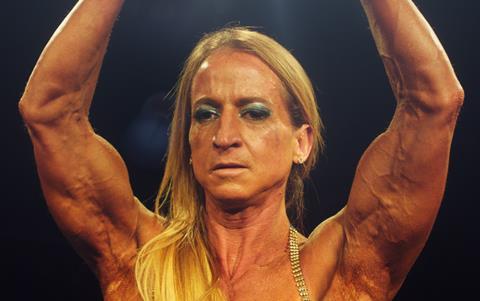 Dir/scr: Laszlo Csuja, Anna Nemes. Hungary/Germany. 2021. 92 mins.
Affairs of the heart, both physically and emotionally, bend and flex through the course of Laszlo Csuja and Anna Nemes' intimate character study set within the world of bodybuilding. In a gruelling environment where appearance and the right pose are everything, they get under the spray-tanned skin of Edina (played by former world champion bodybuilder Eszter Csonka) as her relationship with the sport she loves, and her boyfriend and coach Adam (Gyorgy Turos, who has also been a bodybuilding champ, begins to shift.
Edina is never objectified by the camera because we're always more concerned with what is going on in her head than her body.
The result is an immersive, often melancholic, study of the paradoxes of a world where the perfect external look is frequently achieved by ruining the body on the inside through drugs, and where staying in control is paramount. The doubly-unusual subject matter of bodybuilding coupled with its female perspective has ensured festival interest since Gentle had its world premiere at Sundance earlier this year, and its slow-burn charm and the presence of On Body And Soul producer Andras Muhi could help it get a foothold in arthouse cinemas internationally.
International recognition is something Gentle's central character is striving for from the start, as we see Edina take to the stage, her bulging muscles in sharp contrast to her perfectly manicured false nails and beauty pageant-worthy make-up. Her appearance of physical strength is also undercut by the fact she is barely able to walk to the stage – a result, an intertitle indicates, of the fact that bodybuilders lose 74% of their body fat to compete and are often severely dehydrated. "You were a good girl," Adam tells her afterwards, in the same tone he might use for a puppy, later instructing her to "stock up" on the meal he's prepared her because she's back on the diet the next day so she can be at her best for the world championships.
Edina is as gentle as the title suggests, compliant, at least initially, when it comes to doing what Adam tells her, whether it is relaxing so he can inject her with the latest drug cocktail or powering through press-ups in the gym even when she's ill. Money, however, is something that is beyond their control, but an absolute must in a world that relies on drugs for results. This is what leads Edina to take up a side line in escort services – something she keeps from Adam. What sounds on the surface like another space where she is instructed to do the bidding of others transforms into an unexpected realm of freedom after she encounters Krisztian (Csaba Krisztik), whose requests begin to feed her own fantasies. These encounters also allow the directors to bring in some bucolic, almost Eden-like imagery that is the polar opposite of Edina's regular environment.
This is not a drama driven by huge revelations or sudden changes but of subtle psychological shifts, as Edina begins to take control of her inner desires. Krisztian may be paying her but he's also entering into exchanges with her that nobody else does; not Adam, with his fixation on the world championships, or even her family – glimpsed when the pair takes a trip home for the dubious joys of a pig slaughter, animal lovers be warned – who can't seem to wrap their heads around her bulk.
Nemes – who made a bodybuilding documentary as part of the preparation for the film – and Csuja keep the focus on Edina. Adam may be controlling, but he's single-minded rather than malevolent, and her inner journey is more important. Though the physical is often accentuated by cinematographer Zagon Nagy, through the use of silhouettes, Edina is never objectified by the camera because we're always more concerned with what is going on in her head than her body. In the end, it isn't important how we or others see her, but how she perceives herself.
Production company: Komplizen Film
International sales: Films Boutique contant@filmsboutique.com
Producer: András Muhi, Gábor Ferenczy
Production design: Anna Nyitrai
Cinematography: Zágon Nagy
Editing: Attila Csabai
Music: Tamas Kreiner
Main cast: Eszter Csonka, György Turós, Csaba Krisztik