Dir: Jared Hess. US. 2009. 89mins.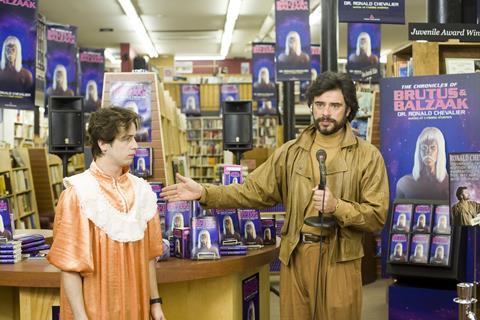 Unrelenting adolescent wackiness can be amusing for a short time, but stretched over feature length it can all wear very thin. After the interlude of Mexican wrestling comedy Nacho Libre, Jared Hess returns to the same provincial misfit genre he mined so successfully in Napoleon Dynamite with this Utah-set tale of a budding teenage sci-fi author.
Some funny sketches are hidden here but they lose the fight with the film's Troma aesthetic and lack of plot development
Here, however, the 'triumph of the nerd' that kept us going throughout the weirdness of Dynamite and contributed to its huge breakout success is buried under a welter of increasingly bizarre minor characters and sci-fi fantasy inserts. By the time the nerd does triumph, we barely care.
After a poor opening in limited release in the US, this Fox Searchlight title is set for DVD and Blu-Ray outing on March 2, an appropriate format for a geek-friendly work which might just attract a late-night cult following on ancillary.
The film's one highlight is a star turn by Jemaine Clement – one half of New Zealand musical comedy duo Flight of the Conchords – as Dr Ronald Chevalier, a pompously cheesy celebrity sci-fi writer with a bouffant hairdo and a wild Carnaby Street accent. Chevalier starts off as the hero of the film's hero, Benjamin (Angarano), a 17-year-old home-schooler living in Utah with his backwoods-hippy mom (Coolidge) who designs nylon nightgowns.
Benjamin writes sci-fi novels, and he takes one of them (Yeast Lords: The Bronco Years) to a writer's camp where Chevalier is teaching. However his guru soon becomes his nemesis when he steals Benjamin's story and, with the smallest of tweaks, turns it into his next bestselling novel.
There's a love interest of sorts in the form of Tabatha (Feiffer), a fellow aspiring writer who is friends with film producer Lonnie (Hector Jimenez, Jack Black's tag team partner in Nacho Libre). Scenes from the pitiful low-budget movie (his 84th) that Lonnie decides to make from Benjamin's manuscript are juxtaposed with others from the more polished film which is based on Chevalier's bastardisation. Both star Sam Rockwell as a jump-suited warrior battling the evil lords who control the yeast factory.
Glimmers of the talented but lonely young adolescent's predicament come through in the character of Benjamin, especially in the mother-son scenes; but otherwise our sympathies are swamped by the relentless freakshow and the increasingly silly sci-fi parody inserts, mostly loaded with pubescent gags involving gonads, breast-cannons and defecating snakes.
There are some funny sketches hidden in Gentlemen Broncos – of the type which wouldn't look out of place in an episode of The Mighty Boosh – but they lose the fight with the film's Troma aesthetic and lack of plot development long before any of the scenarios onscreen come to their resolution.
To sign up for Screen's weekly Reviews Newsletter with all the week's new releases, international openings and full festival reviews delivered free to your mailbox every Friday, please click HERE
Production companies
Rip Cord
Fox Searchlight
Worldwide distribution
20th Fox International
Producers
Mike White
John J Kelly
Screenplay
Jared Hess
Jerusha Hess
Cinematography
Munn Powell
Production design
Richard A Wright
Editor
Yuka Ruell
Music
David Wingo
Main cast
Michael Angarano
Jennifer Coolidge
Jemaine Clement
Mike White
Halley Feiffer
Hector Jimenez
Sam Rockwell