Dir. Daniel Gordon. UK, 2016, 90 mins.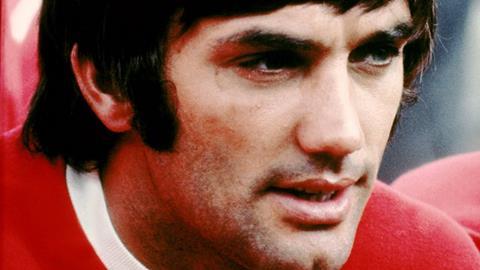 One of the most naturally gifted soccer players the world has ever seen makes for an elusive and rather dispiriting subject in George Best: All By Myself, the latest documentary feature from Hillsborough director Daniel Gordon.
Interviewed late in life, Best said he expected to be remembered for his glory years rather than the messy aftermath – a hope that, in this very documentary, proves forlorn
The facts of the matter are plain to see – a prodigious talent squandered by alcoholic excess – but the demons that drove Best remain open to surmise, despite personal testimony here from the key women is his life and some fascinating archive material. Theatrical prospects long strongest in Manchester and Northern Ireland (where Belfast airport is named after Best), especially if present and former football talent can be co-opted into an event-style release. TV backers include ESPN and the BBC.
Belfast-born Best was the first pop superstar in English soccer, joining Manchester United in 1961 aged just 15, making his first-team debut at 17, and winning the accolade of European Footballer of the Year at the age of 22. In these early years, his relationship with manager Matt Busby, who rebuilt his team from the ashes of the Munich air crash of 1958, is described as "like father and son".
A precipitous fall followed – "It was downhill on a toboggan," offers one witness – but media attention failed to decline in tandem with his match fitness, keeping Best on the front pages until his death from liver disease in 2005. His good looks, charisma, luxe living, lothario prowess and unpredictable, self-destructive behaviour saw to that.
Early footage of Best reveals a shy, slender teenager, a polite kid who obeyed the rules of his Manchester landlady, and who wrote letters home to his parents every week. It was alcohol that encouraged him out of his shell, building his confidence. It was a meteoric rise to fame, cashing in on his name by opening clothing boutiques in Manchester, quickly signing advertising deals endorsing eggs ("E for B and George Best" was the slogan advocating an egg for breakfast), men's cologne and Best-branded footwear – a first for an English footballer. Playing in a number 7 shirt, he was soccer's James Bond and the fifth Beatle all rolled into one.
Gordon presents footage of key moments in the skilled dribbler's footballing career, including a couple of vital European Cup matches, but the early years are less well represented: after all, BBC TV's Match of the Day only began airing in 1964, and just two matches per week were filmed at that time.
Best's travails off the pitch – including a notorious man hunt when he went AWOL in January 1971, eventually discovered hiding out at the London apartment of actress Sinead Cusack – are more generously documented. He's seen showing off his newly commissioned modernist house, unappreciated by team mates for its boxy, sleek exterior ("It looked awful"), but enjoyed for its man-cave delights inside. Like David Beckham three decades later, Best was confidently fashion forward, as evidenced by a striking clip of him entering a nightclub wearing a long, pink tie-dye T-shirt tucked into a giant-buckled, studded belt.
Interviewed late in life, Best said he expected to be remembered for his glory years rather than the messy aftermath – a hope that, in this very documentary, proves forlorn. Extensive interviews with wives Angela and Alex, who together lived through decades of decline, recount the sordid details – and in fact the film begins with a reconstruction of a car driving along a rainy road at night, with Angie recounting how she drove past a wretched, soaked tramp standing in the intersection, "drunk as a skunk", then realising with horror that this was in fact her husband. That was the trigger that caused her to leave him, calculating that she had the energy to focus on just one baby in her life (son Calum, then aged one).
While All By Himself certainly serves as a cautionary tale about the perils of alcohol addiction, its warts-and-all portrait does finally become a tad wearying. A focus on the damaged human inside the footballing legend seems a sound strategy for connecting this film to an audience beyond football fans – but what unfolds is hardly the life-affirming story arc that most screenwriters would choose.
Production company: Fine Point Films
Producers: Trevor Birney, Brendan Byrne, John Battsek, Deirdre Fenton
Screenplay: Peter Ettedgui
Cinematography: Michael Timney, Danny Rohrer
With: George Best, Angela Best, Alex Best, Jackie Glass, Eric McMordie, Anne Best, Matt Busby, Mike Summerbee, Hugh McIlvanney