Jason Reitman takes over the reins of his father's franchise in this latest franchise reboot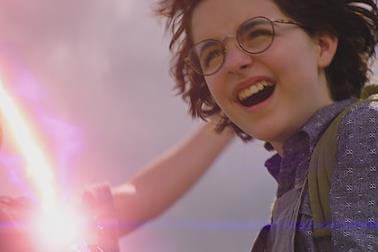 Dir: Jason Reitman. US. 2021. 124 mins.
Ghostbusters: Afterlife introduces two novel wrinkles to the franchise by moving the New York-set series to a small Oklahoma town and focusing the action primarily on adolescent characters. Yet Jason Reitman's sequel is otherwise haunted by the need to deliver the amount of self-conscious fan service that's seemingly mandatory with hallowed intellectual property. The director, who takes over the reins from his father Ivan, embraces that reality in crafting a story which connects the present to the past, studying how the events of the 1984 box-office smash still resonate in this new setting. But despite a winning performance from Mckenna Grace as a brainy preteen getting into the busting-ghost business, Afterlife rarely feels like anything more than a blatant attempt to get audiences reinvested in a bygone blockbuster.
It's enjoyable to watch Reitman re-conceive the franchise as a family film
This Sony release ignores the 2016 reboot, starring Melissa McCarthy, which failed on a commercial or critical level. But although Carrie Coon and Paul Rudd add star power, the franchise itself will be the principal draw — those who know the original should recognise plenty of references embedded in Afterlife.
Coon plays Callie, a single mother who moves with her children Phoebe (Grace) and Trevor (Finn Wolfhard) from Chicago after she has been evicted, starting over in the quiet town of Summerville, Oklahoma, where her estranged late father left her a dilapidated house in the middle of nowhere. The nerdy, awkward Phoebe befriends classmate Podcast (Logan Kim), a fellow geeky outcast, and Mr. Grooberson (Rudd), a local science teacher disturbed by the unexplained earthquakes occurring in the area. But once Phoebe realises who her grandfather was — Egon Spengler, part of the famed Ghostbusters — she finds his old gadgets and prepares to battle some nasty ghosts.
Initially, it's enjoyable to watch Reitman re-conceive the franchise as a family film, spending the early reels developing the relationship between Callie and her children and then bringing in the colourfully eccentric Podcast and the adorably straight-laced Mr. Grooberson, who has a crush on Callie. Soon, though, Phoebe emerges as Afterlife's main character, with Grace confidently channeling the late Harold Ramis, who played Egon in Ghostbusters and the 1989 sequel. Wearing similar glasses and sporting the same intellectual, deadpan air, Grace is intensely appealing as both a pint-sized action hero and a wry comic presence.
Reitman's father Ivan directed the first two Ghostbusters pictures — he serves as Afterlife's producer — and his son approaches this follow-up more like a freewheeling 1980s Amblin-style action-comedy such as The Goonies, where the kids are the focal point while the adults stay on the periphery. (Coon has precious little to do, although Rudd's understated comic timing is good for a few laughs.) And Eric Steelberg's widescreen lensing frames the sleepy rural setting handsomely, providing a noticeable departure from the original's towering skyscrapers and hip urban attitude.
But ultimately the clever alterations are something of a misdirection once Phoebe dusts off Egon's old proton pack and starts noticing spectres around Summerville. A sense of deja vu hangs heavy over the proceedings: not only is Phoebe Egon's granddaughter but plot points from the first Ghostbusters are recycled, with the characters learning that the deceased scientist had stumbled onto something shocking that ties into the storyline of the 1984 film.
Disappointingly, the script, written by Reitman and Gil Kenan, doesn't exploit these connections in an imaginative way. Instead, Afterlife merely repeats sequences from the first film while also recalling specific verbal gags and music cues in the hopes that audiences' nostalgic association with the 37-year-old original will be enough. But even those fond of Ghostbusters, which boasted a cheeky mixture of big-budget spectacle and irreverent comedy, may note that Afterlife is only sporadically funny — with too many overblown action set pieces in much the same way as many modern blockbusters.
There's an undeniable emotional pull to the fact that Reitman is directing a sequel to one of his father's biggest hits — and that much of Afterlife is about generations making amends. (On top of all that, Ramis' 2014 death adds extra poignancy to a picture built around Egon's passing.) And yet, the obligatory nature of the fan service constantly undercuts the bittersweet, occasionally tearjerking tone, with the filmmakers more concerned about extending the franchise's commercial life than really saying anything meaningful about loss and reconciliation. Afterlife conjures up Ghostbusters, but it never comes close to capturing its spirit.
Production companies: Ivan Reitman Productions
Worldwide distribution: Sony
Producer: Ivan Reitman
Screenplay: Gil Kenan & Jason Reitman, based on the 1984 film Ghostbusters, an Ivan Reitman film, written by Dan Aykroyd and Harold Ramis
Production design: Francois Audouy
Editing: Dana E. Glauberman, Nathan Orloff
Cinematography: Eric Steelberg
Music: Rob Simonsen
Main cast: Carrie Coon, Finn Wolfhard, Mckenna Grace, Bokeem Woodbine, Paul Rudd