Venice Critics Week winner is a timely story set in Istanbul of the very near future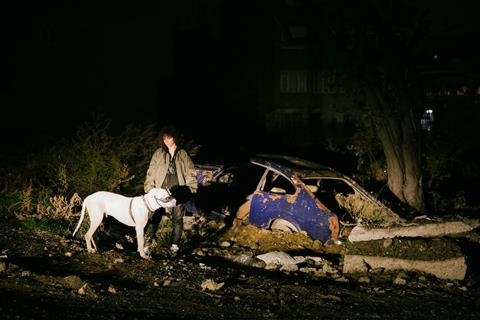 Dir/scr: Azra Deniz Okyay. Turkey/France/Qatar. 2020.
Winner of the Venice Critics Week prize, Ghosts (Hayaletler) is an impressive feature debut from Turkish writer/director Azra Deniz Okyay. Set across a single day in an outlying neighbourhood of modern Istanbul, and following four individuals attempting to navigate life in a rapidly changing city, the film also widens out to take in universal concerns of intolerance, displacement and the rise of the right. With this sense of cultural specificity and exploration of timely issues, Ghosts is likely to receive further festival attention following its Venice Critics Week win.
A country literally being promised a bright future while its plunging into darkness.
Okyay's screenplay sets Ghosts on a specific, nondescript day; October 26, 2020. That point, in the near future, suggests the events it depicts are omnipresent. As the film opens, a news report tells us that Turkey is suffering an unexplained nationwide power outage which has resulted in violence and riots; that's followed by a brightly-voiced advert for a housing development which waxes lyrical about "a new life in modern Turkey." This is a country literally being promised a bright future while its plunging into darkness.
This metaphor is made flesh in a story which follows the fates of four different individuals who may well be the ghosts of the title, drifting and forgotten as Turkey changes around them. Spirited young Dilem (Dilayda Gunes) dreams of making it as a dancer, but butts heads with the country's misogynist traditions. Street cleaner Iffet (Nalan Kurucim) is pushed to desperate action when her incarcerated son needs money to pay for his safety. Feminist activist Ela (Beril Kayar) is taking risks to expose the corrupt municipal practices that are forcing long-term residents out of their homes. And shady chancer Rasit (Emrah Ozdemir) offers crowded accommodation at inflated prices to displaced Syrian immigrants, while using his connections with government officials to exploit illegal housing development opportunities.
Bookended by a climactic car journey taken by Dilem and Iffet at the end of this tumultuous day, the film's timeline is as fractured as the lives and city it depicts. As the narrative follows individual characters it flashes back and forth in time, often replaying scenes from different perspectives. A meeting between Dilem and Iffet, in which they agree to work together on an unspecified job, proves to be a flashpoint, the story repeatedly returning to this moment before splitting off in a different direction each time. The film's title card appears over an hour in, just ahead of an intense period of reckoning for each character.
Okyay and her editor Ayris Alptekin assemble Ghosts as something of a puzzle; not one to be solved, as the story is easy to follow, but one of contrasts and contradictions. While the country's increasingly conservative outlook may continue to oppress women and LGBTQ communities, tradition is being wilfully swept aside in the name of progress as historical buildings are pulled down to make way for apartment blocks which locals cannot afford. Men like Rasit make a living from the Syrian immigrants flooding into Turkey, but the country is intolerant of their presence. To add to this incendiary atmosphere, hovering helicopters and police sirens constantly cut into the action, often overwhelming dialogue.
Cinematographer Baris Ozbicer highlights these divisions, capturing concrete and corrugated iron, gleaming buildings towering over rubble, desperate conversations held under soaring expressways that funnel cars into the wealthy city centre. A sequence in which Dilem dances alone in a darkened street, the light from her iPhone thrown up against ancient architecture, music from French dance trio Las Aves pounding in her ears, is a striking moment of hope.
Production company: Heimatlos Films
International sales: MPM Premium, quentin@mpmpremium.com
Producer: Dilek Aydin
Editing: Ayris Alptekin
Cinematography: Baris Ozbicer
Production design: Erdinc Akturk
Music: Ekin Uzeltuzenci
Main cast: Dilayda Gunes, Nalan Kurucim, Beril Kayar, Emrah Ozdemir