Dir/scr Gerard Barrett, Ireland, 2015, 89 minutes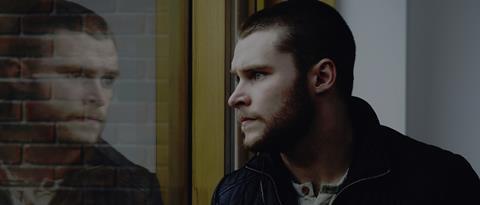 Glassland, a low-budget feature ($500,000) set in a dead-end Dublin estate where a young taxi driver tries to cope with his alcoholic mother, is director-writer Gerard Barrett's second feature after the even-lower-budget Pilgrim Hill. Premiering at Sundance, where Jack Reynor was rewarded with the Jury Prize for his mesmerising central performance, Glassland is impressive, although Barrett struggles to give this carefully crafted narrative a coherent resolution.
Audiences may prefer, however, to focus on the highlights of Barrett's journey rather than its frustratingly ambiguous destination.
Glassland is opaque and grimly downbeat, which isn't so much of a problem around the edges of the art-house where its strong performances will be noted; the fact it slides bewilderingly to an end may pose more of a commercial hurdle when this Element Pictures-backed production opens in Britain and Ireland on April 17. Barrett has a strong vision and a startling talent for working with actors (he draws Toni Collette's best work in recent years, while Will Poulter's Shane, a Dublin jack-the-lad, is also impressive). Even though it's a flawed second feature, Glassland is still a calling card for Barrett.
Irish actor Jack Reynor (What Richard Did, Transformers Age of Extinction) consolidates his reputation with a gracefully internalised performance as the solitary John, who works the night shift as a taxi driver and returns to his miserable Tallaght estate home from delivering troubled souls across Dublin to find his mother Jean (Collette) blacked out in a pool of her own vomit. It's a grim start to proceedings which never really lightens up: John takes Jean to hospital where he is told that she is drinking herself to death. She needs a new liver, but she may not live long enough to have the operation.
Jean doesn't really much like her life, though, and she certainly doesn't want anything to do with her younger son Kit (played by Down Syndrome actor Harry Nagle), who lives in a home. "I call it a child but it wasn't really," she says in an elongated, well-written scene which simultaneously manages to convey the depths of her misery and of her love for John, and how he reciprocates it. Glassland's best and most explosive scene of all, however, takes place in Jack's taxi, when he tells her he can't cope any more. Reynor makes John a sympathetic protagonist, but there's an edge to his performance which gives Glassland its spark.
Elsewhere, Will Poulter as John's best and only friend Shane manages to turn his small arc into something entirely heartbreaking; a child he never sees, a mother he loves but derides; a future away from everything he knows. Son of Rambow's Poulter nails the Dublin accent and serves notice that he's ready to step from teenage roles into an adult fray where he can create a character as memorable as Toni Collette's damaged mother if he's given even the smallest opportunity.
When Jean finally agrees to enter into a treatment centre which Jack cannot afford, Barrett seems to hit a narrative wall. Glimpses of Asian girls in the back of John's taxi and hints of dark 'nixers' lead to a road trip from which the film never fully recovers. Audiences may prefer, however, to focus on the highlights of Barrett's journey rather than its frustratingly ambiguous destination.
Glassland is almost bereft of sound; some scenes are deliberately mute, and the only musical interlude comes via Soft Cell's Tainted Love which Jean dances to in her filthy kitchen. Shot clearly on a bare-bones budget, Piers McGrail's camera is focused on tight interiors – the kitchen, the porch, and John's dark taxi, which are claustrophobic. Stephanie Clerkin's production design is grimly authentic, down to the overflowing kitchen sink, the peeling paint, and the grimy, filthy windows with their view into a pretty hopeless place.
Production company: Element Pictures, Nine Entertainment
International sales: Kaleidoscope Film Distribution, www.kaleidoscopefilmdistribution.com
Producers: Ed Guiney, Juliette Bonass
Executive producers: Andrew Lowe, Gerard Barrett
Cinematography: Piers McGrail
Production design: Stephanie Clerkin
Editor. Nathan Nugent
Main cast: Jack Reynor, Will Poulter, Michael Smiley, Toni Collette