A well-intentioned family man struggles with a series of unfortunate events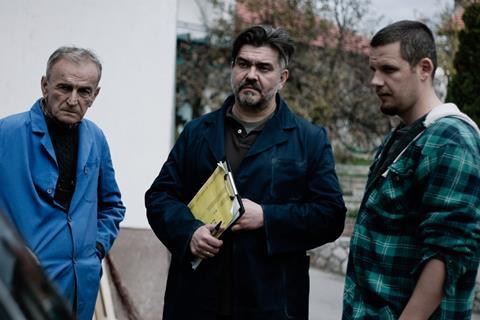 Dir/scr. Martin Turk. Bosnia and Herzegovina-Turkey-Slovenia. 2018. 76 mins
If Good Day's Work didn't take such a humane approach to its series of unfortunate events, it would either be blisteringly bleak or raucously comic. Instead, Martin Turk's (Feed Me with Your Words) sophomore feature falls firmly in the middle as it charts a well-meaning, hardworking family man's quest to provide for his wife, young son and impending baby. Anything that can go wrong does, no good deed goes unpunished and plenty of other fitting phrases spring to mind — any of which could have provided this brief but well-told and engaging effort with an alternative moniker.
The movie's fortunes should prove brighter than its protagonist's, however. Jumping from its Sarajevo Film Festival premiere to an international bow in Busan, Good Day's Work is a solid fit for further festival play, and only the been-there, done-that nature of its overall premise gives cause for pause. That said, Turk carves out his own niche; this isn't enjoyably chaotic fare such as Korean thriller A Hard Day, or a powerfully exhausting piece like this year's Hungarian drama One Day.
Despite its title, Good Day's Work actually follows several days in the life of Armin (Aleksandar Seksan), none of which go smoothly. When first introduced, he's happy with his young son Edin (Adijan Kulovac) — until the boy spots a cute dog in a car, they try to befriend it, and the canine starts barking at them incessantly. As far as omens go, it's an apt one. Every move Armin makes brings stress, inconvenience or pain. He witnesses a hit-and-run on the street, stops to help police with their enquiries and misses a job interview for a lucrative position as a result. And when he manages to find employment in a slaughterhouse, doing the right thing still leads to the wrong outcome.
Writing as well as directing, Turk throws a plethora of other obstacles in Armin's twisty path, including broken-down cars, lost phones, school meetings, missed obstetrician appointments with his pregnant wife (Maja Zećo) and a bordering-on-desperate lack of finances. Still, the onslaught of dispiriting incidents is never repetitive, outlandish or over-played, to the filmmaker's considerable credit. There's a rhythm to the narrative that reflects that of reality, albeit with more downs than ups. That daily life is filled with continual disappointment might not prove the cheeriest message, but it's never packaged as a statement of grim condemnation either; rather, the film posits that the struggle is worth enduring for the sake of love and family.
It helps that everything within the feature's frames is lensed in naturalistic hues by Turk's regular cinematographer Radislav Jovanov Gonzo, in an effort that doesn't purport to offer documentary-style realism but steeps its story, emotions and images in actuality. The frequent use of mid-shots also assists, with Armin constantly placed on the viewer's level; as befitting his status as a downtrodden yet still striving everyman.
As that ordinary guy weathering a raft of unwanted, unpleasant but also largely ordinary occurrences, Seksan is well cast; not only does he visibly look the part, but he plays his role with weary, hardy yet resilient acceptance rather than glum resignation. That distinction makes a significant difference to a film that demands tonal precision, and can't be underestimated. Indeed, it's Seksan that sells Good Day's Work's central idea: that, regardless of everything that happens to Armin, he still just wants to find a good day's work to support his loved ones.
Production company: Obala Art Centar
Contact: Obala Art Centar, programmes@sff.ba
Producers: Jovan Marjanović, Amra Bakšić Čamo, Mirsad Purivatra
Production design: Emina Kujundžić
Editing: Jurij Moškon
Cinematography: Radislav Jovanov Gonzo
Music: August Adrian Braatz
Cast: Aleksandar Seksan, Maja Zećo, Senad Alihodžić, Ermin Sijamija, Mladen Nelević, Muhamed Hadžović