Mark Wahlberg plays the father of a bullied gay son in Reinalo Marcus Green's follow-up to 'Monsters And Men'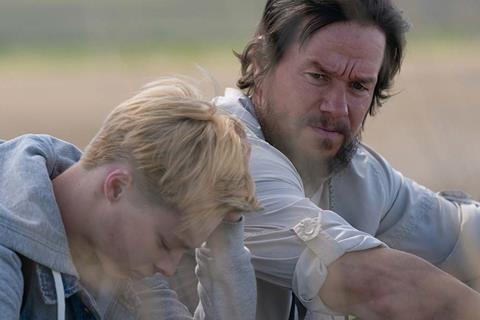 Dir: Reinaldo Marcus Green. US 2020. 90mins.
Based on a true story, Good Joe Bell follows a regretful father as he literally walks across America spreading a message of tolerance to anyone who will listen. Like its main character, though, this film has its heart in the right place but not the best plan for executing its strategy.
A familiar tale of how a privileged man learns to become a better person
Mark Wahlberg brings an earnest torment to Joe Bell, whose own closed-mindedness blinded him to what his bullied gay son experienced in their small-town community, but Monsters And Men director Reinaldo Marcus Green can't overcome a critical shortcoming, which is that he's telling the wrong person's story. Although thoughtful and emotional, Good Joe Bell focuses less on the son than the father, turning the film into a familiar tale of how a privileged man learns to become a better person.
Premiering at the Toronto Film Festival, this melancholy picture finds Wahlberg in dramatic mode, perhaps seeking his third Oscar nomination. At a time when LGBTQ+ stories still struggle to reach the mainstream — not withstanding happy exceptions like award-winners Moonlight and Call Me By Your Name — Good Joe Bell may make older, conservative audiences more comfortable because of Green's focus on Wahlberg's straight character.
As the film begins, Joe (Wahlberg) is walking down the highway in Idaho with his son Jadin (Reid Miller), still thousands of miles from their final destination, New York City. The reason for their strange journey is that Joe wants to raise awareness about bullying, stopping in communities along the way so that he can explain how Jadin was ridiculed at school because he's gay. (In flashbacks, we learn how Joe, despite initial resistance, eventually embraced Jadin's sexuality.)
Written by Diana Ossana and Larry McMurtry, who won the Oscar for their Brokeback Mountain screenplay, Good Joe Bell is a film about grief that contains a twist about halfway through. (Those familiar with the real Joe Bell's story will know the reveal well in advance.) At its best, Good Joe Bell questions its protagonist's motivations: Is he undertaking this arduous walk to speak out about homophobia, to alleviate his guilt, or to be celebrated for his newfound self-righteousness? Because Joe took so long to accept Jadin — fearful of what others in his redneck town would think of an out-and-proud teenager — his campaign feels like a way to position himself as enlightened when, in fact, he contributed to his son's sense of shame.
Green's feature debut Monsters And Men was a messy, compelling look at how police violence poisons communities, so it's disappointing that his follow-up is a more polished but less-distinguished social drama filled with pat life lessons. As much as the film tries to dissect Joe's rationale, Wahlberg plays him as the umpteenth honourable-but-imperfect protagonist who just needs to get over his one character flaw before winning the admiration of all those around him.
That's not to discount Wahlberg's mournful performance, which is especially strong when he's interacting with Jadin on the road. But because Good Joe Bell spends so much time wondering how this father will change and grow, it doesn't concentrate enough on his son, who is actually experiencing the bullying.
Miller is lovely as a sensitive soul who just wants to feel seen — by his classmates, by his father — and the way Jadin pushes back against his dad's latent prejudices is often quite affecting. One senses that Joe's willingness to force himself into new experiences on the road trip — especially when he visits a gay bar — is a tribute to Jadin's bravery, and Miller fights to make the son feel less like an abstraction than how he's presented in the film.
Jacques Jouffret's widescreen cinematography captures the rolling expanses of America's open spaces, while Antonio Pinto's score hints at the waves of complicated emotions roiling inside Joe. It's fair to argue that Good Joe Bell is not meant for the Jadins in the audience but, rather, the Joes — middle-aged men and women who want to be allies to their LGBTQ+ children but don't quite know how to do that. From that perspective, the picture's insistence that we need to let our loved ones know how important they are is noble and welcome. And yet, Good Joe Bell's concern over Joe's pain feels misplaced. The filmmakers want to ensure he finds peace at the expense of a bullied teenager whose character arc isn't nearly as tidy or comforting.
Production companies: Stay Gold Features, Nine Stories, VisionChaos, Parliament Of Owls, Closest To The Hole, Leverage Entertainment
International sales: Endeavor Content, cslager@endeavorcontent.com and sracanelli@endeavorcontent.com
Producers: Daniela Taplin Lundberg, Riva Marker, Eva Maria Daniels, Cary Joji Fukunaga, Ryan W. Ahrens, Mark Wahlberg, Stephen Levinson
Screenplay: Diana Ossana & Larry McMurtry
Production design: Kelly McGehee
Editing: Mark Sanger
Cinematography: Jacques Jouffret
Music: Antonio Pinto
Main cast: Mark Wahlberg, Reid Miller, Connie Britton, Maxwell Jenkins, Gary Sinise