Jenna Cato Bass examines the horror of servitude in South Africa's affluent gated communities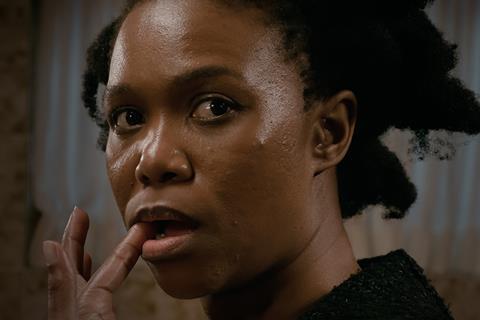 Dir: Jenna Cato Bass. South Africa. 2021. 92mins
Traditional domesticity is the stuff of nightmares in Good Madam, the fourth feature from South African filmmaker Jenna Cato Bass. In its story of a young black woman who goes to live with her mother, a long-time live-in maid for an affluent white family, the film expertly blends satirical social commentary and disturbing horror tropes to shine a light on the appalling racial and economic divides that still shape the country 30 years after the end of apartheid.
Many films have highlighted the enduring horrors of slavery, but the power of Good Madam, comes from its exploration of the insidious nature of everyday systemic racism, and how impossible it can be to make a life outside of its clutches.
Premiering in Toronto's Platform, Good Madam is sure to draw further festival attention, not least for its expert handling of race and gender; themes Bass brings with her from previous works like 2017's High Fantasy and 2019's Berlin Panorama opener Flatland. Strong performances and its effective genre elements — favourable comparisons with the likes of Jordan Peele's Get Out! will be forthcoming — should also contribute to strong word of mouth.
In modern day South Africa, single mother Tsidi (Chumisa Cosa) finds herself effectively forced out of her home following the death of the grandmother who raised her in the absence of her own mother, Mavis (Nosipho Mtebe), who works as a maid in the wealthy suburbs of Cape Town. With nowhere else to turn, Tsidi decides to take herself and her young daughter Winnie (Kamvalethu Jonas Raziya) to the sprawling home in which Mavis has been employed for 30 years by her white 'madam', the elderly and now-bedridden (and hardly-seen) Diane (Jennifer Boraine).
It's clear that something is amiss from the moment Tsidi arrives at the property. Her mother seems to be in unusual thrall to her employer, and to the draconian rules of the house. Diane's bedroom is totally out of bounds, as is the use of any of her belongings; even the teacups must not be touched. Tsidi and Winnie must share Mavis' tiny bedroom, while bigger rooms sit empty. There is a graveyard in the back garden, populated by the former help; gardeners, maids, cooks, all of them Black.
Tsidi, however, is not one for quiet acceptance. She uses whichever crockery she pleases, and commandeers the bedroom belonging to her half-brother and Mavis' only son, Stuart (Sanda Shandu), who has been raised by Diane as a member of her own family. But someone — or something — doesn't approve. Soon Tsidi is being locked in rooms, hearing strange noises, and having terrifying visions that may or may not be fragments of memory, Her relationship with Winnie begins to break down. Most frighteningly, her own body starts to betray her; at one point, she finds herself on her hands and knees, scrubbing the floor with her own toothbrush.
While myriad films have highlighted the enduring horrors of slavery, the power of Good Madam — whose screenplay was written by Catto and co-producer Babalwa Baartman in collaboration with several members of the cast —comes from its exploration of the insidious nature of everyday systemic racism, and how impossible it can be to make a life outside of its clutches.
We see how the affluent gated communities which ostensibly herald South Africa's modern upward mobility are open only to the predominantly white residents who can afford them. The only way in for Black individuals is as live-in servants; a system which enslaves them for life. A neat visual bookend sees Tsidi eyed with suspicion by a white female jogger as she stands outside Diane's home in her own clothes; later, when she is dressed in her maid's uniform, that same jogger smile and waves. And, aside from the supernatural scares, which are measured and well-handled, one of the most unsettling moments in the film is when Mavis becomes desperate at the thought of Diana dying because, if she does, she'll simply have nowhere to go.
This idea of economic imprisonment and generations of repression is underscored by exceptional craft, including claustrophobic cinematography from Bass herself. Her camera prowls the gloomy hallways, scratches at doors, stares into mirrors and, as Tsidi becomes increasingly isolated, employs increasingly off-kilter framing. Film score mixer Simon Ratcliffe (making his soundtrack debut) creates an emotive soundscape, mixing traditional instruments and female acapella voices with intensified everyday sounds — the running of a tap, the shutting of a drawer, the scrubbing of a brush, a whispering wind. The effect is chilling; the house feels somehow alive.
And inside its walls, pointed production design by Catto and Baartman highlights the ingrained hypocrisy of people like Diane, who fill their European-styled homes with traditional African paraphernalia, celebrating Black culture while confining those people to menial roles of servitude. And if the recurring visual motif of (vicious) circles — washing machines, the stirring of porridge, water flowing round a plug — is somewhat on the nose, there's no arguing with the film's observation that South Africa's shameful history of racial and economic subjugation seems to be stuck on a permanent, unbreakable loop.
Production companies: Fox Fire Films, Sanusi Chronicles, Causeway Films
International sales: Visit Films info@visitfilms.com
Producers: Babalwa Baartman, Jenna Cato Bass, Kristina Ceyton, Samantha Jennings
Screenplay: Babalwa Baartman, Jenna Cato Bass, Chumisa Cosa, Nosipho Mtebe, Kamvalethu Jonas Raziya, Sanda Shandu, Khanyiso Kenqa, Chris Gxalaba, Peggy Tunyiswa, Sizwe Ginger Lubengu, Siya Sikawuti, Steve Larter
Cinematography: Jenna Cato Bass
Editing: Jacques de Villiers
Production design: Babalwa Baartman, Jenna Cato Bass
Music: Simon Ratcliffe
Main cast: Chumisa Cosa, Nosipho Mtebe, Kamvalethu Jonas Raziya, Sanda Shandu