Dir: Rob Letterman. US. 2015. 103mins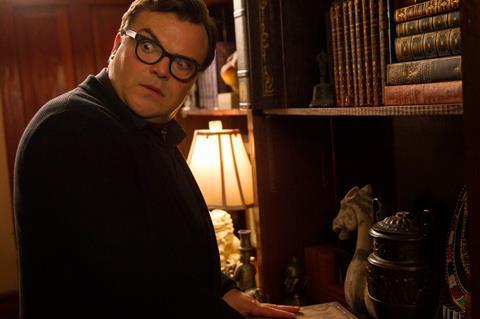 It's hard enough already to get young people interested in reading — now here comes Goosebumps, a dreary big-screen adaptation of the popular R.L. Stine series of children's horror books that's meant to make the written word seem exciting but ends up being deeply unimaginative. Jack Black's mildly theatrical, knowingly hammy performance is but one of this horror-comedy's overdone elements, and the film fails to rise above the level of perfunctory effects-driven spectacle. On screen, Stine's frightening characters literally come to life, but Goosebumps itself never does.
While it's always risky to predict what might be too frightening for kids, Goosebumps does seem to push the envelope for its target audience
Opening October 16 in the US, this Sony release will hope to corral Stine fans, and certainly the presence of Black will help, too. Geared to younger audiences who may not be old enough for scarier Halloween-themed films like Crimson Peak and Paranormal Activity: The Ghost Dimension, Goosebumps could find its own little commercial niche, but it may not be a strong enough family offering to generate significant grosses. Haunted by mediocre reviews and little buzz, Goosebumps should have an easier time on DVD and cable, where it may become a seasonal go-to for little ones.
Based on Stine's books, which he started publishing in the summer of 1992, Goosebumps isn't a straight adaptation — the author has written nearly 200 stories in the series — but instead is almost a meta-narrative inspired by him and his works.
Sensitive teen Zach (Dylan Minnette) moves with his mother (Amy Ryan) from New York City to small-town Delaware, hoping to start fresh after his father's death. He quickly befriends his pretty next-door neighbour Hannah (Odeya Rush), whose father (Black) is very protective of her. But soon, Zach and his nerdy new buddy Champ (Ryan Lee) discover the truth: the father is (a fictionalised version of) R.L. Stine, the renowned Goosebumps author, who's hiding a dark secret, which is that if he doesn't keep his original manuscripts locked up, the scary creatures in his tales will pop out, causing havoc in the real world. Naturally, this happens early on in Goosebumps, forcing Stine, Zach, Hannah and Champ to scurry around town trying to escape ghouls, mummies, evil clowns, a gigantic praying mantis and a disturbing ventriloquist's dummy.
Directed by Rob Letterman, who helmed Black's Gulliver's Travels, Goosebumps occasionally throws in a slightly edgy joke, but for the most part its scares and laughs are aimed at preteens, the storytelling very simplistic with its big themes, life lessons and sentiments clearly underlined. (For instance, Zach has to learn to open up his heart after shutting down when his dad died. As for Stine, he has to learn not to live so much in the world of his books.)
But these emotional beats are largely drowned out by a storyline in which our main characters are constantly being chased by one of Stine's many freed creatures, which are all taken from the author's actual books. Utilising computer animation and prosthetics, the effects team has conjured up some suitably terrifying monsters, but Goosebumps is an example of "imagination" overwhelming ingenuity, the sheer glut of FX on the screen quickly growing tedious. (And outside of the ventriloquist's dummy, which is voiced by Black, none of the creatures has any personality.) While it's always risky to predict what might be too frightening for kids, Goosebumps does seem to push the envelope for its target audience, staying away from blood or death but certainly liberally indulging in jump-scares and the threat of serious peril.
Black's appeal, especially in a family film like School Of Rock, is being a big kid, and he brings some of that lovable gregariousness to his performance as Stine. But he also seems to be portraying a child's impression of what an adult is like, giving the character a cartoonish-grumpy tone that can be funny but can also feel phoned-in. His young co-stars can't rely on persona to elevate drab parts, and so the tentative love story between Zach and Hannah doesn't have much spark, Minnette and Rush stuck looking earnestly at one another when they're not bantering in a smart-alecky way. And Stine himself provides a brief cameo. He's on screen for maybe 30 seconds — tellingly, he's as memorable as anyone else in Goosebumps.
Production companies: Columbia Pictures, Sony Pictures Animation, LStar Capital, Village Roadshow Pictures, Original Film, Scholastic Entertainment Inc.
Worldwide distribution: Sony Pictures, www.sonypictures.com
Producers: Deborah Forte, Neal H. Moritz
Executive producers: Tania Landau, Bill Bannerman, Ben Waisbren, Bruce Berman, Greg Basser
Screenplay: Darren Lemke, story by Scott Alexander & Larry Karaszewski, based on the Scholastic Goosebumps books written by R.L. Stine and created by Parachute Press
Cinematography: Javier Aguirresarobe
Production design: Sean Haworth
Editor: Jim May
Music: Danny Elfman
Website: http://sites.sonypictures.com/goosebumps/hub/
Main Cast: Jack Black, Dylan Minnette, Odeya Rush, Amy Ryan, Ryan Lee, Jillian Bell