Take That boyband musical starring Aisling Bea is a summer starter for the UK box office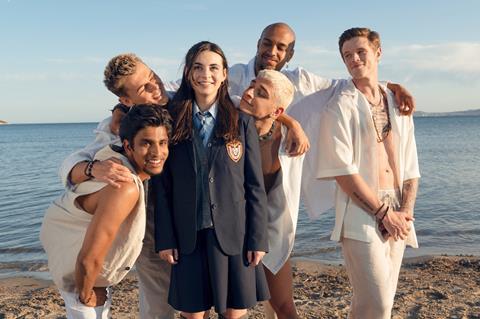 Dir: Coky Giedroyc. UK. 2023. 112mins
While it may heavily and unabashedly trade on its mid-90s setting (and, specifically, the music of enduringly popular boy band Take That), Greatest Days proves itself to be more than a simple exercise in nostalgia. Adapting his own 2017 jukebox musical The Band, writer Tim Firth works with director Coky Giedroyc to intensify the play's focus on a group of girls, drawn together as teenagers by their love of the music, and charting how they attempt to reconnect as adults. It may be fuelled by the schmaltzy lyrics of a boy band, but this is ultimately a clear-eyed celebration of female friendship.
It is the female friendships that are the true love story here
The Band originally opened in Manchester before touring the UK and ending up on the West End in 2018 and, in 2022, a special stripped-back adaptation — retitled Greatest Days — was created to play aboard cruise ships and is currently back on tour. That, together with the fact that July marks the 30th anniversary of the release of 'Pray', Take That's first UK number one hit, may help the film's buzz when it releases in the UK on June 16 — although fans of the band won't need much encouragement to buy a ticket. Good reviews and word of mouth could also help the film find an audience outside of die-hard Thatters.
Aisling Bea brings a sharp wit (and essential levity) to the central character of Rachel; now a mid-40s no-nonsense children's ward nurse but, back in 1993, a 16-year-old school girl (played, in excellent casting, by Bea lookalike Lara McDonnell) and diehard fan of a boy band only ever referred to as 'The Boys'. (Said boy band's non-speaking, all-singing roles are played by Aaron Bryan, Dalvin Cory, Joshua Jung, Mark Samara and Mervin Noronha in a more diverse line-up than Take That, whose songs are used throughout. Original band members Gary Barlow, Howard Donald and Mark Owen serve as executive producers here, and pop up in a busking cameo.)
At home in quiet Clitheroe, Lancashire, the teenage Rachel uses the band's peppy music as a means of escape from a tumultuous home situation; as figments of her subconscious, 'the boys' appear whenever she needs a boost, performing elaborate musical numbers in her small kitchen as her parents argue, or when she's having fun with her friends. While this could easily have been gimmicky, the song lyrics and expressive choreography by Drew McOnie are so carefully woven into the dramatic beats of the story that they become part of the narrative, rather than a distraction. (Highlights include a high camp bus ride version of 'Relight My Fire', a Busby Berkley-esque airport tarmac rendition of 'Shine', and the boys belting out 'Greatest Day' as Greek statues in the centre of an Athens fountain.)
Rachel is obviously attracted to the five handsome band members — although, in a nod to the innocent dynamic between these kinds of bands (and, really, they could be interchangeable) and their younger adolescent fans, and despite the sexual charge of performances like 'Babe', they are presented as unthreatening fairytale princes. As in Giedroyc's previous works like Women Talking Dirty or How To Build A Girl, it is the female friendships that are the true love story here.
Rachel's tight-knit teenage bonds with studious Zoe (Nandi Hudson), swimming champ Claire (Carragon Guest), musician Debbie (Jessie Mae Alonzo) and confident fashionista Heather (Eliza Dobson) are richly drawn, from the small recognisable details — the rolling up of school skirts, the passionate discussions about 'Top Of The Pops' — to the often-raw emotions that pulse through the group, naturally embodied by this impressive young cast. Refreshingly, despite their vulnerabilities, these are confident, independent young women; they embrace the feeling of having the world at their feet and regularly act as cheerleaders for each other. "We are girls. We are 16. We are fantastic!" enthuses Debbie.
Twenty-five years later, however, and those wide-eyed girls have become world-weary adults; here, too, the dynamic shift is realistic and relatable. An unspoken tragedy (hinted at and later revealed in genuinely moving scenes) has caused a seismic rift; when Rachel wins a competition to see 'the boys' in concert in Athens, she sees an opportunity to bring the gang back together.
Despite their shared history, however, they now all come with plenty of baggage; Heather (Alice Lowe) has family issues, Zoe (Amaka Okafor) is frustrated at not having reached her professional potential and Claire (Jayde Adams) has failed to achieve sporting glory — or, indeed, move away from Clitheroe. Despite their initial excitement at leaving their cares behind and reliving those supposedly good old days, real-world concerns have a habit of rearing their ugly heads and spoiling the fun. That adage is true; you can never go back.
Yet Greatest Days is as much about Rachel and the girls reconnecting with their carefree old selves as with each other, and a reminder to (as Gary Barlow once wrote) never forget where you're coming from. Underneath the '90s vibes, colourful production design and occasionally cringey boyband lyrics, that's a deep-rooted sentiment that we can all take to heart — Thatters or not.
Production companies: Elysian Film Group
International sales: Upgrade
Producers: Danny Perkins, Jane Hooks, Kate Solomon, Karl Spoerri, Viviana Vezzani
Screenplay: Tim Firth
Cinematography: Mark Eley
Production design: Amanda McArthur
Editing: Mark Davies
Music: Take That
Main cast: Aisling Bea, Amaka Okafor, Alice Lowe, Jayde Adams, Eliza Dobson, Lara McDonnell, Nandi Hudson, Carragon Guest, Jesse Mae Alonso